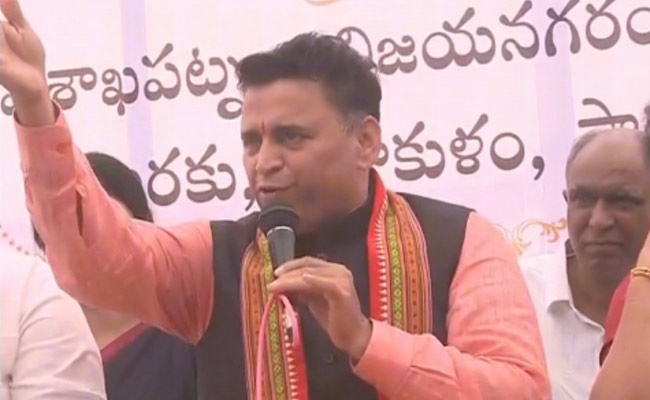 It is an open secret that Telugu Desam Party president and former Andhra Pradesh chief minister N Chandrababu Naidu has been playing whatever tricks he can to get back into the good books of Bharatiya Janata Party led by Narendra Modi.
His latest strategy of adopting an aggressive pro-Hindutva stand in the wake of vandalism in temples and desecration of Hindu god idols and his attack on Christianity is also being viewed as yet another attempt to get closer to the saffron party.
But the BJP is not believing Naidu and his political manoeuvres any more. The party leaders have realised that he is the most unreliable leader, as he ditched the BJP twice in the past. They still consider him as their enemy.
"In Andhra Pradesh, YSRC president and chief minister Y S Jagan Mohan Reddy is our enemy. But the TDP president is a bigger enemy. He is our enemy, enemy and enemy," said BJP national secretary and co-incharge of Andhra affairs V Sunil Deodhar in an interview to a popular news website.
He, however, clarified that both Jagan and Naidu were the political enemies of the BJP and there was no personal enmity against anyone.
Asked whether there was any possibility of the BJP joining hands with the TDP to defeat the YSRC party, Deodhar said the BJP alone was capable of defeating Jagan. "In fact, if we join hands with Naidu, we will lose. Our stand is very clear," he said.
He said the BJP had derived a slogan in Telugu – "Povali Babu-Jagan, Ravali Somu-Pawan" (Jagan and Chandrababu should go and Pawan and Somu should come).
Deodhar described Chandrababu Naidu as an imposter. Pastor Praveen, who was arrested recently claimed that 699 villages were converted into Christ villages. Did these 699 villages become Christ villages in the last one-and-a-half years? To even travel to 699 villages, one year isn't enough, he pointed out.
"Was Chandrababu Naidu asleep when this conversion was happening when he was the CM? You do politics and use Christians, Muslims and their sentiments," the BJP leader criticised Naidu.
Click Here for Latest Direct-to-OTT Releases (List Updates Daily)