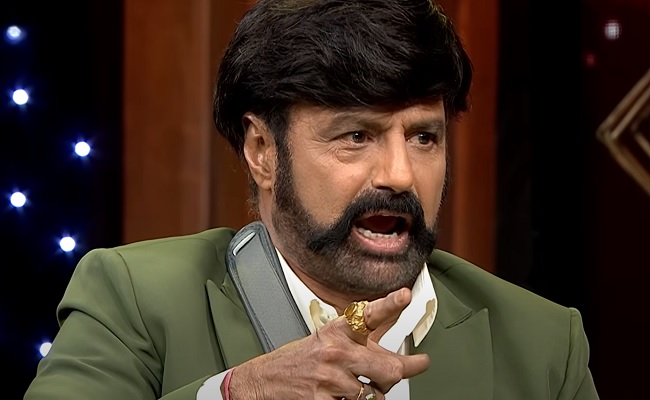 Hero Nandamuri Balakrishna is hosting a show titled "Unstoppable" on Aha OTT platform. So far he hosted just three shows and the fourth one is scheduled to be streamed from next Sunday, December 12.
He had a chit chat with the director of his latest film "Akhanda", Boyapati Srinu, and another hero Srikanth.
The OTT platform had released a teaser for this show in which Balayya, as he is popularly called, went emotional while making a reference to the "Backstabbing" allegation against his family and in-law Chandrababu Naidu, to late N T Rama Rao, the founder of the TDP.
After 26 years, Balayya says that he gets emotional when they are accused of backstabbing.
"As one of the children and one of NTR fans, I get emotional" he said and was seen displaying emotional gestures.
Chandrababu Naidu and entire family of NTR led a coup in the TDP in August 1995 and held a camp in Viceroy Hotel in Hyderabad and it is a history now.
NTR was thus thrown out of power, he was stripped off the party that he found. He was even denied of the election symbol "Cycle" besides deprived of the party funds and office.
NTR reacted wildly and even cried in front of the media. He released several video clips in those days accusing his children and sons-in-law of betraying him.
With particular reference to Chandrababu Naidu, the late leader was too hard and alleged that the son-in-law had "stabbed him in the back", while his children have "betrayed" him.
Since then, everyone in the Telugu states remembers this "backstabbing" (Vennu Potu) and the political rivals call Naidu as backstabber (Vennu Potudaru).
After two decades of the incident, the TDP leaders are trying to wash off the hands by giving new meaning to it.
While Chandrababu Naidu said that it (coup) was historical necessity and even went to the extent of equating 1995 August coup as that of a revolt in Chinese Communist Party, Balayya says that it was not Vennu Potu.
Balayya should know that it was late NTR, his father, who called the coup as Vennu Potu, while the rest only repeat it even now.
If Balayya wants people to buy his lies, he must once check his father's video clips on this coup.