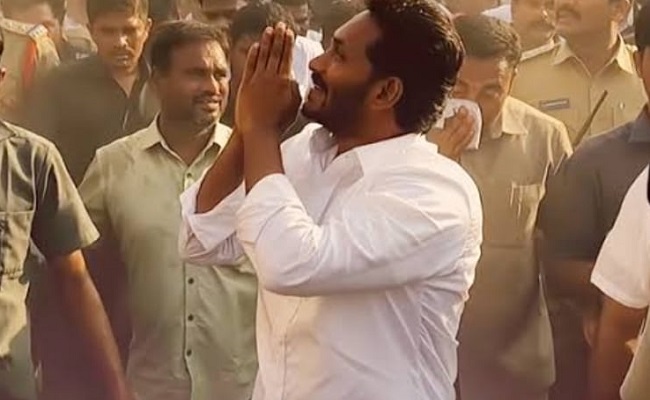 Chief Minister and YSR Congress chief Y S Jagan Mohan Reddy had asked his party leaders to defeat TDP chief N Chandrababu Naidu at Kuppam Assembly constituency in the 2024 general elections.
Jagan is going with a slogan of Why Not 175 for the next elections, with focus on winning the Kuppam Assembly seat.
He had the reason for fixing this target. The TDP was defeated in the panchayat and municipal elections in the 2021.
The TDP lost all the village panchayats, MPTC, ZPTC elections. The TDP also lost the Kuppam Municipal elections.
With this proven base, Jagan Mohan Reddy set the target of defeating TDP in the next elections.
Surprisingly, the yellow media picked up this and has started saying that Jagan Mohan Reddy would be defeated in Pulivendula Assembly constituency.
The yellow media is projecting Mareddy Ravindranath Reddy, popularly known as B Tech Ravi, as the winner of the 2024 elections from the Pulivendula Assembly constituency!
When one of the journalists from the yellow media introduced B Tech Ravi as the MLA from Pulivendula in 2024 during the morning debates on Monday, people burst into laughter.
Except to counter Jagan Mohan Reddy's call to his party men, one wonders what base that the TDP or the yellow media has to claim the defeat of Jagan Mohan Reddy at Pulivendula!
While in Kuppam, the TDP had lost the local body elections, the YSR Congress did not lose even a single seat in Pulivendula!
It looks as if the yellow media is creating fun for the people and in other way, is making fun of the TDP among the people.
Common guys, speak the same language till the voters return from the polling booths in the 2024 elections.