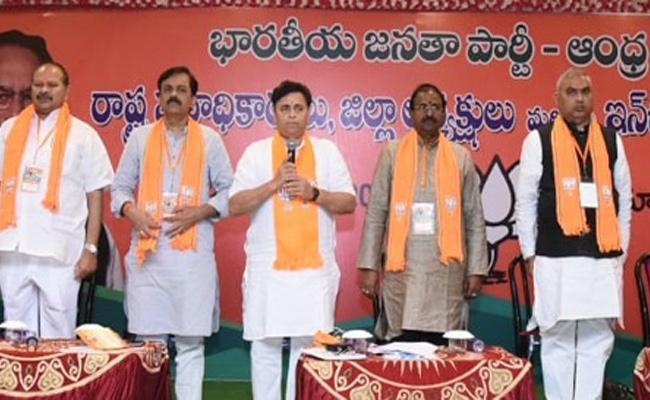 Bharatiya Janata Party in Andhra Pradesh is not interested in forging an alliance with the Telugu Desam Party in the next elections; but it still hopes to continue the alliance with the Jana Sena Party.
At a meeting of BJP state executive committee held at Kurnool a couple of days ago, several leaders reportedly sought a clarification from the party leadership on the latest call given by Jana Sena Party chief Pawan Kalyan for a unity of anti-YSR Congress party forces to avoid a split in the anti-incumbency vote in the next elections.
The meeting was attended by district BJP presidents of all the 13 districts, party in-charges of various constituencies and other important leaders. They sought to know what message they should carry to the party cadre at the grassroots level.
However, BJP general secretaries in-charges of Andhra Pradesh Sunil Deodhar and Madhukar made it clear to the party leaders that there was no question of having an alliance with the TDP in the next elections.
"Even the Central leadership is of the same view. We shall also convey the message of Pawan Kalyan to the national BJP leaders' notice and our stand in this regard," Deodhar is learnt to have told them.
Majority of the BJP leaders are of the view that Chandrababu Naidu could come to power only with the support of the BJP in 2014.
"We need to clarify the same to Pawan Kalyan as well. The ball is in his court now. It is for him to decide whether he would sail with the BJP or join hands with the TDP," the BJP top leaders asserted.
However, the seniors told the party leaders not to make any statement on alliances in public immediately, as there is still a long way to go for the assembly elections in Andhra Pradesh.
The party leadership has come to the conclusion that the BJP should make an effort to grow independently in AP, rather than depending on the alliances.