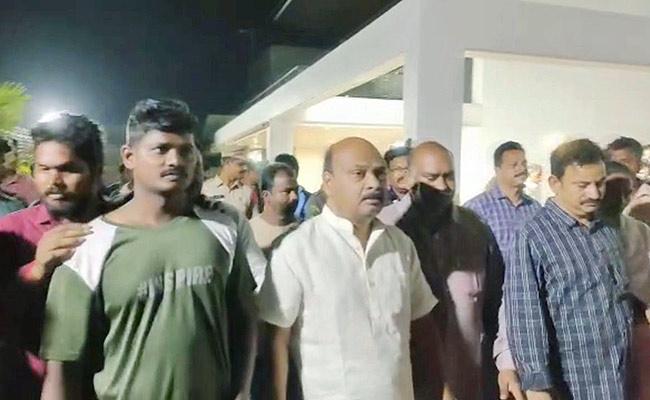 Senior Telugu Desam Party leader and former minister Chintakayala Ayyanna Patrudu, who has been taking to legal recourse to get away from various cases filed by the Jagan Mohan Reddy government, has once again become a target for the Andhra Pradesh Crime Investigation Department police.
The CID police swooped on the residence of Ayyanna Patrudu from his Narsipatnam residence in the early hours of Thursday and arrested him and his son Chintakayala Rajesh on the charges of submitting alleged forged documents in the high court regarding the construction of a wall in their house.
They were shifted to Rajahmundry and from there to Eluru. A tense situation is prevailing in Viskhapatnam as a large numbe of TDP workers and leaders laid siege to the CID office to protest against the illegal arrest. They were also taken into custody by the police.
It is reported that the CID had registered a case on the complaint of the irrigation officials that they had submitted a fake certificate to the High Court during the demolition of the house wall. It was alleged that the duo had occupied the Ravanapalli irrigation canal and constructed the house.
Ayyanna's wife Padmavati criticized the government for arresting Ayyanna Patrudu and Rajesh without prior information. She demanded from the government to take full responsibility for Ayyanna Patrudu's life.
The Telugu Desam Party activists have called Narsipatnam bandh in protest against Ayyanna's arrest. The arrested TDP leader and his son will be produced before a court in Eluru later.
TDP president and former chief minister Nara Chandrababu Naidu strongly condemned the arrest of Ayyanna Patrudu by foisting a false case and accused chief minister Y S Jagan Mohan Reddy of acting like a demon.
Naidu said he was shocked to know about their arrests at Narsipatnam by jumping the walls and breaking the doors. Ever since Jagan came to power, he has been haunting Ayyanna and his family members, he alleged.
Stating that already 10 cases have been registered against Ayyanna Patrudu and his family members subjecting them to various kinds of harassment, Naidu said the police did not mend their ways despite the court finding fault with the CID with regard to the case registered against Ayyanna's another son Vijay.