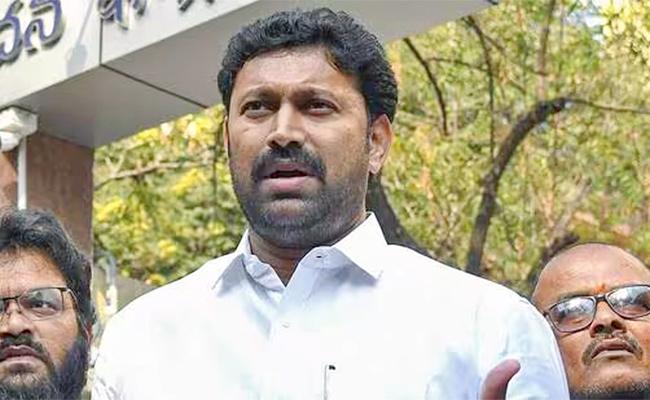 Suspense continued over the next move of the Central Bureau of Investigation (CBI) as its officers rushed to Kurnool town after Kadapa MP Y.S. Avinash Reddy once again skipped appearing before the agency in connection with the murder case of former minister Y. S. Vivekananda Reddy.
Amid reports of possible arrest of the MP, a large number of his supporters gathered outside a hospital, where he remained with his mother Y.S. Lakshmi who was being treated for cardiac problems.
A tense situation prevailed at Viswabharathi Hospital where police force was deployed to prevent any law and order problem.
Some supporters of the YSR Congress Party (YSRCP) MP allegedly attacked media persons outside the hospital.
The CBI is likely to wait till Tuesday when Avinash Reddy's petition for anticipatory bail will come up for hearing before the Supreme Court.
Meanwhile, Avinash Reddy, who is the cousin of Andhra Pradesh Chief Minister Y.S. Jagan Mohan Reddy, has written to the CBI seeking exemption from appearance time till May 27 in view of his mother's condition.
In a letter to the CBI, the MP wrote that his father Y.S. Bhaskar Reddy is in judicial custody and being the only son, he is responsible for taking care of her during this critical time.
Earlier, Chief Minister Jagan Mohan Reddy's mother Y.S. Vijayamma visited the hospital to enquire about the condition of Avinash Reddy's mother.
After the Kadapa MP once again expressed his inability to the CBI for an appearance before it on Monday due to his mother's poor health, the CBI officials rushed to Kurnool where he continued to stay put at the hospital.
The CBI officials held talks with top officials of Kurnool district reportedly to make MP surrender.
Large number of policemen were deployed around Viswabharathi Hospital, where the MP was staying put for four days.
The central agency had issued a fresh notice on May 19, directing him to appear before it at its Hyderabad office on May 22.
The MP had not appeared before the CBI on May 16 and May 19 in Hyderabad. On May 16, he cited prior-fixed official engagements in Pulivendula as the reason and sought four days' time. On May 19, he conveyed to the CBI that he would not be able to appear before it as his mother took ill.
The MP who was in Hyderabad left for his home town Pulivendula in Kadapa district and got his mother admitted to Kurnool hospital. Since then he was staying at the hospital.
Vivekananda Reddy, brother of former Chief Minister Y.S. Rajasekhara Reddy, and uncle of Jagan Mohan Reddy, was murdered at his residence in Pulivendula on March 15, 2019, weeks before the elections.
Last month, the CBI arrested Avinash Reddy's father Bhaskar Reddy, a cousin of Rajasekhara Reddy.
The agency told the court during the hearing on multiple occasions that Bhaskar Reddy, Avinash Reddy and their follower Devireddy Shiva Shankar Reddy hatched a conspiracy to murder Vivekananda Reddy as he had opposed the Kadapa Lok Sabha ticket to Avinash Reddy.
Avinash Reddy has denied the allegations against him and his father and alleged that the CBI ignored several key facts in the case.