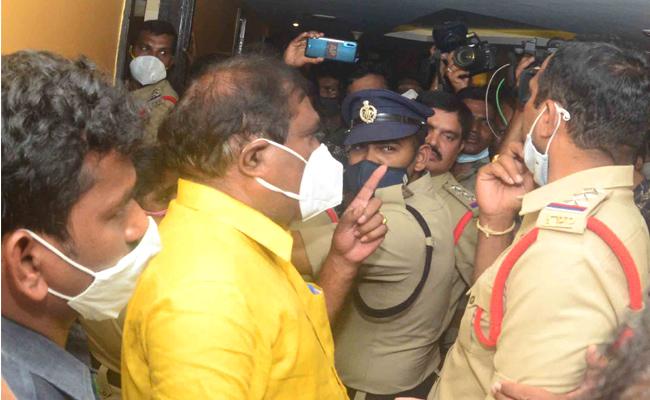 The Andhra Pradesh Police Officers Association (APPOA), which represents the police department, is being compelled to issue clarifications and rebuttals on a regular basis like never before amid the prevailing charged political scenario in the state.
In the past six months alone, representatives from APPOA have organised a few press conferences and issued nearly half a dozen statements, pleading with political parties not to drag the police into controversies.
"In my career of nearly 30 years, I have never seen a situation like this. We never come out like this but they are compelling us to come out," a police officer told IANS, expressing his disgust over how some political parties are conducting themselves in the state.
He said this is the first time that policemen are coming out and countering allegations. He suspects that the situation may continue in the same fashion for the next two to three years.
"I am feeling very ashamed at how we are being forced to clarify all the time. It is very embarrassing for us. We are talking because there is no other option," he said.
A Telugu Desam Party (TDP) leader came in for criticism from the department recently for threatening police officers that he will remember them in the future in a vengeful tone and tenor.
However, the police officers said that some years ago, it was the same police department which saved his life when he was beaten up and left to die in an election rigging case by his opponents.
The officer quoted above reminded the leader that cops had taken him in a police vehicle and saved his life back then.
"As he is talking against the rules, a suo motu case should be booked against him and action be initiated," said the policeman.
On Monday, the APPOA issued a statement condemning Kovuru MLA Nallapareddy Prasanna Kumar Reddy from the ruling YSRCP for making derogatory comments against the Nellore superintendent of police.
Three days before that, the police officers issued another statement lashing out at TDP and BJP leaders for their contemptuous statements on the police department.
"Instead of correcting your activists (TDP and BJP), who were arrested in temple cases, it is not correct on your part to throw the blame on the DGP and the police," said the statement.
A week before that, another statement was issued by APPOA highlighting that the police department was unnecessarily being dragged into religious politics.
"Khaki is our religion, service is our caste...Indian Constitution and laws are Bhagvad Gita, Quran and Bible for us," said the statement.
The police officers' association has also pointed out that a politician from a different state was making religious comments on the department.
They highlighted that Muslim and Christian officers actively participate in the department's Ayudhapuja ceremonies for Dasara festival.
"Last year, in the battle against coronavirus, 109 policemen died and 1,400 more contracted the infection, all of whom were people from all religions," said the police official.
A few senior IPS officers have also condemned the unfounded allegations levelled against the police department.
On Thursday, senior IPS officer Palaraju said that some political parties were targeting the department and passing caustic remarks against it.
Click Here for Latest Direct-to-OTT Releases (List Updates Daily)