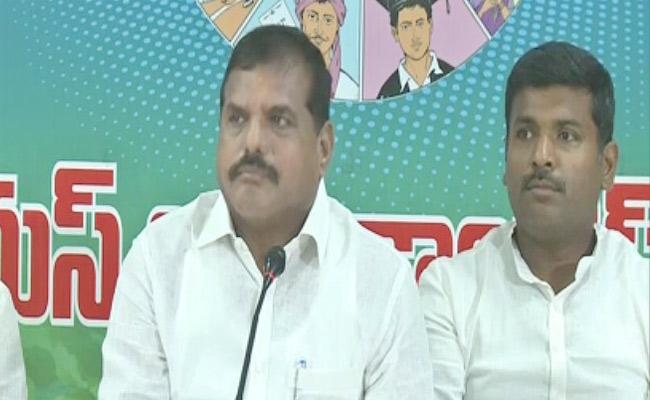 YSR Congress party president and Andhra Pradesh chief minister Y S Jagan Mohan Reddy on Saturday made all out efforts to appease Prime Minister Narendra Modi by organising huge public meeting at Visakhapatnam to to get funds and projects to the state.
But the Bharatiya Janata Party leaders in the state have preferred to adopt a confrontationist approach towards Jagan as was evident form the complaint they have lodged with the Prime Minister against the state government in collusion with Jana Sena chief Pawan Kalyan.
Senior YSRC leader and state education minister Botsa Satyanarayana said it was unfortunate that some of the BJP leaders had chosen to play politics over the developmental activities of the Jagan government.
"There are two batches in the BJP. One is the real BJP batch and another batch comprises defectors from the Telugu Desam Party. They still have not lost their affiliation with their parent party. This second batch is trying to create troubles for the Jagan government with Pawan Kalyan's support," Botsa said.
He wondered what these BJP leaders would mention in the charge sheet against the Jagan government and make complaints.
"Instead of identifying issues confronting the state and presenting them before the Prime Minister to seek the Central help, they sought to politicise the issues," he criticised.
Botsa pointed out that even the so-called celebrity who had met the Prime Minister told the reporters that he had lodged a complaint against the Jagan government but not asked the Central help for the benefit of the state.
"Pawan Kalyan is an ignorant and selfish character. He thinks only about benefitting Chandrababu Naidu, while our leader Jagan desires to have good relations with the Centre, irrespective of the ideologies," the minister alleged.
He also found fault with the BJP leaders for not questioning the previous TDP government for not doing anything for the poor people.
"Your never uttered a word against Naidu though he did not construct even a single house during his regime," he criticised.