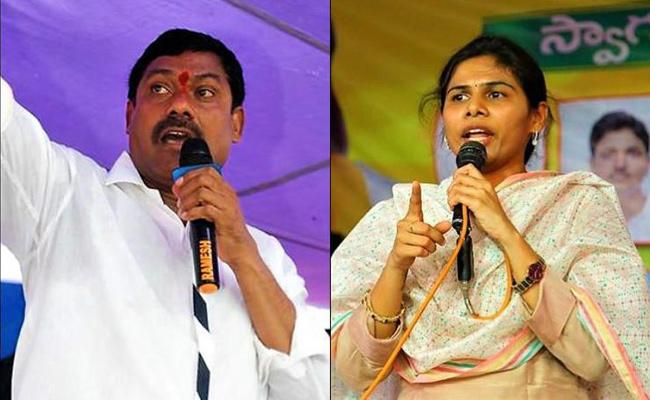 Senior Telugu Desam Party leader from Allagadda A V Subba Reddy on Thursday created sensation of sorts by alleging that former minister Bhuma Akhila Priya had engaged supari killers to eliminate him three months ago.
Subba Reddy, former chairman of AP Seeds Development Corporation, was once a close follower of Akhila Priya's father Bhuma Nagi Reddy, had been involved in bitter rivalry with her after Nagi Reddy's death.
Though both of them are in the TDP, Subba Reddy had been alleging that Akhila was trying to suppress him in Allagadda constituency.
Before elections, both the groups belonging to Subba Reddy and Akhila were involved in bitter fights and TDP president N Chandrababu Naidu had a tough time in bringing about compromise between the two.
After Akila lost her elections along with the party in 2019 elections, Subba Reddy became silent and is said to be trying to join the YSRC. But he survived a murder attempt on him in March this year, which was foiled by Kadapa police.
Though he kept silent for the last three months, Subba Reddy suddenly reacted on Thursday stating that it was Akhila Priya and her husband Bharagav who had hatched a conspiracy to kill him by engaging hired assassins for a "supari" (remuneration) of Rs 1 crore.
"She hired two persons – Rami Reddy and Ravi Chandra Reddy by promising them to pay Rs 50 lakh each. Akhila's personal assistant had paid them money. If they are arrested, the truth will come out," Subba Reddy said.
Out of six suspects in the murder attempt case, Akhila Priya was A-4 and Bhargav was A-5.
"Had the Kadapa police not acted on time, I would have been murdered by now," he said.
CLICK HERE!! For the In Depth Updates on all the OTT Content