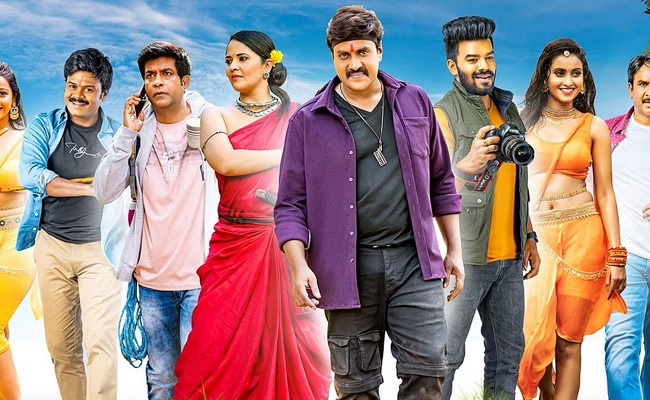 Movie: Wanted Pandugod
Rating: 0.5/5
Banner: United K Productions
Cast: Sunil, Anasuya, Vennela Kishore, Saptagiri, Srinivas Reddy, Sudigali Sudheer, Deepika Pilli, Dr. Brahmanandam, Raghu Babu, and others
Music Director: P.R
Cinematography: Mahi Reddy Pandugula
Editor: Tammiraju
Story, screenplay & dialogues: Janardhana Maharshi
Presents: K. Raghvendra Rao
Producers: Sai Baba Kovelamudi, Venkat Kovelamudi
Director: Sreedhar Seepana
Release Date: August 19, 2022
The Telugu film industry is enjoying success with new releases for the past two weeks.
While there is no buzz to any of the latest movies this weekend, "Wanted Pandugod" seemed the better among all due to the renowned casting and veteran director K Raghavendra Rao presenting it.
Story:
Pandu (Sunil) escapes jail and hides in the Narsapur forest near Hyderabad. The police announce a reward of Rs 1 crore to catch him. A bunch of people (Vennela Kishore, Saptagiri, Deepika Palli, Sudigaali Sudheer, and others) head to the forest to catch Pandu. Each of them has a goal to achieve with this prized money.
Artistes' Performances:
The film has comedians in the lead roles and budding actresses as the female leads.
Vennela Kishore does his job routinely, but he gets some part of a duet with Vishnupriya and another one in the later part of the movie. The same goes with Saptagiri.
Sudigaali Sudheer and Deepika Palli in the role of journalists indulge in silly comedy and get a song to dance to.
Anasuya first appears as a tribal girl and then performs an action stunt wearing shorts. She also appears as a typical Raghavendra Rao's heroine in a song.
For a change, we also see comedian Srinivas Reddy dancing with a heroine in another song. Brahmanandam as a doctor makes his presence felt.
Sunil plays the title role of Pandugadu, but he gets less screen time than the other comedians.
Technical Excellence:
Neither cinematography nor music is worth mentioning. The film has cheap production values.
Highlights:
None
Drawback:
Everything about the film
Outdated comedy
Amateurish direction
Primary school level writing
Analysis
Officially, Sreedhar Seepana is the director of "Wanted Pandugod" but we see the "stamp" of veteran director K Raghavendra Rao in every episode, from outdated comedy sequences to the picturisation of songs.
Janardhan Maharshi has taken credit for the story and screenplay but the film doesn't have either. A hotchpotch of sequences in the name of comedy and songs are presented.
All the male actors do silly skits. All female actors either flaunt their thunder thighs or dance in songs. That is the idea of "comedy" and "glamour" for the trio – Sreedhar Seepana, Raghavendra Rao, and Janardhan Maharshi!
The film begins with Pandugod played by Sunil escaping jail and cuts to a TV channel discussion about him. Suddenly we get to see the love stories of Vennela Kishore – Vishnu Priya, Saptagiri - Nithya Shetty, Srinivasa Reddy- new girl, and Sudigali Sudheer – Deepika Palli.
On the other hand, Anasuya's action stunts in the forest, comedian Prudhvi's comedy skits, Brahmanandam's doctor practice, Shakalaka Shankar's skits, Tanikella Bharani and Aamani doing comedy as a director and heroine keep coming.
Even those who just joined the direction department can handle more engagingly than what Sreedhar did here, and even high school children write better than Janardhan Maharshi's story. Such a low-quality output from both of them. The outdated Raghavendra Rao's mark of songs tests the patience further.
The entire film is cringe-worthy. The comedy and the romantic scenes would have worked some 50 years ago.
While we are celebrating that Telugu films have gone pan-India and the world is applauding our films, we also get to see such a nonsensical piece of filmmaking as well. We only pity the actors who are made to go through these acts.
Bottom line: Puchipoyina Pandu