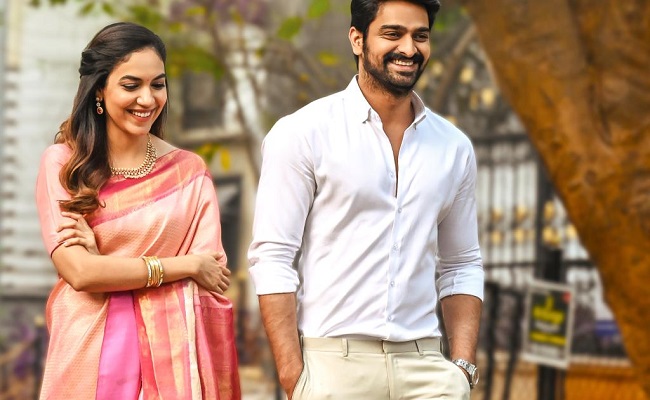 Movie: Varudu Kaavalenu
Rating: 2.75/5
Banner: Sithara Entertainments
Cast: Naga Shaurya, Ritu Varma, Murali Sharma, Nadiya, Vennela Kishore, Praveen, Sapathagiri, and others
Music: Vishal Chandrasekhar, Thaman
Dialogues: Ganesh Kumar Ravuri
Editor: Naveen Nooli
Producer: Suryadevara Naga Vamsi
Story and direction: Lakshmi Sowjanya
Release Date: October 29, 2021
The trailer of Naga Shaurya and Ritu Varma starrer "Varudu Kaavelenu" looked so promising. The film comes from a production house that has made quality films like "Jersey" has raised expectations. A lot of factors have helped in generating curiosity. A woman director helming this rom-com is one of the reasons it has created a good buzz.
Let's find out entertaining this romantic tale is.
Story:
Akash (Naga Shaurya) working as an architect working in Paris comes to Hyderabad. Bhumi (Ritu Varma) runs a startup company about organic products in Hyderabad, and the company is funded by a businessman (Jayaprakash).
The businessman offers Akash to design a project they have been planning to launch and Akash agrees. Akash and Bhumi have known each other as they had studied in the same Engineering College.
Meanwhile, Bhumi's mother Prabha (Nadhiya) has been on the hunt for a groom for her daughter and pressurizes her to get married.
Akash falls in love with Bhumi and is looking for the right time to propose to her but she is not an easy person to floor by.
When everything goes well for them, a small incident makes them part ways. What happened? Why is that Bhumi maintaining a tough stance on the outside? Is there any plan for Akash to come down to Hyderabad other than the project?
Artistes' Performances:
Naga Shaurya once again charms as a romantic hero. He fits in the character to a T, and does his role well.
Ritu Varma has given a mature performance. The story revolves around her, and she uses the opportunity to shine.
Nadhiya as Ritu Varma's mother effortlessly slips into her role. Sapthagiri raises a few laughs in the second half. Murali Sharma gets one or two noticeable scenes only.
Technical Excellence:
Vishal Chandrasekhar and Thaman have given an average musical score. A couple of songs are ok. In fact, had the songs been catchy and gone viral, the movie would have been better.
Vamsi Patchipulusu's photography is excellent. Colorful frames can be seen throughout the film. Ganesh Kumar Ravuri dialogues are decent and clean. Rich production values are another advantage.
Highlights:
Sapthagiri's comedy track
Dialogues
Drawback:
Outdated storyline
Lack of strong conflict
Slow-paced narrative
Analysis
At the outset, "Varudu Kaavelenu" looks very familiar, but the undercurrent message could have really made the difference had the screenplay was dealt well.
New director Lakshmi Sowjanya asks a question: why are that parents give enough time for their sons to get settled in their career and life before asking them to get married, but not for their daughters? Why do parents ask the daughters whether she's mentally ready for the marriage?
We get to know the message in the third act of the film when Murali Sharma, father of Bhumi (played by Ritu Varma), raises the point. Until then the film runs in a regular rom-com style of two lovers taking time to overcome their misunderstandings and burn their bridges. We don't see any major conflict in the story.
Thus, the beginning of the film, to be precisely much of the first half, looks retelling of "Manmadhudu". The office drama involving Ritu Varma and Naga Shaurya reminds us of Sonali Bendre and Nagarjuna, with the only difference of Ritu playing Nag's role.
The story line also seems to be a lift and shift from that of Jagapathi Babu- Priyamani's "Pravarakhyudu" but nothing new.
The beginning portion is focused on simple romantic and usual moments that we regularly see in a rom-com – a mother who is obsessed with marrying off her daughter, a hero-heroine slowly falling in love and a misunderstanding occurring, office drama, etc.
However, the office comedy scenes seem bit forced, Vennela Kishore's comedy track and Himaja's selfie track are miserable. There are plenty of actors in the film, but except three or four characters none make any impact. Hero's mother thread is forgotten after one scene.
The film brings boredom for the first 40 minutes with nothing much happening on screen, but it starts engaging for 30 minutes after that giving a feel that the narration has come on to the track. But again there is a steep fall with the flashback college episode which is a big let down. The placement of 'digu digu digu naga' song also disturbed the flow.
Despite 'lag' in the narrative, the dramatic scenes towards the end make it a decent film but not something enticing.
All said, 'Varudu Kaavalenu' is a time-pass movie with a few comedy scenes in second half. Despite slow-pace and predictable screenplay, it makes an okay watch.
Bottom-line: Outdated but partly engaging