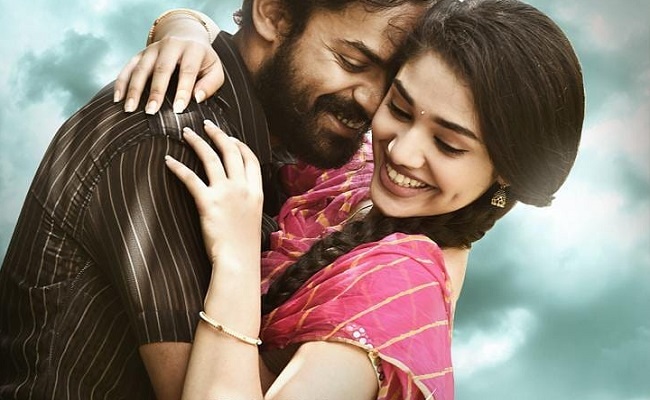 Movie: Uppena
Rating: 2.75/5
Banner: Mythri Movie Makers
Cast: Panja Vaisshnav Tej, Vijay Sethupathi, Krithi Shetty, and others
Music: Devi Sri Prasad
Cinematography: Shamdat Sainuddin
Editor: Naveen Nooli
Art: Mounika Ramakrishna
Producers: Naveen Yerneni and Y Ravi Shankar
Written and Direction: Buchi Babu Kumar Sana
Release Date: Feb 12, 2021
Despite being the launchpad for newcomers, "Uppena" has been making quite a buzz with its super hit songs, alluring teasers and trailers, and of course aggressive promotion by the leading production house Mythri Movie Makers.
Let's check to know the truth in their claims.
Story:
The story is set in 2002. In Uppada, a seaside town in Andhra Pradesh, Aasi aka Aashirvadam (Vaisshnav Teja) is a fisherman. The youngster has been developing 'feelings' towards Bebamma (Krithi Shetty) since childhood.
She is an upper-caste girl, and daughter of local businessman Raayanam (Vijay Sethupathi), who wants to develop a shipping yard in the village.
Bebamma who is now studying in a college in the nearby city Kakinada yearns for love. Despite his daughter informing him that her bava is harassing her, Rayanam doesn't take any action on him to keep their family honor intact.
For Raayanam, honor supersedes everything. "Honor and I are not inseparable from one another," he says. When Aasi accidentally beats her bava, she falls for him and their love story begins.
Needless to say, Rayanam doesn't tolerate a low-caste youngster dating his daughter. How far Raayanam would go to break these lovers?
Artistes' Performances:
Panjaa Vaisshnav Tej and Krithi Shetty are newcomers but their screen presence and the ease that they have exhibited make us forget about their novice background. On the screen, they are cute as a young pair. Vaisshnav Tej fits well in the role of a youngster from the fishermen community.
Krithi Shetty is stunningly beautiful. Her expressive eyes will make young hearts melt.
Vijay Sethupathi as the antagonist and father of Krithi Shetty sets the ball rolling. The award-winning actor has not done any exceptional work here, but his screen presence and intimidating nature draw us into the story. His stature is enough.
Senior actor Sai Chand gets another meaningful role and he steals the moments whenever he appears on the screen.
There is no purpose of the mother character in bed. Similarly the bava character ends up without proper closing.
Technical Excellence:
Devi Sri Prasad's music has been topping the charts for over years. The songs are not only hummable, but they are also colorful on the screen. Music is its mainstay. The songs and his highly effective background score have made a huge difference to this predictable story. If not for his music, the film would have fallen flat.
Samdat's cinematography is quite appealing, especially the picturization of romantic sequences and songs that stand out. The visuals are alluring.
Highlights:
Devi Sri Prasad's music
Fresh and young pair
Rich visuals and production values
Drawback:
Predictable storyline
Cliched moments
Purposeless characters and characterizations
Slow pace
Analysis:
New director Buchi Babu's "Uppena" has a familiar plot that is populated with relatable situations, and a conflict that is clichéd, yet topical. Essentially a love story, "Uppena" tackles the issue of casteism that has been dealt with in many films in recent times.
The love story doesn't have a unique plot, nor does it have a different conflict point. An upper-caste rich girl falling for a poor low-class boy is a point that we have been seeing for many decades. The girl's father playing the villain in their story is also a clichéd conflict.
"Uppena" does have all these clichés but new director Buchi Babu focuses less on the story, and more on drawing the audience to the village, their culture.
He plays with simple things, works more on the chemistry of the young couple, relies on situations that would appeal to the youngsters.
The girl raising eyebrows chirpily, the song and drama, the dialogues… these are the elements he gets right that would connect to the young audiences.
He also works on the 'Rangasthalam' kind of screenplay technique. 'Rangasthalam' hangover can be seen not only in the narrative but also in the characterizations.
Like Ram Charan suffers from hearing deficiency in "Rangasthalam", the protagonist of "Uppena" has a problem of pronouncing 'ga'. Since he cannot pronounce ga, he calls Sangeeta as 'Santha', but rather prefers her nickname Bebamma. But the purpose of this is not established.
The couple running away through Odisa, Kolkata and Gangtok is forceful.
Trouble however starts just before the interval, with predictable situations keep coming in. The dip in the narration continues for a long stretch. Predictability is one of the major minuses of the movie.
These kinds of films rely on the tragic ending, but 'Uppena' solely depends on the 'so called shocking' twist. If we deduct the twist, the film ends up as a regular love story.
But the film does show difference when it reaches the main point in the penultimate sequences. Also, the culmination of Vaishnav's story and the twist is poignant for some and repulsive for others. The climax is handled reasonably.
Debutante Buchi Babu's direction is decent. Despite being this is his debut film, he has shown command over extracting best from the crew and the cast. He needs to be applauded for his dialogue in the climax part played on a Shiva's idol with a broken hand.
Bottom-line: Not upto the expectation