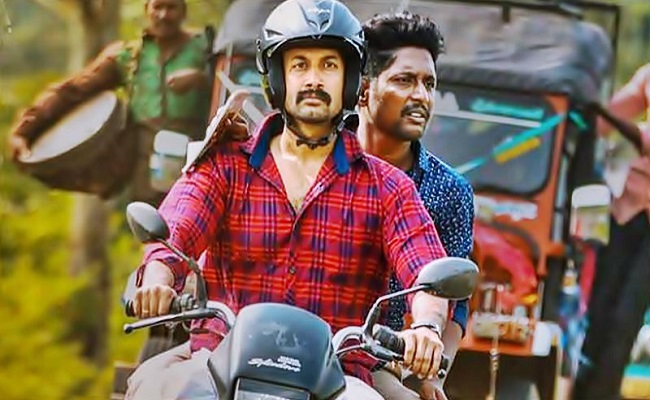 Movie: Uma Maheswara Ugra Roopasya
Rating: 2.75/5
Banner: Arka Mediaworks, Mahayana Motion Pictures
Cast: Satyadev, Hari Chandana, Roopa Koduvayur, Naresh, Suhas
Cinematography: Appu Prabhakar
Music: Bijbal
Producers: Vijaya Praveena Paruchuri, Shobu Yarlagadda, and Prasad Devineni
Written and directed by: Venkatesh Maha
Release Date: July 15, 2020
OTT Platform: Netflix
After "47 Days", Satya Dev's latest film "Uma Maheswara Ugra Roopasya" also skipped theatrical windows and is streaming on a digital platform. With not much publicity campaign, this movie is now streaming on Netflix.
Let's find out this movie's merits and demerits.
Story:
Mahesh (Satya Dev) is a photographer who owns a studio in Araku town. He is in love with his schoolmate Swathi who is now working as a nurse in Hyderabad. He is a simple guy, leads a pretty ordinary life.
A street fight in which he gets humiliated by Joginath has ramifications on his life. He vows not to wear slippers until he takes revenge on Joginath.
Artistes' Performances:
The ever-dependable Satya Dev is fabulous as Mahesh. These are the roles that best suit him and he grabs this opportunity to showcase his real strength. His performance is the pillar of the movie.
Other than the comedian Suhas and VK Naresh, who also provide some comedy, the film features new faces in other characters that include the two female leads - Hari Chandana and Roopa Koduvayur. The latter shines in the energetic role of a college student Jyothi.
Technical Excellence:
Appu Prabhakar's cinematography doesn't boast flashiness but it captures the scenic Araku valley beautifully. His frames paint a realistic approach.
The film has songs composed by the original music composer and they are just okay. Even at 1 hour 45 min runtime, the film looks lengthy due to the slow pace of the film.
Highlights:
Satyadev's performance
Natural setup
Humor
Drawbacks:
Thin plot with the snail pace
Predictable sequences
Analysis
To put things in perspective first, "Uma Maheshwara Ugra Roopasya" is the second film of director Venkatesh Maha, who won accolades for his debut movie "C/o Kancherapalam", which was declared by many critics as one of the best movies made in Telugu in long.
It was an original story with a stunning screenplay. But the director had opted a Malayalam movie - Fahadh Faazil starrer "Maheshinte Prathikaaram" - to remake for his second directorial venture.
It is a lighthearted entertainer set in the hill station of Araku valley.
There is a beauty in the initial portion of the screenplay that cleverly establishes how a chain of events led to Mahesh involving in a street brawl, all the while capturing the small town's lifestyle naturally.
The sequences like a wedding at TNR's house and a phone call from an NRI provide good comedy. The scene of searching hen the hero's father goes for missing for few moments is also hilarious.
The entertainment here is subtle and natural. The director (perhaps all these exist in the source material as well) generates comedy from simple situations and regular conversations.
But after a while, it becomes pretty clear that the story is not moving further and delving too much in depicting the ruminations of characters.
The middle portion completely has gone for a toss. Until the second heroine comes into the scene, the proceedings are dull.
Even in the Jyothi's episode, which brought verve to the proceedings, the lengthy flash mob dance and the episodes of martial arts have added little substance to the main plot and fattened the length.
The film scores in showing the lifestyle of tribal town Araku, the simplicity of the characters, the innocence of the people there. Director Venkatesh Maha seems to have followed the same original in its essence and screenplay.
In a nutshell, "Uma Maheshwara Ugra Roopasya" is a simple tale with an ordinary protagonist, with an offbeat setting. It does offer some comedy but it runs at a slow pace. Perhaps, a tighter narration and a better climax would have won more marks.
Bottom-line: Simple Tale
Click Here for Latest Direct-to-OTT Releases (List Updates Daily)