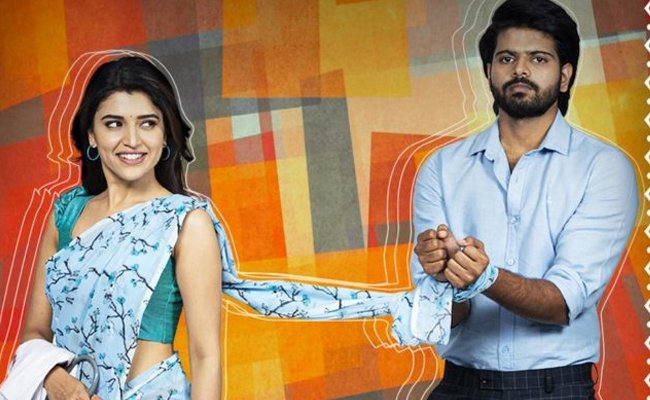 Movie: Thellavarithe Guruvaram
Rating: 1.5/5
Banner: Vaarahi Chalana Chitram& Loukya
Cast: Sri Simha Koduri, Chitra Shukla, Misha, Satya, Viva Harsha, Rajeev Kanakala, Sharanya Pradeep, and others
Music: Kaala Bhairavi
Cinematography: Suresh Ragutu
Editor: Satya G
Producers: Rajani Korrapati, Ravindra Muppaneni
Direction: Manikanth Gelli
Release Date: March 27, 2021
Keeravani's younger son Sri Simha and elder son Kaala Bhairava made debut as hero and music composer respectively with 'Mathu Vadalara'. The film was a decent success. Sri Simha's second film as here is 'Thellavarithe Gururvaram'. The film hit the screens today.
Let's analyze.
Story:
Veeru (Sri Simha) and Madhu (Misha) are about to get married. Their wedding muhurtham is in the wee hours. But Veeru and Madhu are not interested in getting married to each other, as each of them has their reasons.
Veeru decides to silently leave the wedding venue. But he finds Madhu is also attempting the same.
They come to an understanding that one of them should runaway, one stay back. But why are they running away?
Artistes' Performances:
Comedian Satya steals the show. As a hero Sri Simha's uncle, he gives a hilarious performance.
For Simha, this is the second film, and he has done an okay job. Chitra Shukla's characterization is poor.
As an innocent bride, Misha does a fair job. Sharanya Pradeep as heroine's sister is impressive.
Technical Excellence:
Kaala Bhairavi's songs are simple but his background score is not effective. Cinematography is serviceable. Dialogue writing is absurd.
The editor should have applied scissors at many places.
Highlights:
Initial setup
Satya's comedy
Drawback:
Dead slow narration
Silly situations
Both female characters
Ajay's goat episode
Analysis
"Thellavarithe Guruvaram" is the latest addition to the movies whose stories take place over one night. Such stories run on expected lines.
Before you enter the cinema hall, you know the ending of the story - the hero and heroine will get married after the sun rises. It is the night, that is where the drama takes place.
As an idea - a couple who is forced to get married much against their interest discovering love between them throughout the night - is interesting. The producers must have excited with the initial set up of "Thellavarithe Guruvaram" to green light this project.
The screenplay is the problem. After the interesting initial setup, it turns into a bore-fest, with slow narration, scenes that provide nothing but boredom, characterizations of the female lead actress that sound absurd.
Sample a scene:
Hero and heroine are driving back to their wedding venue from Hyderabad in their car in the wee hours. The heroine who is driving the car hits a goat. The next moment, three men drag her out of the car and take her to a nearby wedding ceremony, where Ajay is waiting to tie the knots to the dead goat. It is revealed that Ajay is told by Swamiji to marry a goat as a remedy to his jataka dosha. Since the heroine killed the goat, Ajay decides to marry the heroine and a huge fight takes place. All this happen in the wee hours on the national highway!
There are many such outrageously bad sequences. With such inept writing, what do you expect from this film?
Except for Satya's hilarious acting, "Thellavarithe Guruvaram" makes us feel to say, "Tondarlo Tellarithe Bagundu, O Panaipothundi". It lacks excitement, or entertainment, and engagement.
Bottom-line: Chacchindi Gorre