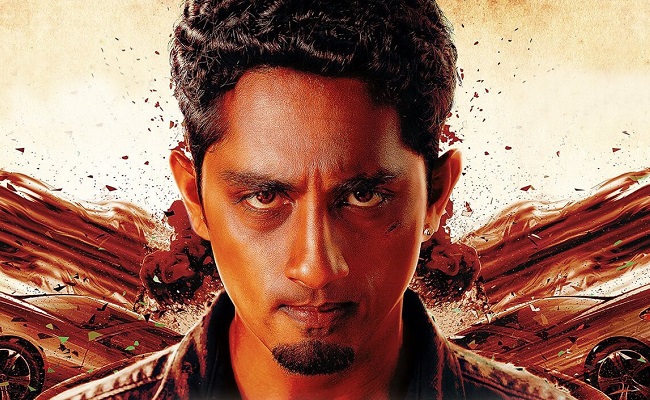 Movie: Takkar
Rating: 1/5
Banner: People Media Factory, Abhishek Agarwal Arts
Cast: Siddharth, Divyansha, Abhimanyu Singh, Yogi Babu, Munishkanth, RJ Vigneshkanth and others
Dialogues: Hanu Ravuri
Music: Nivas K Prasanna
Director of Photography: Vanchinathan
Editor: GA Gowtham
Art Director: Udaya Kumar K Stunts
Co-Producer: Vivek Kuchibotla
Producers: TG Vishwaprasad, Abhishek Agarwal
Written and Directed by: Karthik G Krish
Release Date: June 09, 2023
Siddharth has been attempting to break away from his lover-boy image. He claimed that he would establish a new image with "Takkar." The film's release in Telugu by not just one, but two major Tollywood production houses generated curiosity.
Let's assess its strengths and weaknesses.
Story:
Gunasekhar (Siddharth) harbors aspirations of becoming wealthy. He arrives in Vizag in search of stable employment but faces humiliation while doing odd jobs. Eventually, he secures a well-paying and respectable position as a cab driver.
Meanwhile, Gunasekhar develops feelings for Lucky (Divyansha Kaushik), a super-rich girl who has grown weary of her affluent lifestyle. Lucky also claims to be a feminist. However, her life takes a turn when she is kidnapped by a mafia gang seeking ransom from her father, and she is confined in the car's trunk.
Coincidentally, Gunasekhar encounters the same mafia gang and, after a brief altercation, manages to steal the car with Lucky trapped inside. Thus begins the journey of Gunasekhar and Lucky as they attempt to escape the clutches of the mafia gang. Will their time on the run lead to love blossoming between them?
Artistes' Performances:
Siddharth looks the same as he always does, with the exception of his beard style. He has the same boyish charm, despite his attempts to be a "mass hero." He appears completely unfit for the role.
Divyansha Kaushik's role is poorly written, but she is the film's best looking aspect because she is charming and provides some eye candy while the proceedings are dull and boring.
Yogi Babu's comedy falls flat. As the villain, Abhimanyu Singh plays it in his usual manner.
Technical Excellence:
The film has good production and technical value. The cinematography, in particular, is neat. The action stunts are ridiculous. The writing is awfully sloppy and incoherent. Other than one song, none of them work.
Highlights:
Nothing
Drawback:
Sloppy writing
Poor direction and narrative skills
Outdated comedy track
Never ending runtime
Analysis
In Hindi, "takkar" means "collusion." In Tamil, it commonly refers to winning a game in a direct fight. The hero in Siddharth's "Takkar" faces two challenges: fighting a mafia gang and engaging in a love game with the heroine. However, the film is not as simple as described.
"Takkar," directed by Karthik G Krish, is one of the messiest films we have seen in recent years. There is no coherence in the script or the hero's journey. Adding a mishmash of sequences and strange characters does not bring any novelty.
Siddharth plays a cab driver, and the cab (a Benz car) is owned by a Chinese-looking man who always speaks to Siddharth while performing Seershanam. There is no explanation for why these scenes are shown or the significance of this Chinese-looking man in the story.
Then there's the main villain, involved in human trafficking. He deals with international mafia leaders in one sequence, but in the next, he interacts with comedian Yogi Babu and acts like a buffoon for the entire second half.
Most films nowadays are a huge disappointment after the intermission. However, "Takkar" is sloppy from the beginning. It bores us to death in both halves of the film.
The road trip romance, with some daring scenes and songs, also falls flat. It is strange why People Media Factory and Abhishek Agarwal purchased the Telugu rights to this film. What prompted them to buy it?
Overall, "Takkar" is a lackluster effort. It is completely forgettable fare that will leave you with nothing but a headache. Watching "Takkar" will make you feel faint (chakkar).
Bottom line: Chakkar!