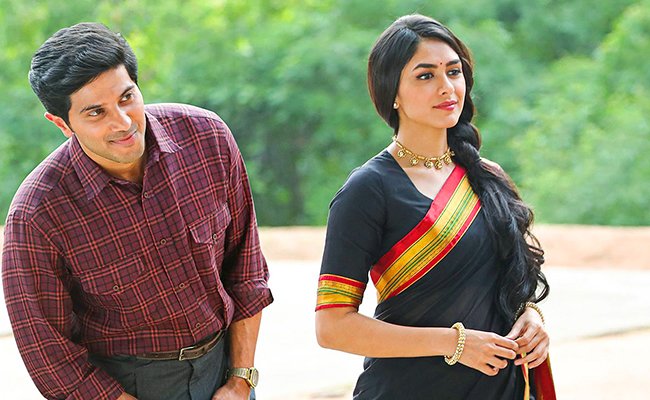 Movie: Sita Ramam
Rating: 2.75/5
Banner: Swapna Cinemas/Vyjayanthi Movies
Cast: Dulquer Salmaan, Mrunal Thakur, Rashmika, Sumanth, Tharun Bhascker, Bhumika Chawla, Vennela Kishore, Murli Sharma, and others
Music: Vishal Chandrasekhar
DOP: PS Vinod, Shreyaas Krishna
Dialogues: Hanu Raghavapudi, Jay Krishna, Raj Kumar Kandamudi
Editor: Kotagiri
Production Designer: Sunil Babu
Art Director: Vaishnavi Reddy, Faisal Ali Khan
Producers: Swapna Dutt, Priyanka Dutt
Written and Directed by: Hanu Raghavapudi
Release Date: Aug 05, 2022
The production house that gave us super hit movies like "Mahanati" and "Jathi Ratnalu" has produced "Sita Ramam". The promotions, the trailers, the songs, and the interviews have created interest in the film as they are different from the regular. Dulquer Salmaan acting in a lead role and Rashmika playing one of the lead roles also created a buzz.
Let's find out its merits and demerits.
Story:
Set in 1985, Afreen (Rashmika Mandanna), a Pakistani student studying in London, hates India. When she is entrusted with the job of delivering a letter, written by Lieutenant Ram (Dulquer Salmaan) to Sita Mahalakshmi (Mrunal Thakur) in India, she reluctantly accepts.
She learns that the letter was written in 1965 by Ram. In her quest to find Sita, Afreen gets to know the beautiful love story of Ram and Sita. She also needs to find an answer as to how she related to Ram.
Artistes' Performances:
Dulquer Salmaan and Mrunal Thakur suited perfectly to their roles, both are charming and share wonderful chemistry between them, and are convincing to their parts. Rashmika in a brief but important role makes her presence felt.
Sumanth gets a meaty character that has more substance towards the end of the story. Vennela Kishore's comedy track is boring. Tarun Bhascker Dassyam has not much to do.
Technical Excellence:
Technically, the film is rich in every sense. Cinematographers PS Vinod and Shreyaas Krishna have captured Kashmir and other locations so beautifully, and some frames look like paintings.
Vishal Chandrasekhar's music is classy and melodious. The editing is neat. The production design is perfect. Dialogues, however, are a bit old style.
Highlights:
Dulquer Salmaan and Mrunal Thakur's chemistry
Cinematography and music
The final hour
Drawback:
The beginning portions
Slow Pace
Analysis
Director Hanu Raghavapudi's "Sita Ramam" is not just a love story, but is also about humanity, patriotism, and sacrifice. Though it begins and runs like a romantic drama, the film has a strong message: choose humanity over enmity, love over war. It has different timelines and many places to cover including London, Kashmir, Pakistan, and Hyderabad.
"Sita Ramam" begins with the story of Rashmika's Afreen. Much like "Mahanati" and "KGF", it goes back and forth to talk about two different threads and finally they get merged. Interestingly, the story keeps a couple of twists in its belly.
Sita and Ram's story begins in Kashmir and moves to Hyderabad and shifts again to Kashmir. They got introduced to each other by letters in 1965. But before we get to see the main romantic track between Dulquer and Mrunal Thakur, many unnecessary sequences keep coming and these portions are boring. The comedy scenes furthermore spoil the mood.
The film and the story come into the groove just before the interval bang. Slowly, the drama intensifies, and the interest builds up. The final hour is gripping and moving.
While we are arrested by the rich frames throughout the film, the last 40 minutes of the film are the soul. The final act is riveting. Director Hanu Raghavapudi has also made sure to keep some surprises in the story in these portions. No wonder the film gets its meter right in the end.
Two scenes stand out...
1. The twist about the real identity of Sita
2. Dulquer sequence with Sumanth in Pakistan
Melodious songs are another asset to this classy narrative.
As said before, the initial portions and comedy portions should have been edited in a better way.
All said, accentuated by technical "Sita Ramam" is a clean and neatly told love story. Watch it for the lead pair's chemistry, beautifully shot frames, and the final 40 minutes. Despite issues like slow pace and length, it makes a good watch for multiplex audiences and people who seek out classy dramas.
Bottom line: Classy Style