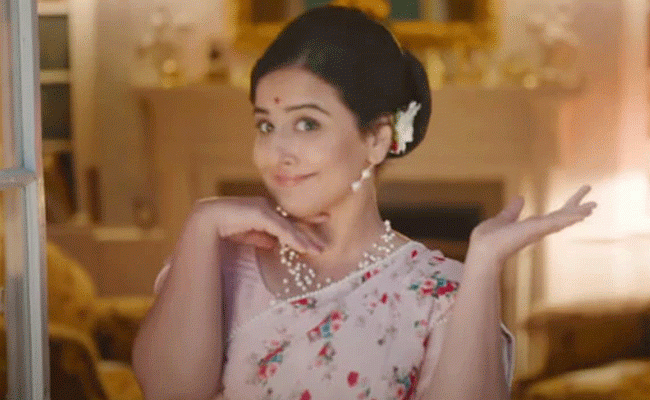 Movie: Shakuntala Devi
Rating: 2.5/5
Banner: Sony Pictures
Cast: Vidya Balan, Jisshu Sengupta, Sanya Malhotra, Amit Sadh
Cinematography: Keiko Nakahara
Music: Sachin-Jigar
Screenplay: Anu Menon, Nayanika Mahtani
Written and directed by: Anu Menon
Release Date: July 31, 2020
OTT Platform: Amazon Prime Video
A biopic on Shakuntala Devi, the world-renowned mathematician, has generated curiosity. Vidya Balan, who earlier played Silk Smitha's role to perfection. The biopic is now streaming on Amazon Prime.
Let's analyze
Story:
Born in Bangalore, Shakuntala Devi (Vidya Balan) was a child prodigy. She was good at numbers.
Chasing fame and living her life on her own terms, Shakuntala Devi's relationship with her husband (Jisshu Sengupta) first, and later with her daughter, Anupama (Sanya Malhotra) had strained.
This biopic highlights her difficult equations in relationships.
Artistes' Performances:
Vidya Balan who is good at playing such real-life characters essays the role of Shakuntala Devi so convincingly, so endearingly. Vidya Balan sinks into the skin of Shakuntala Devi. At times we feel watching the real-life Shakuntala Devi. Like Shakuntala keeps on saying, Vidya always wins with her performance.
'Dangal' fame Sanya Malhotra as Shakuntala's daughter also aces her role. She is so perfect. So is Jissu Sengupta. Amit Sadh as Sanya's husband is okay.
Technical Excellence:
The film has decent technical values. Production design and cinematography stand out but the music is a drawback. The dialogue writing is good.
Highlights:
Vidya Balan's performance
Sanya Malhotra
Drawback:
Less focus on mathematics
Predictable screenplay
Emotions lack impact
Analysis
"Ma. Mostly Hum Sabka Pehla Sabdh," Anupama Banerji, the daughter of Shakuntala Devi, narrates the story of Anu Menon's 'Shakuntala Devi', a biopic on the world-renowned mathematician.
The makers not only put a disclaimer noting that this biopic is based on a true story as seen through the eyes of a daughter but also began the story with the daughter filing a criminal case against on Shakuntala Devi in London thus declaring this film is as much as about the mathematician's life and also about the 'equation' between the mother and the daughter.
Shakuntala Devi who was described as a 'Human Computer' was poor at studies but is a genius in numbers. Alphabets confused but not the numbers. London, Paris, New York…. she toured the world doing stage shows of number games and mathematics, but she didn't give enough love to her daughter Anupama. The daughter craved to see her father who was living in Culcutta. Anupama starts hating her mother.
The biopic focusses on this main thread along the way giving glimpses of Shakuntala Devi's rise as a world-famous mathematician, her love relations, and marriage to Paritosh, her other accomplishments as a writer, and astrologer.
M square played a key role in Shakuntala Devi's life – Mathematics and Mother. Shakuntala Devi never wanted to be like her mother, she lived for herself. Shakuntala Devi's daughter Anupama too didn't want to become like her mother. But Shakuntala Devi's motherly instincts dominated her in the end, and her daughter too finally understands her mother. This biopic focuses on that curve mainly.
The back and forth screenplay explores various aspects of Shakuntala's life as well in a fleeting manner.
Director Anu Menon has succeeded in telling the story from the eyes of a daughter but the film lacks the emotional appeal that we had seen in other well-crafted biopics. It never rises above the peripheral thread. Also, it doesn't have the zing that it needed. It lacks the pull of a 'Mahanati' to take us a ride with the story until the end. It doesn't even come half the close to the 2001 'A Beautiful Mind', which was also a biographical drama about a mathematician.
Further on the downside, the film has little to offer about Shakuntala Devi's mathematical prowess and also runs on a predictable template.
In a nutshell, 'Shakuntala Devi' is a Vidya Balan show, works in parts but doesn't make an arresting watch.
Bottom-line: Mothers and Daughters