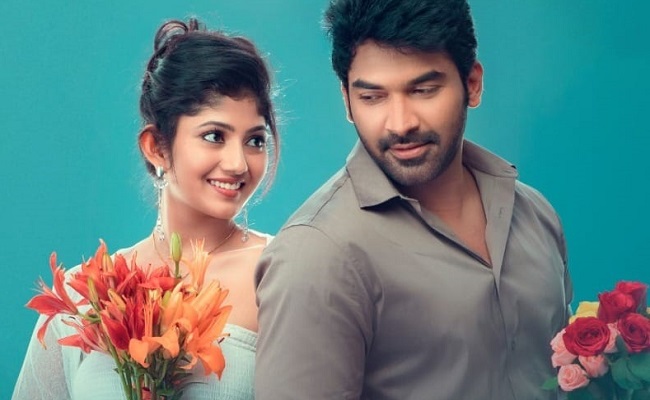 Movie: Shaadi Mubarak
Rating: 2.5/5
Banner: Sri Venkateshwara Creations
Cast: Sagar RK Naidu, Drishya Raghunath, Rahul Ramakrishna, Hemanth, Banerjee, Priyadarshi Raam, and others
Music: Sunil Kashyap
Cinematography: Srikanth Naroj
Producers: Raju and Sirish
Written and Direction: Padmasri
Release Date: March 05, 2021
When senior producer Dil Raju's name is attached to any project, it naturally does create interest, no matter who has acted in it. "Shaadi Mubarak" is the latest example. The film has come from Dil Raju's banner.
Let's find out its merits and demerits.
Story:
An NRI Madhav Sunnipenta (RK Sagar) lands in Hyderabad to check the marriage alliances for him.
Thupakula Satyabhama (Drishya Raghunath), whose mother runs a marriage bureau, agrees to take Madhav to the houses of three girls as part of pelli choopulu session.
Along this journey, Madhav and Satya Bhama fall in love, which leads to many complications.
Artistes' Performances:
RK Sagar Naidu, who has a great fan following women, is handsome and has played his role effortlessly. However, he looks a bit aged for this NRI groom's character.
Newcomer Drishya Raghunath has an energetic presence. They have shared the right chemistry. Priyadarshi Ram as the heroine's father is good.
Technical Excellence:
The film is shot on a low-budget. While the cinematography is decent, the loud music is jarring, the editing lacks slickness.
Highlights:
Comedy scenes
The basic plot point
Drawback:
The second half
Repetitive scenes
Music and editing
Analysis
The lead pair of "Shaadi Mubarak" meet at the airport and immediately move into a cab that whizzes through the roads of Hyderabad city for nearly one hour of runtime. Thus begins the unlikely romance between Madhav Sunnipenta played by RK Sagar and Drishya Raghunath's Satyabhama.
The plot, though slim, seems quite interesting in the beginning. Much like in "Pelli Choopulu", a girl and boy meet accidentally and spend few hours together. Their initial journey as they begin to fall in love with each other has offered some genuine laugh-out-loud moments.
Their conversations in the cab are funny. Also, some pelli choopulu sequences are hilarious. After few such witty episodes in the first episode, the fun fizzles out after interval bang.
The second half turns out to be an entirely different movie. And the rest of the proceedings are extremely predictable, at times boring as well. The Madhunandan - Aditi Myakal track is completely unconvincing.
The film could have been a hilarious rom-com had the makers worked on the second half, and more importantly edited in a more professional way. Apparently, the film is in the making for a long period, and the actors appear differently in many places. There are continuity issues as well. Some sequences are more like a TV serial.
More than the poor production values and jarring music, it is the weak writing in the second half that has undone the good beginning.
In a nutshell, "Shaadi Mubarak" begins well, generates laughs, and runs out of steam quickly, too
Bottom-line: Moodu Choopulu
Click Here for Latest Direct-to-OTT Releases (List Updates Daily)