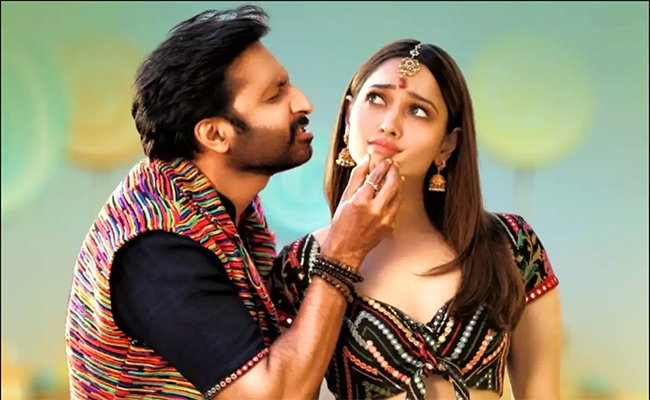 Movie: Seetimaarr
Rating: 2.75/5
Banner: Srinivasaa Silver Screens
Cast: Gopichand, Tamannaah, Bhumika, Pragati, Rahman, Digangana Suryavanshi, Tarun Arora, and others
Cinematography: Soundar Rajan
Music: Mani Sharma
Editor: Tammi Raju
Producers: Srinivasaa Chitturi
Written and direction: Sampath Nandi
Release Date: September 10, 2021
Gopichand's action drama "Seetimaarr" got postponed many times due to the pandemic situation. It is out in the theaters today on the auspicious Ganesh festival.
Let's find out its merits and demerits.
Story:
Karthi (Gopichand) works in a bank in his village Kadiyam near Rajamundry. His vocation is coaching the women's Kabaddi team. To see that his village team represents Andhra Pradesh state at the national Kabaddi championship is his goal.
He trains the village girls into professional players. He and his team land in Delhi for the championship, and as they are preparing for the D-day, Makkan Singh (Tarun Arora) kidnaps the girls.
How will Karthi bring them from the hold of Makkan Singh before the match begins, and why did Makkan Singh target Karthi?
Artistes' Performances:
In a role that plays to the gallery, Gopichand is in his element. He is fit, fits in the role.
Tamannaah does a typical masala heroine's role and provides a glamour quotient in the 'Jwala Reddy' song. Rahman as Gopichand's brother-in-law is okay.
Tarun Arora appears as the main villain. Digangana Suryavanshi plays the second fiddle to Tamannaah.
Technical Excellence:
Soundar Rajan's top-notch cinematography and rich production values are the main assets.
Mani Sharma comes up with mass beats in tune with the film's genre. Editing should have been tighter. Action stunts are over the top.
Highlights:
Mass elements
Rich visuals and action scenes
Jwala Reddy song
Drawback:
Regular story and screenplay
Formulaic scenes
Inconsistent flow
Sport moments
Analysis
Expecting novelty in story and screenplay from an out-and-out mass movie is like finding water in a desert. These films follow the time-tested formula. But why is it that only a few mass entertainers become blockbusters?
Even for a formulaic masala actioner, there should be a rhythm or a flow. Only those who fit in this setup click at the box office.
Director Sampath Nandi has tried following the same method in "Seetimaarr", his latest offering.
Everything that we see in "Seetimaarr" gives an impression that we have seen them before. A hero playing the coach of the women's team is not new. The villain targeting hero's family member is as old as the Himalayas. This is a typical template for commercial mass hero movies. But Sampath Nandi has tried to package it in a way that appeals to its core audience.
He adds elements like the game of Kabaddi, women's issues, education, and pride of the region to this story that would bound to work with the general audiences. Plus, there is a glamour quotient.
While the narrative has its many issues, he gets certain things right. Instead of saving the girls valiantly, Gopichand inspires the girls to fight on their own. Such scenes have worked. Posani Krishna Murali's episode in the second half, the girls' attempt to run away from the kidnapper, and the final match scene are worth of 'seetimar'.
Episodes like Digangana's Pelli choopulu, the banter between Telangana and Andhra team, and many other formulaic scenes irritate us. Plus, some of the twists are predictable. Action episodes go overboard. Like in all masala movies, logic goes for a toss.
Despite this imbalance, the film works to an extent for the B and C center audience. This may bring festival to the theatres in the towns and villages, after a long hibernation of emptiness due to the long standing pandemic.
All in all, "Seetimaarr" is a sports drama packaged with mass elements. It is a regular masala movie with a high dose of oora mass.
Bottom-line: Masala 'Whistle'
Click Here for Latest Direct-to-OTT Releases (List Updates Daily)