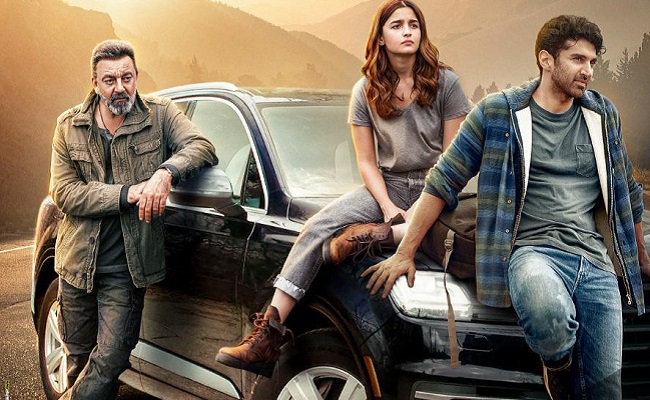 Movie: Sadak 2
Rating: 1/5
Cast: Alia Bhatt, Sanjay Dutt, Aditya Roy Kapur, Pooja Bhatt, Makrand Deshpande etc.
Director: Mahesh Bhatt
OTT Platform: Disney Hotstar
'Sadak 2' is one of the most discussed films on social media not for its content but for the negativity surrounding it. The trailer has got the distinction of the second most disliked trailer in the world. Keeping this negativity of anti-nepotism gang aside, the movie is a sequel to the 90s super hit film 'Sadak' starring Sanjay Dutt, Pooja Bhatt. Mahesh Bhatt who directed the original helmed the sequel as well. Let us see the merits and demerits of the film.
Story:
Aarya Desai(Alia Bhatt) is running away from a fake baba Gyan Prakash(Makarand Deshpande).
She meets a driver named Ravi Kishore(Sanjay Dutt) in a psychiatric ward who is taking treatment. He lost his wife and he has suicidal tendencies.
She hires him to take her to a far away place so that she can go away from the asylum to expose Gyaan Prakash.
On their road trip,her boyfriend Vishal Thakur (Aditya Roy Kapur) also joins. Did they reach the destination as per their plan? What happens forms the rest of the story.
Actors and Technicians:
Sanjay Dutt is the sole attraction of the movie. His screen presence and acting keeps the audience at least engaged for some time.
Alia tried her best but she couldn't do much to elevate the poorly written scenes and dull narration.
Aditya Roy Kapur is totally wasted. Makrand Deshpande, Jsshu Sen Gupta, Gulshan Grover did justice to their roles.
The story is cliched and on top of it the film moves forward at a snail's pace that is unbearable. Music didn't add much or elevate the things.
Except for the cinematography other departments couldn't deliver decent quality.
Plus Points:
Sanjay Dutt
Minus Points:
Cliched Story
Outdated narration
Music
Analysis:
Mental illness, death, suicide what not? All the negative themes are present in the film. Ravi has suicidal tendencies as he lost his loving wife. He is unable to come out of the grief.
Aarya is on a mission to expose the truth behind the fake baba Gyaan Prakash. He is constantly trying to kill Aarya Desai.
Vishal Thakur, the boyfriend of Aarya who comes for the ride. Somehow, all the characters look gloomy and they don't connect to the audience.
Even the proceedings didn't create much interest as the audience feel as if they are watching a three decades old film now. It appears that Mahesh Bhatt has directed the film in 90s format.
Moreover, the montage references from the original movie 'Sadak' never lets you connect with the latest film. It keeps on reminding the original film.
Bottomline: Fasak!
Click Here for Latest Direct-to-OTT Releases (List Updates Daily)