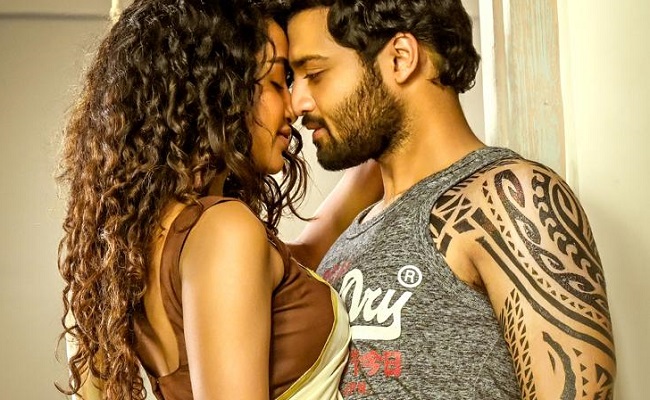 Movie: Rowdy Boys
Rating: 2.5/5
Banner: SVC
Cast: Ashish, Anupama Parameswaran, SahidevVikram, Karthik Rathnam, TejKurapati, Komalee Prasad, and others
Music: Devi Sri Prasad
Director of Photography: Madhie
Editor: Madhu
Art: A Ramanjaneyulu
Producers: Dil Raju, Sirish
Written and Directed by: Harsha Konuganti
Release Date: Jan 14, 2022
"Rowdy Boys" has gained attention with its aggressive promotion. Prabhas, NTR, Ram Charan, Allu Arjun, and other leading stars have come forward to promote it as it is the launch vehicle for producer Dil Raju's nephew Ashish.
Let's find out whether the new star kid makes an impression or not.
Story:
Set on a college campus, the film tells the love story between an engineering student Akshay (Ashish), and a medico Kavya (Anupama Parameshwaran).
Akshay does everything on impulse, he likes Kavya at first sight. Kavya is a bright student, and becoming a doctor is her life goal.
Due to an incident in her college, Kavya decides to begin a live-in relationship with Akshay. Her classmate Vikram (Vikram Saahidev), who admires her, vows not to remain silent.
Will Akshay and Kavya live happily after this decision?
Artistes' Performances:
Prominent producer Dil Raju's nephew Ashish has a tough boy look, but he fits the college youth well. He makes a decent debut.
Anupama Parameswaran, who is much senior to him as an actor, looks a perfect pair to him on screen. She has also done some smooch scenes (perhaps for the first time in her career) with Ashish. She looks gorgeous in some sequences.
Vikram Saahidev as the other lead actor makes his presence felt.
Technical Excellence:
Devi Sri Prasad's music is a huge asset. He brings out his best at providing music for youthful entertainers. Though he has not given catchy numbers as he had done for 'Uppena' last year, this film has nine songs with a wide range.
Madhie's cinematography is glossy and rich. Production values are top-notch. Editing lacks sharpness.
Highlights:
Initial sequences
Devi Sri Prasad's music
Anupama Parameswaran
Drawback:
Ineffective second half
Inconsistent narrative
Predictable conflict
Dragged on moments
Analysis
Love stories set in the backdrop of the college campus are not new. From the onset of RGV's "Shiva", gang fights in colleges have also been a common feature.
The core point of "Rowdy Boys" is a love story set on a college campus and speaks about gangs, but the fights are entirely for a different reason.
Director Harsha Konuganti has given a twist to the story, students of an engineering college and a medical college fight for their girls.
The first half of the film gives a feel of "Prema Desam" and Shah Rukh Khan's "Josh", yet there are refreshing moments as well.
The first half runs on a jet speed – an aimless engineering student falling for a medico, involving in fights, trying to impress the girl with his funky acts, etc. Though not all scenes are gripping, the first half of the film is fairly engaging. But the director loses grip soon, and the second half turns predictable.
The film sometimes goes on the lines of Ranbir Kapoor's "Rockstar" and sometimes like a couple of recent Tamil movies. This inconsistency and dragged narrative in the second half derails the mood. The promising start has been wasted.
However, he gets some moments right. The romantic moments between Ashish and Anupama (the kiss scene in the police station) are executed well. Devi Sri Prasad has been consistently giving good tracks for love stories lately. He does his best again.
Despite some sparks, the film doesn't work entirely or engage us. The second half is a big misfire. Also, the time-tested formula for any love story is casting a better bunch of actors for the roles of hero's friends is important. The film falters big time here. The comedy done by the hero's friends falls flat. Ashish running shirtless in many scenes is overdosed.
In a nutshell, "Rowdy Boys" begins well, but it slips then and falters big time in the second half.
Bottom line: Only for moments