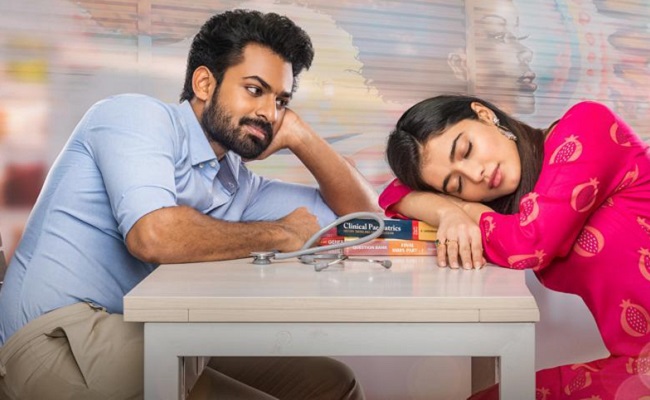 Movie: Ranga Ranga Vaibhavanga
Rating: 2/5
Banner: Sri Venkateshwara Cine Chitra
Cast: Vaisshnav Tej, Ketika Sharma, Naveen Chandra, Prabhu, Naresh, Subbaraj, Satya, Tulasi, Pragati and others
Music: Devi Sri Prasad
DOP: Shamdat Sainudeen
Editor: Kotagiri Venkateswara Rao
Art: Avinash Kolla
Producer: BVSN Prasad
Written and Directed by: Gireeshaaya
Release Date: Sep 02, 2022
Though much hype has not been created, "Ranga Ranga Vaibhavanga" still managed to gain buzz with its pleasant trailer. Has the "Uppena" actor delivered another success?
Let's find out.
Story:
Rishi (Vaisshnav Tej) and Radha (Ketika Sharma) are childhood friends. They grew up together as their parents have been friends for decades.
Despite liking each other and studying in the same medical college in Vizag, they don't talk to each other because of their ego problems. Expectedly, they fall in love with each other after some time.
Due to one incident, Rishi beats Radha's elder brother Arjun Prasad (Naveen Chandra), leading to cracks between their families.
How do Rishi and Radha unite their families again?
Artistes' Performances:
Ketika Sharma keeps calling Vaisshnav Tej pakkinti Abbayi. Truly, he just looks like a boy next door. Though he imitates his uncle Pawan Kalyan at times, his overall performance is simple and to the point.
Ketika Sharma steals the show. She has attractive features and her expressions will appeal to the youngsters.
Naveen Chandra gets a meaty part in the crucial sequences and he does justice to the role.
Pragati, Tulasi, Naresh, and Prabhu have regularly done their roles. Satya's comedy in the second half is irritating.
Technical Excellence:
The biggest advantage this film possesses is Devi Sri Prasad's songs. "Kotthaga Ledenti" and "Telusa Telusa" are melodious. If not for his songs, the film would have become a pure test of patience.
The cinematography is adequate. Lackluster effort is seen from other technicians.
Highlights:
Devi Sri Prasad's Songs
The young lead pair
Drawback:
Lack of freshness
Predictable narration
Messy second half
Analysis
About twenty years ago, the rom-com genre in the Telugu cinema industry had seen its glory. Films like "Kushi", "Nuvve Kaavali", "Chitram" and "Manasantha Nuvve" brought a breath of fresh air. Romantic stories with family drama elements were the rage then.
In most movies, heroes and heroines played the role of friends turned lovers. An incident causing differences between the problems used to be the conflict.
But people were tired of watching the same template getting remixed. The trend died a few years later. With "Ranga Ranga Vaibhavanga", director Gireeshaaya has tried reviving that.
He has written a story that looks straight out of that era. It is okay to select familiar stories, but it is not okay to tell the formulaic theme in dead routine style. There's no iota of freshness.
The first half of the film is devoted to Vaisshnav Tej and Ketika Sharma having ego problems, Vaisshnav Tej trying all kinds of pranks on her.
The second half focuses on the two trying to reunite their families. With no story to speak of, the director fills the narrative with unrelated scenes like a comedy track by Sathya who sings a song in all accents, and doctor babu (TV serial) thread.
While Vaisshnav Tej and Ketika Sharma share likable chemistry between them and their sparkling romance offers some moments, the film heavily suffers from familiarity.
On the whole, "Ranga Ranga Vaibhavanga" despite having a couple of catchy songs and fresh lead pair, makes it a tedious watch due to its outdated template of rom-com.
Bottom line: Ranga Ranga!