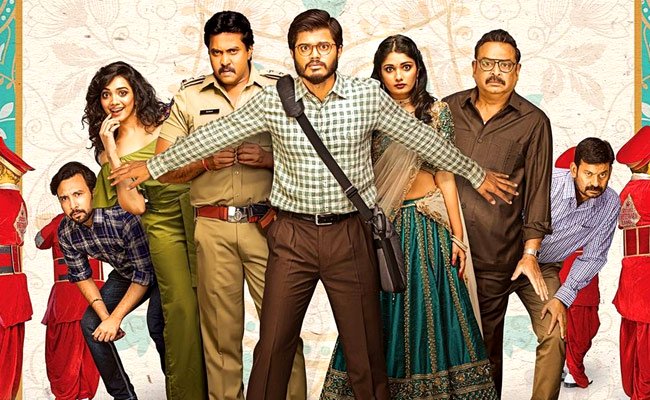 Movie: Pushpaka Vimanam
Rating: 2.5/5
Banner: King of the Hill & Tanga Productions
Cast: Anand Deverakonda, Geet Saini, Saanve Meghana, Naresh, Sunil and others
Music: Ram Miriyala, Sidharth Sadasivuni, Mark K Robin, Amit N Dasani
DOP: Hestin Jose Joseph
Editor: Raviteja Girijala
Art: Neil Sebastian
Producers: Govardhana Rao Deverakonda,Vijay Mattapally, Pradeep Errabelly
Written and direction: Damodara
Release Date: October 29, 2021
After "Middle Class Melodies", young actor Anand Deverakonda has acted in another film. Titled "Pushpaka Vimanam", the film came into the focus with the aggressive promotions by celebrities in the recent weeks. The film is here.
Let's analyze.
Story:
Sundar (Anand Deverakonda), a government school teacher in Hyderabad, gets shocked when his wife Meenakshi elopes with her boyfriend, ten days after their wedding.
As he tries to find the whereabouts of Meenakshi on his own, Sundar also makes an impression with his colleagues that all is well on his home front.
When his colleagues want to meet his wife, he asks an actress known for short films (Saanve Meghana) to act as his wife for one day.
What had happened between Sundar and Meenakshi?
Artistes' Performances:
Anand Deverakonda as a government teacher is convincing. He has done a neat job in this role.
Saanve Megghana as a budding actress gets some scene-stealing moments. She scores over the main lead newcomer Geet, who doesn't make any impression with her part.
Sunil plays a regular cop's role but that didn't suit him much.
Technical Excellence:
The film is shot on a limited budget but has neat camera work. The Hyderabad locations are filmed well. Khailesh Kher's song stands out.
Highlights:
Main plot point
Decent first half
Saanvi Megghana's scenes
Drawback:
Unconvincing twist
Climax part
Excess runtime
Analysis
"Pushpaka Vimanam" rests on a simple but exciting plotline. Not every day that we see a story of a main hero's wife getting eloped. We have seen films that have a pregnant wife searching for her missing husband ("Kahaani"), but a husband searching for his wife who left a letter for him saying she is leaving him for her former boyfriend is new. But why did his wife leave him just ten days after their marriage? That is an interesting aspect to get the attention of the audience. The new director does it convincingly when he sets up the drama.
Furthermore, it has a crime angle. By the end of the first act (in 45 minutes), we get the twist.
While the first half is mixed with comedy situations, the twist and the interval bang evoke interest.
But such stories should have a strong second half to hold the interest. "Pushpaka Vimanam" falters in the crucial part.
The problem lies in the second half as the crime angle gets unfolded. The thin plotline gets dragged on, instead of wrapping it in a racy manner with the whodunit moments. The biggest issue is with the unconvincing angle of mystery.
Except for Shaanve's comedy scene in a police station and in Naresh's house, the second half turns monotonous. The crisp editing and far more convincing crime drama would have made it better.
On the whole, "Pushpaka Vimanam" has an exciting idea on paper, but doesn't get translated onto the screen convincingly.
Bottom-line: Engaging but not exciting
Click Here for Latest Direct-to-OTT Releases (List Updates Daily)