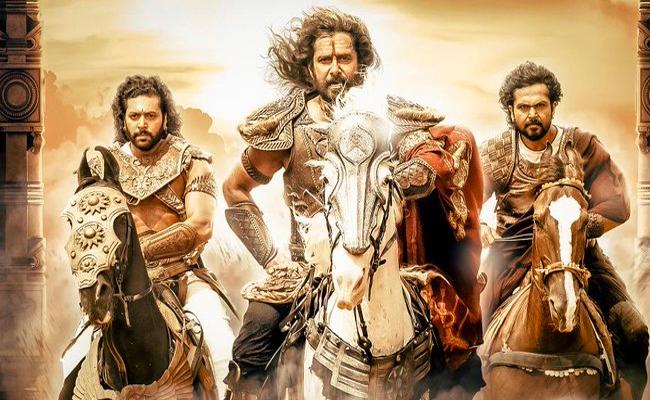 Movie: Ponniyan Selvan 2
Rating: 2.75/5
Banner: Lyca Productions
Cast: Vikram, Aishwarya Rai Bachchan, Jayam Ravi, Karthi, Trisha, Prabhu, R Sarath Kumar, Vikram Prabhu, Aishwarya Lekshmi, Sobhita Dhulipala, Jayaram, Prakash Raj, Rahman and Radhakrishnan Parthiban
Music: AR Rahman
DoP: Ravi Varman
Editor: Sreekar Prasad
Production Designer: Thota Tharrani
Action: Kecha Khamphakdee, Sham Kaushal & Dhilip Subbarayan
Producer: Mani Ratnam & Subaskaran
Directed by: Mani Ratnam
Release Date: April 28, 2023
The first part of "Ponniyan Selvan" did not create much impact in Telugu, but the original Tamil version broke box office records, and Tamilians embraced the film wholeheartedly. Now, the second and final part of the movie is here.
Let's analyze it.
Story:
Part 2 picks up the story where Part 1 left off. Arul Mozhi (Jayam Ravi) and Vanthiya Devudu (Karthi) are both still alive in Sri Lanka.
Meanwhile, Nandini (Aishwarya Rai) plots Aditya Karikaludu's (Vikram) murder and sends him a message to meet her at her palace.
Vanthiya Devudu travels to Nandini's palace to rescue Aditya upon learning of her plan, while Arul Mozhi embarks on his return journey to the Chozha kingdom from Sri Lanka.
Will Nandini succeed in killing Aditya? Will Arul Mozhi ascend to the throne and become king?
Artistes' Performances:
Aishwarya Rai Bachchan plays two characters: Mandikini, an elderly woman, and Nandini. Aishwarya Rai excels in the role of Nandini. She brilliantly conveys both love and hatred for Vikram. Her beauty and performance are both appealing.
Vikram gives an outstanding performance as an erratic prince. In two scenes, he stands out: one with his brother and sister and the other with Aishwarya at her palace.
All of the characters from the first installment return, but with the exception of Mandakini character of Aishwarya Rao which did not get enough screen time.
Among others, Jayam Ravi, who plays the title character, shines. He is ideal for the role of King. Trisha is fine. So is Karthi.
Technical Excellence:
AR Rahman's songs don't add much, but his background score is fantastic. The cinematography is superb. Ravi Varman's lighting scheme is fantastic. Editing is adequate. The production design is impressive.
Highlights:
Aishwarya Rai and Vikram's performances
More focussed narration than first part
Twists and turns
Drawback:
Slow-paced narration
Lack of 'wow' moments
War episode
Analysis
The first part of 'Ponniyan Selvan' was a blockbuster hit in Tamil Nadu, but the rest of India was unimpressed due to the dense plot with multiple characters and relationships that were hard to follow. However, the sequel does not have that issue as it picks up from where the first part left off, focusing on the romantic story of Vikram and Aishwarya Rai before delving into the main drama of Nandini and Aditya's relationship and the Chola kingdom's succession battle.
Compared to the first part, 'Ponniyan Selvan 2' solely concentrates on the central plot, making it more accessible and interesting for Telugu audiences. The film features some excellent sequences, including Jayam Ravi being protected by Buddhist monks and the thrilling duel between Vikram and Aishwarya Rai. Additionally, a standout moment is the scene on an island between blindfolded Karthi and Trisha, which showcases director Mani Ratnam's signature style.
The film's strengths are its camera work, outstanding performances, and straightforward screenplay. However, it suffers from a slow-paced narrative, overstretched sequences, and unimpressive songs. The final battle scene is also tedious.
Overall, 'Ponniyan Selvan 2' is a decent sequel to watch, with a focused narrative and strong performances from its lead cast. It is a better experience than the first part for non-Tamil audiences.
Bottom line: Okay watch