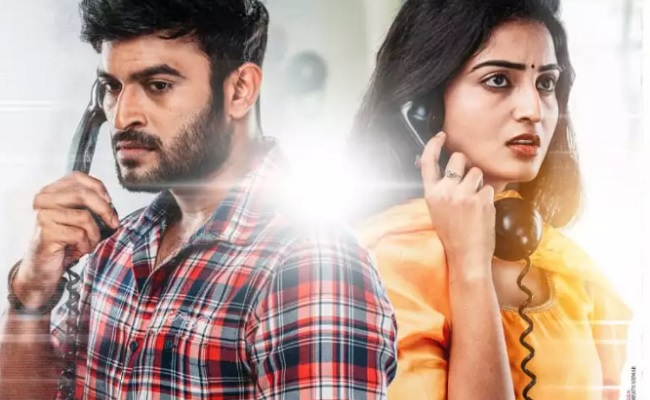 Movie: Play Back
Rating: 2/5
Cast: Dinesh Tej, Arjun Kalyan, Spandana, Ananya Nagalla, Karthikeya Krishna Malladi, Ashok Vardhan, TNR, Murthy, Chakrapani Ananda, Aishwarya Lakshmi, Tagubotu Ramesh, Gowtham Raju, Deepthi, Vishnu and Jenny
Music: Kamran
Editing: Bonthala Nageswara Reddy
Cinematography: K Bujji
Producer: Prasadarao Peddineni
Story, Screenplay, Direction: Hariprasad Jakka
Release Date: 5 March 2021.
One needs to be out of the regular line to get noticed by others. Sometimes, some films turn the heads of audience who are habituated to the regular stuff. This is one such film with regard to the genre and the subject. Let us see what prompted the makers to bring out this film.
"Dark, the most popular German series on the Netflix has first streamed its season-1 in the year 2017. That has bulldozed the minds of many audience and film makers with its weirdest plot and the attempt to connect it to the theoretical metaphysics. The makers of this film have got strongly influenced by that series and that is clearly seen in "Play Back".
A man who lives in 2019 gets into the contact of a woman from 1993 on a land phone. Some silly reason, though conveyed as a mere theory, was planted as the scientific possibility for the convenience to narrate this story. What happens to them? Will they meet each other? How they play with the time for fun and for a reason forms rest of the story.
The drama unleashes when both of them discover that they are from different time lines. The series of incidents packed with fun, suspense, thrill and crime follow one after the other till the end.
The entire intelligence to write this script including the character sketches are directly adapted from 'Dark' and whatever is originally conceived tasted insipid. Even the signature music of "Dark" is used in many places throughout the film liberally. The line 'don't try to change the past' is also taken from the same series.
Keeping the similarities with the original aside, the attempt to show something different to the Telugu audience with local nativity is appreciable. But what lacks is the class in making it with a better élan and brilliance. Budget constraints seem to be one main reason for poor execution. The biggest saving for this film is it has no songs. That's one good thing happened to the audience.
Main female lead Ananya looks good, Spandana is glamorous and Dinesh Tej did his part. TNR has got nothing much to perform as an actor but keeps moving as a silent criminal. It's a good start for TV5 Murthy as an actor and he can continue. All said and done, the strange storyline dominates the characters and their performances. It drives towards 'what happens next'. Cinematography is good. Background music could have been far better for this kind of film. Screenplay and editing are reasonable. The temple collapsing scene is also done well. Though a commendable adaptation, care would have been taken to make it in a more interesting manner with better technical aspects. This kind of story deserves a better making on a whole.
Bottom-line: Setback
Click Here for Latest Direct-to-OTT Releases (List Updates Daily)