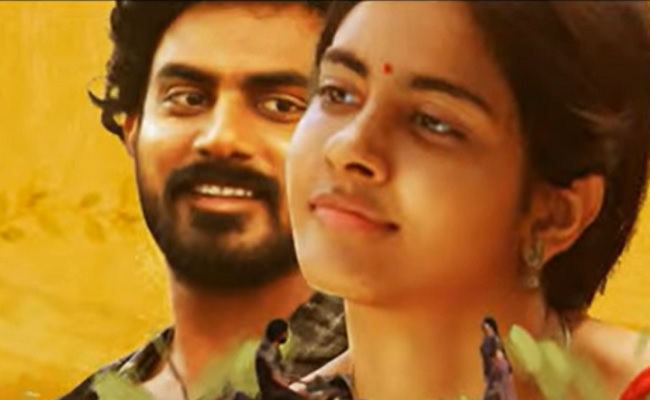 Movie: Peddha Kapu 1
Rating: 2/5
Banner: Dwaraka Creations
Cast: Virat Karrna, Pragati Srivasthava, Rao Ramesh, Naga Babu, Anusuya Bharadwaj, Tanikella Bharani, Rajeev Kanakala, Eeshwari Rao, Aadukalam Naren, and others
Music: Mickey J Meyer
DOP: Chota K Naidu
Editor: Marthand K Venkatesh
Action: Peter Hein
Production Designer: GM Sekhar
Producer: Miryala Ravinder Reddy
Written and Directed by: Srikanth Addala
Release Date: Sep 29, 2023
Srikanth Addala, best known for family-friendly films such as "Seethamma Vaakitlo Sirimalle Chettu," has shifted gears and begun making violent films with "Naarappa." With its stunning trailers, his latest film "Peddha Kapu 1" sparked interest. In this film, he also makes his debut as a villain.
Let us examine its merits and demerits.
Story:
The story is set in the 1980s, but it begins many decades earlier. Satya Rangaiah (Rao Ramesh) and Bayyanna (Naren) have ruled over a village in the Godavari region for many years. The political game changes when a new party (the TDP) enters the fray.
Satya Rangaiah is cruel, and he even rapes educated Akkamma (Anasuya) when she tries to field in the elections. Meanwhile, Peddha Kapu (Virrat Karna) and his brother oppose the oppressive system.
When his brother is kidnapped by Bayyanna's disabled son (Srikanth Addala), Peddha Kapu (Virrat Karna) resorts to violence to bring the change.
But how did Peddha Kapu acquire the ability and power to confront Satya Rangaiah and Bayyana? Who is secretly providing him with ideas and moral support?
Artistes' Performances:
The main actors deliver commendable performances in the film. Rao Ramesh is ok as an evil politician but something more is expected from him.
Srikanth Addala as a physically handicapped feudal villain is ok with single expression throughout the film. Anasuya is effective in her brief but important role.
Virat Karrna, a newcomer, can have a future as a hero if he selects simple love stories. He is confident in his acting abilities, but the role is too demanding for a newcomer. Pragati Srivastava, the heroine, is attractive.
Aadukalam Naren is impressive as well. Naga Babu is only there to give "lectures." Eeswari Rao's character is missing a proper graph.
Technical Excellence:
Technically, this film receives a background score in sync with the subject. The cinematography is terrific.
Chota K Naidu's inventive use of lighting deserves special mention. He has also captured the Godavari region in a unique way. The production design is outstanding.
Mickey J Meyer's songs are dull with no haunting tune to carry .
Highlights:
Ambiance
Drawback:
Confusing first half
Lack of cohesive narration
Clumsy screenplay
Hero's character design lacks strength
Analysis
"Peddha Kapu 1," directed by Srikanth Addala, is set in the 1980s, shortly after NT Rama Rao's Telugu Desam party was founded. The film discusses how politics changed with the arrival of the party, and how some castes attempted to suppress the other castes. However, the film makes no mention of which community oppressed which community. It makes vague references to two dominant castes and another caste that has been denied political power.
On paper, this political story appears to be interesting. Srikanth Addala also wanted to tell this story from the beginning, from the 1960s to the 1980s. It is undeniable that NTR's TDP brought about a sea change in Andhra Pradesh politics. So, Addala did not hesitate to mention the TDP flag and include NTR's voice in the film. But he didn't dare to say which communities are at odds.
All we hear is the oppressive and ruling communities repeating the same dialogue: "Meeke Antunte Maake Entha Undaliraa."
For much of the first half of the film, you're confused about what's going on in the story. Tanikella Bharani, Rao Ramesh, Hero Virat Karnna, Heroine Pragati, Eeswari Rao, Aadukalam Naren, Srikanth Addala, Naga Babu, and other characters have been introduced by the director one after the other. There is also a lengthy scene of the party's flag being hoisted. It begs the question, "What is this film about?" Fortunately, the film begins to make sense after Anasuya's character is revealed.
The second half of the film sheds more light on the subject, revealing that it is all about a suppressed community rising up and seizing power. The outcome would have been different if this story had been told in a more lucid and effective manner rather than focusing on individual characters. Instead, Srikanth Addala appears to be more concerned with the performances of some actors and individual characters.
Over intelligent dialogues are delivered by characters such as Naga Babu and Srikanth Addala, but they have little impact.
The fundamental flaw is that there is no explanation for why the young hero is named Pedda Kapu, or what good deed he did before he was given that name. What the hero did to impress NT Ramarao enough to come all the way from Hyderabad to this region and announce his name as a leader is not explained.
(spoiler alert) If every trick is performed by a character who was in hiding and who pulls all the strings on behalf of Peddha Kapu, what is so great about this so-called hero? How could you call it common man's signature (Samanyudi Santhakam?). Should the credit go to the backdoor person who executes the entire game plan?
There is so much confusion and vague in Srikanth Addala's script and thoughts in this political drama.
While he has proved that he can make violent movies and can extract best camerawork, Srikanth Addala is suffered by his own vague writing.
Overall, "Peddha Kapu 1" has ambition and attempts to tell a political story, but director's message is lost in the midst of his confusing narrative. The story is too big for Virrat Karna, the new hero. Despite the newcomer's confident debut, the show is dominated by other actors. The film ends up being a missed opportunity. A political film needs more clarity of thought that can get connected to even "Samanyudu".
Bottom line: Disappointing