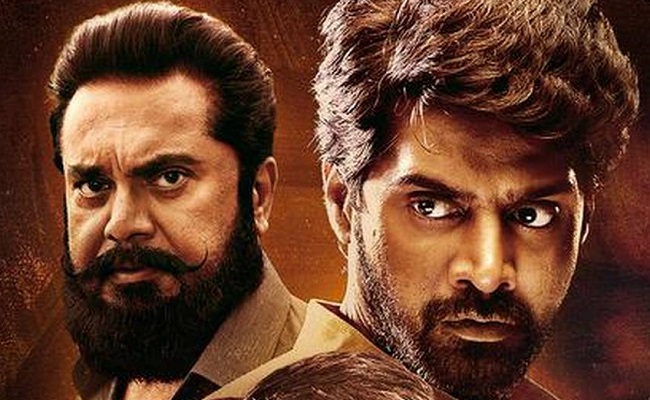 Title: Parampara
Banner: Arka Media Works
Cast: Murali Mohan, Jagapathi Babu, Sarath Kumar, Naveen Chandra, Naina Ganguly, Aakanksha Singh etc
Music: Naresh Kumaran
Written By: Hari Yelleti
Camera: SV Vishveshwarar
Editor: Timmaraju
Direction: Krishna Vijay
Producers: Shobu Yarlagadda, Prasad Devineni
Episodes: 7
Season: 1
Release Date: 24 December 2021
Streaming On: Disney +Hotstar
Many web series are coming up to serve the entertainment need of the audience, but only a few of them stand apart.
'Parampara' is one such series with a novel element and an engaging screenplay. The only let down is the pace. Had it been with a 1.5X speed, it would have been far better.
Well, the novel element in the story line is that the characters don't show up their rivalry on each other either in action or in dialogue but the audience know the level of animosity among them. That's the engaging point.
The story is set in the back drop of Visakhapatam. It's the story of a good man named Veera Naidu played by Murali Mohan. His two sons Naidu (Sarath Kumar) and Mohan (Jagapathi Babu) are his political heirs as well. Veera Naidu dies and his elder son Naidu takes up the mantle. Mohan's son Gopi (Naveen Chandra) is upset as his father is sidelined and ill-treated. He starts a feud to take his share, but what he loses in the process is the story.
The pitch is so perfect that it has the potential to bring out many emotions in a tight screenplay. But this looks like a story written for a two and half hour movie, but later stretched to meet the requirements of a web series. Makers should understand that the audience have no patience to watch everything leisurely and appreciate the director for every nuance. They need pace in narration. They don't want just the conclusion but a breath taking and nail biting watch.
It's all the story between Naidu and Mohan with open heart but hidden emotions. The drama is quite gripping, but the length mars the experience.
Coming to the performances, Sharath Kumar shouldered the show with his intensity. Jagapathi Babu is a perfect match. Naveen Chandra lives in the role. Naina Ganguly and Akanksha are eye pleasing and did their part well. It's good to see Murali Mohan on screen after a long time.
Music is complementing the visual experience. Cinematography is impressive.
'Parampara', made by the Bahubali producers should be appreciated for coming up with a unique drama on par with any popular Malayalam series. But as discussed above, it is the pace that resulted in a dent.