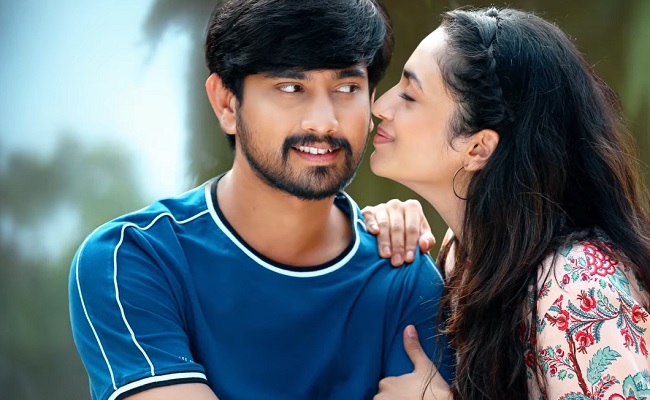 Movie: Orey Bujjiga
Rating: 2.5/5
Banner: Sri Sathya Arts
Cast: Raj Tarun, Hebah Patel, Malvika Nair, Madhu Nandan, Saptagiri, Naresh and others
Music: Anup Rubens
Cinematography: I Andrew
Producer: KK Radha Mohan
Story, Screenplay, and direction: Vijay Kumar Konda
Release Date: October 02, 2020
Streaming On: Aha
Raj Tarun and Hebah Patel starrer 'Orey Bujjiga' was to release in March this year but the lockdown has spoiled its plans.
The film is finally here. "Orey Bujjiga" is the latest Telugu movie that had skipped theatrical release to have a direct premiere on an OTT platform. It is streaming on "Aha". Let's analyze.
Story:
Much against her wishes, Krishnaveni's (Malavika Nair) parents fix the wedding with her cousin. On the wedding day, she runs away to Hyderabad.
Around the same time, Bujjigadu (Raj Tarun), who also hails from her village, runs away from his home and boards the same train.
Rumor spreads in the village that Krishnaveni and Bujjigadu eloped together to get married. Krishnaveni and Bujjigadu become friends during their train journey but they hide their real identities from each other.
Meanwhile, Bujjigadu is trying to propose to Sujana (Hebah Patel). How the lives of Krishnaveni, Bujjigadu, and Sujana entangle is the rest of the story.
Artistes' Performances:
Raj Tarun is at usual self here while delivering a neat performance. His comic timing is good. Malavika Nair is lovely and plays the role of Krishnaveni with ease.
Hebah Patel's character is written poorly. She makes a guest appearance but the same could have been played any junior artiste as well.
Satya, Satyam Rajesh, and Madhunandan appear in regular comedy scenes. Naresh, Posani, and Vani Vishwanath have played routine characters.
Technical Excellence:
After a long gap, music composer Anup Rubens has come up with good numbers. "Ee Maya Peremito" and "Krishanveni" songs stand out.
Music is the brighter points of this romantic comedy. Andrew's cinematography is pleasant. Production values are okay. Editing lacks effectiveness.
Highlights:
Music
A couple of funny moments
Drawback:
Prolonged second half
Stale jokes
Cliched narration
Analysis
Vijay Kumar Konda who earlier directed "Gunde Jaari Gallanthaindhe" has written a story that is nothing new but he begins the story engagingly.
A girl and a boy who are known to each other running away from their homes for different reasons of their own falling in love is a threat that works in the first half. Wrong identities and confusion have generated decent entertainment in the beginning portions.
But this is a story that ends right at the interval itself.
The writer and director prolong it with a twist that is forced and contrived. The second half moves on the purpose of keeping the two-hour-plus runtime at any cost.
With no strong conflict, scenes in the second half take place with no logic. The comedy is so bad that the second half turns unbearable after a point.
Sample a scene: A rowdy gang is after Raj Tarun to show them where Krishnaveni (Malavika) is, he says he never saw her face. Then one of the rowdies passes his mobile towards Raj Tarun to show her photo but the mobile phone slips onto the ground and the display glass gets smashed. Other rowdy members say they don't have her photo except in the broken mobile. How silly is this? In the age of WhatsApp, the director wrote a scene that reminds of the 80's and 1980's movies.
Scene 2: Saptagiri gets hospitalized. Thinking Saptagiri is the Bujji, Malavika comes to the hospital. Raj Tarun takes a bed beside him to confuse Malavika. Raj Tarun's parents and Malavika's father also comes to the hospital, while all of them talk to Raj Tarun as Bujji, only Malavika doesn't catch it. This is also straight out of Raghavendra Rao's old movies.
The first scene comes before the interval and the second scene in the second half. These are enough to tell how they are woven for the convenience of the story.
The movie depends on a comedy of errors but the comedy falls flat after a while. The jokes especially the sequences involving Saptagiri and Sathya are outdated.
All situations happen as per the director's convenience. Plus, it reminds of similar films in this genre that we have seen umpteen times.
Although a couple of dialogues like "Hello Sujana Tinnavara" and "Daridram Duty Freelo konukkuntlunnadi" brine smiles, the comic scenes are largely unfunny.
All in all, "Orey Bujjiga" is yet another routine rom-com starred by Raj Tarun. It begins on an interesting note but goes downwards as the story progresses.
Bottom-line: Bore Bujji