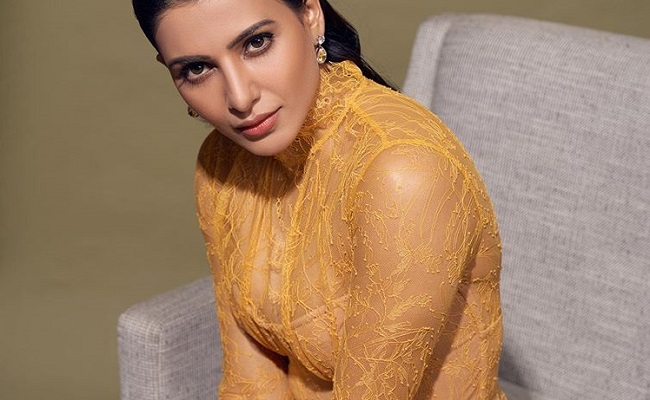 Movie: Oh Baby
Rating: 3/5
Banner: Suresh Productions & Guru Films
Cast: Samantha Akkineni, Lakshmi, Rajendra Prasad, Naga Shourya, Rao Ramesh, Urvashi, Pragati, Tej, Jagapathi Babu, Naga Chaitanya Akkineni
Dialogues: Lakshmi Bhupala
Music: Mickey J Meyer
Cinematography: Richard Prasad
Editor: Junaid Siddique
Art: Vithal
Producers: D Suresh Babu, Sunitha Tati, TG Viswa Prasad
Screenplay and Direction: Nandini Reddy
Release Date: July 5, 2019
One film that has been creating huge buzz in the recent months is Samantha's "Oh Baby". The concept of the movie itself is unique. Riding high on the success of "Majili", Samantha too has aggressively promoted "Oh Baby".
Has the film lived up to the hype? Let's find out.
Story:
Savitri Baby (Lakshmi) is a 70-year-old grandma. Her daughter-in-law has a breakdown due to Baby's nagging and dominating attitude.
Upon learning that she'd be sent out from home, she stumbles on a photo studio that promises her to look younger. Indeed, she becomes 50 years younger magically. Now Baby Swathi (Samantha) is her younger self with beautiful features.
She starts living the life she missed earlier, meets a young guy (Naga Shaurya) who shows interest in her.
Will she able to conceal her true identity?
Artistes' Performances:
Samantha is the pillar of this movie. She has done a terrific job impersonating the grandmother. Although she has played the role of Lakshmi's 20's self, her mind is that of a 70-year-old. That difference should reflect in her expressions and Samantha has done excellent job here and has carried the movie on her shoulders. This is another best role in her career.
Senior actress Lakshmi appears in the first twenty minutes only but what a performance she has given. As a nagging granny, she is terrific.
Rajendra Prasad as her friend has got big role, he proves his versatility again. Rao Ramesh is neat.
Naga Shaurya and Sunaina are okay. Tej as her grandson is good.
Technical Excellence:
The original Korean movie clicked because of its killer soundtrack. This Telugu version has got average songs from Mickey J Meyer. Cinematography by Richard Prasad is excellent.
Dialogues by Lakshmi Bhupala are good. Editing – both pace and length – is a huge minus.
Highlights:
Samantha's excellent performance
Basic concept
Lakshmi and Rajendra Prasad
Entertainment in first half
Drawback:
Lengthy runtime
Predictable scenes post-interval
Music
Analysis
Based on a Korean hit movie "Miss Granny", this drama has interesting premise. What a grandmother would do if she gets the chance to live again as a young woman, is a novel thought.
It is not possible in real life but this 'fantasy' idea makes an interesting story to tell, which is why the Korean drama became a huge hit and it was remade in many languages.
"Oh Baby" is mostly faithful version of the Korean drama but this one is more sentimental.
The film begins with the scenes of Lakshmi, the 70-year-old grandmother, her life, her troubles in her son's house, etc.
After taking more than 25 minutes for these sequences, director Nandini Reddy brings Samantha's character, the younger self of Lakshmi, into the scene. Then begins the fun quotient. Samantha is like sunshine; she brings brightness to the story.
From the moment Samantha starts playing the younger role of Baby, the film becomes fun and she moving into the house of her friend Chanti (Rajendra Prasad) as a tenant has added more fun.
Despite occasional slips, the first half is highly engaging. The interval bang is also neat. But the movie soon becomes into a musical story and family emotional drama.
The character of Baby (Lakshmi) wishes to become singer as she become younger. It was her dream from her childhood.
She wanted to sing for Savitri and Jamuna in films but she got married at young age and her husband died soon leaving her in penury with a child (Rao Ramesh).
So, she didn't get the chance to pursue her dreams. But when she gets the chance of becoming singer, she again starts living for her grandson's dream. He wishes to establish a musical band of his own.
She joins him concealing her identity. Her dream becomes her grandson's dream. Thus the film's tone and direction also goes in a different way. In the place of fun, sentiment and family drama comes in. This is where the film stumbles. But it also comes back into the groove in the final.
Samantha has understood her character well and has poured all her energy into the character to make it livelier. Many predictable sequences are enjoyable due to her expressions. However, same cannot be said about other portions in the movie. Plus, the film has plot holes.
The biggest drawback of the movie is Mickey J Meyer's pretty ordinary songs and lag in the second half.
Overall, "Oh Baby" is a highly enjoyable watch for Samantha's exceptional acting. This film proves that she is in the best phase of her career and enjoying her roles. This sentimental-family drama completely belongs to Samantha but both Lakshmi and Rajendra Prasad have also added their strength with great performances.
Watch this one for fun and performances.
Bottom-line: A Feel-Good Entertainer
(Venkat Arikatla can be reached at [email protected])