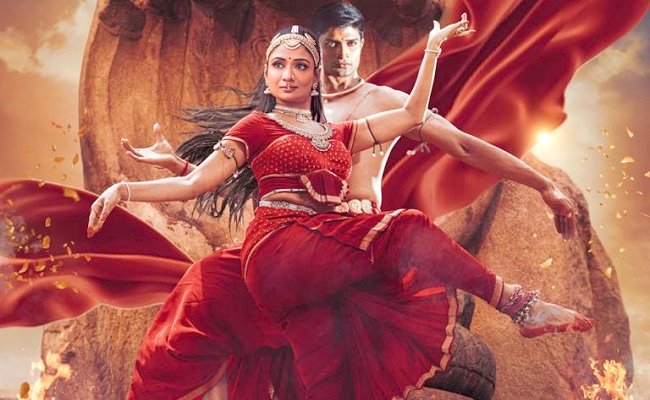 Movie: Natyam
Rating: 1.5/5
Banner: Nishrinkala films
Cast: Sandhya Raj, Kamal Kamaraju, Adithya Menon, Rohith Behal, Bhanu Priya, Shubalekha Sudhakar, Baby Dhevina, and others
Music: Shravan Bharadwaj
Art: Mahesh Upputuri
Producers: Sandhya Raj
Story, Camera, and direction: Revanth Korukonda
Release Date: October 22, 2021
Renowned dancer Sandhya Raj comes from a reputed business family of Telugu states. No wonder she has roped in big names like Chiranjeevi, Ram Charan, and NTR to promote her maiden film as an actress.
Her first film "Natyam" has gained a lot of publicity with the big stars promoting. Let's find out its merits and demerits.
Story:
'Natyam' takes place in a village. Sithara (Sandhya Raj) has had an interest in dance since childhood, and her guru (Adithya Menon) trains her in classical dance to perform at their temple. He refrains her from performing the story of Kadambari for some reason.
Meanwhile, she falls in love with a city slicker who plans to perform a fusion dance show in the USA. On the other hand, her guru's son also loves her.
With the help of her boyfriend, she tries to perform Kadamabari Katha at their temple, before she heads for the USA.
What obstacles does she face? And why is that her guru warns not to perform Kadambari Katha? Who is Kadambari?
Artistes' Performances:
Sandhya Raj is a Kuchipudi dance exponent, and she has selected a story that captures her true strength. She is excellent at dance sequences. It is in dance performances where she excels, but her performance skills are pretty average.
Rohith Behal who played her boyfriend is irritating on the screen.
Among the other actors, Aditya Menon, and Kamal Kamaraju (he also dances well) leave an impression. Subhalekha Sudhakar plays a typical villain role.
Technical Excellence:
Since the film is a dance movie, music and choreography need to play vital roles. Shravan Bharadwaj has given a couple of lilting songs, and "Poni Poni" stands out.
Dance choreography is impressive. Cinematography and editing are not up to the mark.
Highlights:
Dances
Drawback:
Absurd plot
Dreary narration
Boring romantic track
TV-serial type of sequences
Analysis
A good intent alone doesn't make a compelling movie. Many filmmakers have failed on that front, and "Natyam" is another example. The attempt to tell a story of a temple dancer of the bygone era is appreciable, but the narrative, to put it straightforwardly, is boring.
"Natyam" is more or less a showcase of Sandhya Raju's dancing skills but for the regular audience. The two-hour-plus lethargic tale is a sleep-inducing effort. The purpose of the film might be to promote art, but the execution is far from engaging.
Crisscrossing between a silly romantic track on Sandhya Raj and Rohith Behal, and the core story of Kadambari (again played by Sandhya Raj), the film charts an unexciting path. Many sequences are excruciatingly bad. The narrative reeks of amateurishness. Sandhya Raj's expressions in non-dance moments further aggravate the mood.
To be fair, the film works in certain sequences. Obviously, they are dance episodes. The pre-interval episode is also neat. But the second half runs on with irrelevant, unnecessary tracks and sequences.
The film also makes many missteps when it comes to the core story of Kadambari. It does not do enough to make the audience invest in the story. Despite decent production values (shot in Hampi and other parts), and a better soundtrack, the film becomes an endurance test.
Why is it that even some young filmmakers are telling stories in an outdated way? "Natyam", the story and the treatment, is old-fashioned and boring.
Bottom-line: Misstep
Click Here for Latest Direct-to-OTT Releases (List Updates Daily)