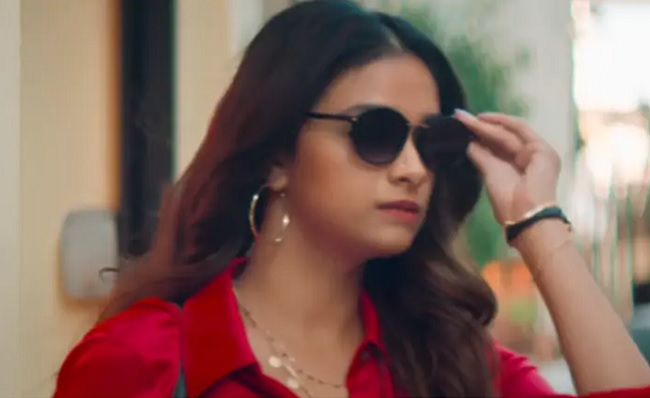 Movie: Miss India
Rating: 2/5
Banner: East Coast Productions
Cast: Keerthy Suresh, Jagapathi Babu, Naveen Chandra, Rajendra Prasad, Bhanushree Mehra, Poojitha Ponnada, Nadhiya
Music: Thaman S
Cinematography: Dani Sanchez-Lopez, Sujith Vasudev
Editor: Tammiraju
Producer: Mahesh Koneru
Written and directed by Narendranath
Release date: November 4, 2020
Streaming on: Netflix
Continuing the trend of direct OTT releases, Keerthy Suresh's latest Telugu movie, 'Miss India' is now streaming on Netflix.
The film marks the second direct digital release for Keerthy Suresh after 'Penguin'. Let's analyze.
Story:
Manasa Samyukta (Keerthy Suresh) wants to establish a business of her own. When their middle-class family shifts from India to the USA, she joins an MBA college and hopes to establish a tea empire with the brand name 'Miss India' in the land of coffee.
In a country where everyone is addicted to coffee, will her dreams come true?
Artistes' Performances:
As for the performances, Keerthy Suresh shines in the title role and carries the film all the way. But her characterization is too shallow. More than performance, Keerthy's styling, and body language are impressive.
Jagapathi Babu in the role of an entrepreneur who throws a challenge to Keerthy is all swag, but he seems clueless at many places.
Naveen Chandra appears briefly as Keerthy's boyfriend.
Rajendra Prasad, Nadiya, Naresh, Poojitha Ponnada…all have played clichéd characters with monotonous expressions. The performances from the majority of the cast are awkwardly bad.
Technical Excellence:
Sujith Vasudev's camerawork is adequate for the story. Music director Thaman, who has lately been in great form, comes up with below par work.
Luckily, one song stands out. Editing is poor. Production values are okay.
Highlights:
Keerthy Suresh
Drawback:
Hollow script
Uninteresting screenplay
Immature direction
Boring scenes
Analysis
Let's come straight to the point: Keerthy Suresh's "Miss India" stands on a weak plot, the writing is utterly silly, and the direction is clumsy.
Many believe that drinking tea refreshes the mind, relieves headaches. But after watching 'Miss India', which is all about Keerthy Suresh establishing a chai empire in the western world, we suffer from headaches.
Oh Bhai, give us a garam chai! To come out of this stain, we definitely need to sip cups of tea.
An ambitious woman going against all odds to achieve her dream of establishing a business empire sounds good on paper. But the new director has spoiled it with his immature direction, lame writing. In many places, the film gives the feel of a TV serial, especially the first 30 minutes.
Keerthy Suresh mouths Facebook quotations - "Greatness is neither acquired through one's recognition nor lost because of being unacknowledged", "You are the owner of your life, founder and sole proprietor of it", "Business is war", etc. But they add no value to the drama because the situations are so theatrical. All scenes appear randomly.
"Miss India" is boring to the core. A failure in every sphere! It makes a tedious watch. Keerthy Suresh has made another wrong choice in picking films.
Bottom-line: Mis'Tea'k!