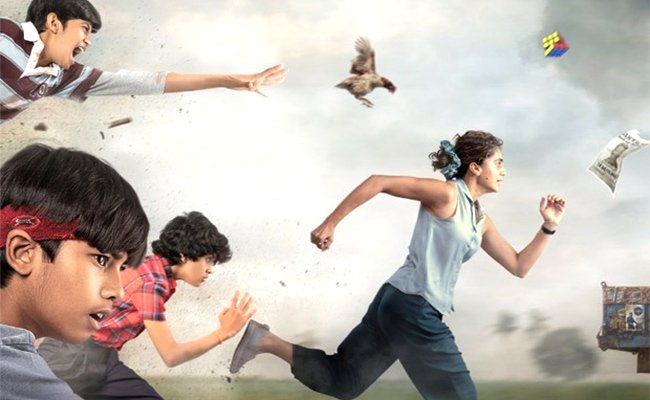 Movie: Mishan Impossible
Rating: 2/5
Banner: Matinee Entertainment, PA Entertainments
Cast: Taapsee Pannu, Harsh Roshan, Bhanu Prakash, Jayateertha Molugu, Hareesh Peradi, Ravindra Vijay, and others.
Dialogues: Swaroop RSJ and Mano Ranjitham Divya
Music: Mark Robin
Director of Photography: Deepak Yeragara
Editor: Raviteja Girijala
Art Director: Sri Nagendra Tangala
Co-Producer: NM Pasha
Producers: Niranjan Reddy & Anvesh Reddy
Story - Screenplay - Direction: Swaroop RSJ
Release Date: April 1, 2022
After "Agent Sai Srinivasa Athreya", director Swaroop has directed "Mishan Impossible" with Taapsee playing the main lead. The trailer received great appreciation. Megastar Chiranjeevi also promoted the film.
Let's find out whether "Mishan Impossible" is truly engaging.
Story:
Raghupathi, Raghava, Rajaram aka RRR, three young kids studying in high school in their village near Tirupathi, decide to earn big money and fame. They plan to leave for Mumbai and nab Dawood Ibrahim hoping to win Rs 50 lakh of cash prize.
On the other hand, investigative journalist Shailaja (Tapsee) is on a mission to expose the child trafficking gang headed by Ram Shetty (Harish Peradi).
She gets a tip that Ram Shetty is shipping kidnapped children from a beach in Mangalore to a foreign country.
How do Raghupathi, Raghava, and Rajaram land in this situation, and how do they get involved in Shailaja's 'mission'?
Artistes' Performances:
Taapsee has limited runtime. For an actress of her caliber, the role of a journalist Shailaja is too simplistic. She does justice to the simple and minor role.
The story rests on the shoulders of three school kids, Harsh Roshan, Bhanu Prakash, and Jayateertha Molugu. The kids have provided a lot of entertainment. They have played their roles with so much conviction. They steal the show.
Among other actors, Harish Peradi as the main villain makes an impact.
Technical Excellence:
Cinematography and background music is appropriate for the theme of the story. Editing is okay. Dialogues are funny at times.
Highlights:
The three kids
Funny moments here and there
Drawback:
Lack of believability
The logic goes for a toss
Simplistic ideas
Depends on convenient situations
Analysis
"Mishan Impossible" is a concept-based movie. But concepts work only when the basic premise holds believability.
The basic story is... Three school kids who live in a remote village help an investigative team in nabbing a child trafficking mafia leader. But the kids come from middle/lower-middle-class backgrounds with no command over English or geography.
They want to go to Mumbai but land in Bengaluru. Still, they assume that Mumbai's name was changed when Andhra Pradesh was divided into AP and Telangana. They are also poor at English and spelling. They write 'mission' as 'Mishan' (hence the title).
How can you believe when the director puts them in a situation to unearth a big scam using gadgets?
They don't even know the value of currencies, but they put hidden cameras and microphones in a mafia den. Where is the believable factor?
Director Swaroop, who showed his mettle with his first movie "Agent Sai Srinivas Athreya", sure does know how to extract humor from simple situations. He begins the first half of the film with a dose of humor. The banter between the three kids provides some laughs as well.
If the idea is to put three innocent kids into an impossible mission and make them heroes then that is acceptable. But at times, the kids act like Paramanandayya sishyas, and other times smart. This consistency makes the final part silly. The spy-cam thread turns clumsy.
The handling of the final portions is completely illogical and contrived. Plus, Taapsee acts more like a police officer or CBI officer than a journalist. Some scenes remind you of the recent "Varun Doctor".
In the second half, Ravindra Vijay's back story of being involved in this mission is the only one that is convincing.
In a nutshell, 'Mishan Impossible' suffers from logiclessness, poor handling of the final part despite some humor here and there. The film hinges on a slender story but lacks a gripping narrative.
Bottom line: Mishan Impracticable