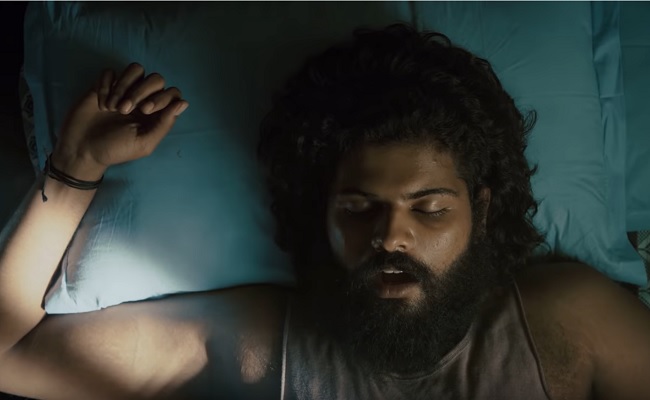 Movie: Mathu Vadalara
Rating: 3/5
Banner: Clap Entertainment
Cast: Sri Simha, Satya, Naresh Agasthya, Atulya Chandra, Vennela Kishore, Brahmaji, and others
Music: Kaala Bhairava
Cinematography: Suresh Sarangam
Editing: Karthika Srinivas
Fights: Ram-Lakshman, Anbu Arivu
Producer: Chiranjeevi (Cherry), Hemalatha
Written and directed by: Ritesh Rana
Release date: December 25, 2019
Music composer MM Keeravani's sons - Sri Simha and Kaala Bhairava debuting as a hero and music directors respectively has raised interest in this film.
Let's find out its merits and demerits.
Story:
A delivery boy Babu Mohan (Sri Simha) lands in a mess when tries to earn easy money by cheating his customers on the advice of his friend Yesu Babu (Sathya). He is caught red-handed in his first trick itself. An old-woman falls on the floor.
Believing that she is dead due to his act, he tries to escape from that place. He further lands in trouble as he wakes up to see another dead body lying in front of him.
Whose body it is and how did he land in this flat? How his roommates (Sathya and Naresh Agasthya) help him?
Artistes' Performances:
Sri Simha, music director Keeravani's younger son, in his debut as an actor is believable in the role of a delivery boy. But the one who steals the show is comedian Sathya. He brings the house down with his comic act.
Newcomer Naresh Agasthya as Abhi does a very good job. Vennela Kishore, Brahmaji, Vidyu, Atulya, and Pavala Shyamala are okay.
Technical Excellence:
Music director Kaala Bhairava, Keeravani's elder son, has come up with a background score that elevates the mood of this thriller. This is an impressive debut. Cinematography and artwork have added value.
Highlights:
Entertainment
An engaging first half
Twists and turns
Sathya's show
Drawback:
Final sequence
Prolonged proceedings
Analysis
The very beginning of the movie gives the impression that it is a film with a trendy setup, a new age drama. Without taking much time, the new director Ritesh Rana establishes an interesting setup of online delivery tricks.
With a setting of a contemporary issue, the protagonist as an online delivery boy, "Mathu Vadalara" sets up the mood quite well without much fuss.
Like we have seen in the recent new age thrillers, "Mathu Vadalara" relies on the trick of holding the 'real subject' till the end.
Ritesh Rana has narrated the story with an ample dose of humor in the beginning to hold the main story and twist.
He knows well that the angle of 'Meth Lab' doesn't make an engaging watch. So he has pushed it to the later part of the movie and narrated the beginning portions like a whodunit slowly drawing us into his world.
The screenplay is smart. With a good dose of comedy in place throughout, it makes an engaging watch.
The director has not given many clues that the movie is actually about the drug business. Till the interval, he makes us keep guessing how would the protagonist escape from this apartment as he had landed in a mess due to a death that happened when he went to deliver a parcel.
With that red herring, the director takes the movie with a gripping narration. The main twist and the surprising story happen towards the end of the movie.
You would not expect who the villain is. This is a good screenplay technique (written by Ritesh and Teja R).
The comedy is generated in the form of a hero's friend Sathya. His sharp dialogues generate good laughs. Even there is a parallel track of a TV serial which provides some comedy. In the 'never-ending' TV series named 'Ori Naa Koduka', one scene gets dragged on for days. This is interspersed with the situations of the movie's protagonist.
Also, the film begins with a Chiranjeevi song and the first half ends with Khaidi scene, and ends with another Chiranjeevi's film. As the film is set in 2016, the director has used PM Modi's November 8 announcement of note ban effectively to generate laughs further.
The director has most parts succeeded in delivering a good thriller with a high dose of comedy but the last proceedings lack the effectiveness.
The 'Meth Lab' sequences are prolonged unnecessarily. And the casual attitude of Vennela Kishore's character is illogical. That is a big sore point in this crime thriller.
Although the film almost entirely is set in a high-rise apartment complex, the production design and the camera work is quite effective.
Despite some issues towards the end of the movie, 'Mathu Vadalara' is another different thriller from a young team.
Bottom-line: GaMathu!
CLICK HERE!! For the In Depth Updates on all the OTT Content