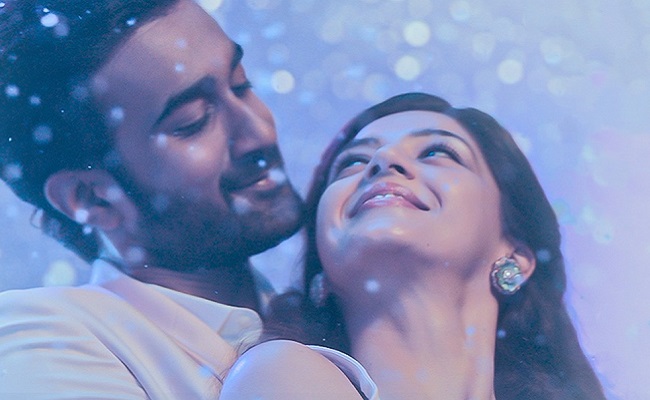 Movie: Manchi Rojulochaie
Rating: 2.25/5
Banner: UV Concepts and Mass Movie Makers
Cast: Santosh Shoban, Mehreen Pirzada, Ajay Ghosh, Vennela Kishore, Viva Harsha, Srinivas Reddy, Sudharshan, and Praveen
Music: Anup Rubens
DoP: Sai Sreeram
Editor: SB Uddhav
Producer: V Celluloid & SKN
Story and direction: Maruthi
Release Date: Nov 04, 2021
After directing stars like Sai Dharam Tej, and a big film with Gopichand is on the sets, director Maruthi has directed a small film with Santosh Shobhan during the corona period. Since the film is backed by leading production house UV Creations, the film has created a good buzz.
Let's find out whether Maruthi's attempt to make a concept film has worked out or not.
Story:
Padma (Mehreen) and Santosh (Santosh Shobhan) are colleagues in a software company in Bengaluru. Padma and Santosh are also dating. They come to Hyderabad due to COVID-19. Padma's father Gopalam (Ajay Ghosh) is a happy man.
But two of his neighbors decide to spoil his happiness by planting doubts about his daughter in his mind. They tell him that Paddu must have fallen in love with Santosh, and inform him that Santosh may cheat on his daughter eventually.
Gopalam loses peace of mind. The rest of the movie is all about Santosh making Gopalam realize the true nature of his neighbors.
Artistes' Performances:
The story entirely revolves around Ajay Ghosh, who has, for the first time, played a central role in a film. As a caring father, Ajay Ghosh does his best. Santosh Shobhan has a limited role, but he gives a decent performance. Mehreen as Paddu is okay.
Among other actors, Praveen's comedy evokes some good laughs. Vennela Kishore gets a routine character, and he fails to provide laughs. Saptagiri's character is unnecessary. The two neighbors who played the role are irritating to watch.
Technical Excellence:
The film is shot just after the lifting of the second lockdown, with a limited budget. Still, the camerawork and the production values are good enough.
Two songs composed by Anup Rubens have worked. Editing is an issue.
Highlights:
Certain comedy portions
Drawback:
Lack of convincing narrative
Routine scenes
Prolonged second half
Analysis
Director Maruthi has successfully made (directed/produced) concept comedies such as "Premakatha Chitram" and "Bhale Bhale Magadivoy" earlier. "Manchi Rojulochaie" is his quickie project as he found plenty of time due to the second wave of coronavirus. "Pakka Commercial", the film that he was making with Gopichand and Raashi Khanna, got halted due to the COVID-19.
In an attempt to use his free time effectively and put the best use of his concepts, he took up this film. He reportedly filmed this comedy in a short gap of 30 days on a shoestring budget. That shows on screen as well, as the entire story runs in one or two places. Many Malayalam filmmakers have recently made similar attempts of telling stories with limited locations during the corona period for OTT consumption.
"Manchi Rojulochaie" appears as an OTT film, but it got released in theaters. While the intention and the final message of the film are good, the execution part is riddled with many problems.
"Manchi Rojulochaie" begins smoothly by establishing the love track between Santosh Shobhan and Mehreen, and the lovable character of Merheen's father played by Ajay Ghosh. But the problem begins when Ajay Ghosh's friends try to spoil his happiness by feeding him wrong information. The initial scenes of Ajay Ghosh suspecting of his daughter having a love relationship with Santosh Shobhan provide some laughs, but after a point, the entire episode turns absurd.
Ajay Ghosh's character turns from a caring father to a nagging person. The film also takes a complete detour from being a story of fear factor to COVID-19 drama. Reducing a serious issue of COVID-19 to a comedy topic also dilutes the impact. The second half has forcibly been extended to include coronavirus sequences.
Why would two neighbors constantly sit beside Ajay Ghosh, and participate in all events in his life daily? Don't they have a life of their own or family? The two uncles come up with irritating dialogues and expressions. Even for a comic effect, there should be some believable aspect.
The constant appearance of Sapthagiri as an ambulance guy is an example of a non-serious approach to writing. Many such characters pop up throughout the film without any reason. Plus, director Maruthi has created a brand of his own with family entertainers like 'Bhale Bhale Magadivoy', 'Mahanubhavudu' and "Pratiroju Pandage'. But here, shades of his early adult comedies also appear.
The one track that has worked completely is Praveen acting like a woman, Appadala Vijayalakshmi. The sequence appears in the first half and the post-interval. At both times, the track provides some good laughs. But despite the presence of many comedians, the laughs are scarce.
The concept of "Cherapakura Chedevu" should have been narrated crisply. By the interval, the director runs out of ideas. The film could have easily been wrapped up in two hours. But the final scenes drag on for no effect. Also, the film ends with just a simple confrontation scene.
All in all, "Manchi Rojulochaie" as a concept and the message is ok, the comedy is passable in parts. The overstretched second-half and formulaic narrative spoil the fun beginning.
Bottom Line: Not So Good Days