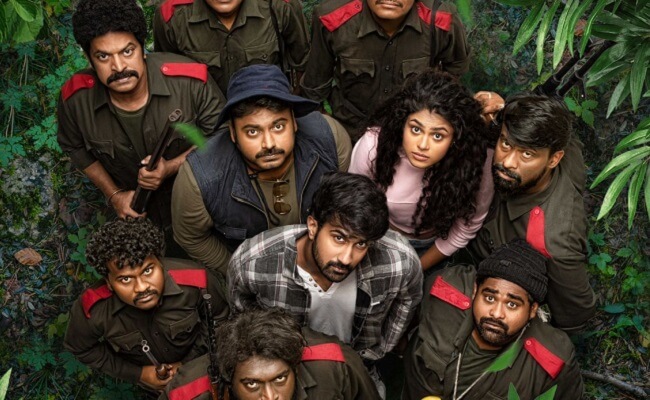 Movie: Like Share & Subscribe
Rating: 1.5/5
Banner: Niharika Entertainment, Aamuktha Creations
Cast: Santosh Shobhan, Faria Abdullah, Brahmaji, Sudharshan, Naren, Sapthagiri, Mirchi Kiran, others
Music: Praveen Lakkaraju, Ram Miriyala
Director of Photography: A Vasanth
Editor: Ramu Tumu
Art Director: Avinash Kolla
Producer: Venkat Boyanapalli
Written and directed by: Merlapaka Gandhi
Release Date: Nov 04, 2022
Santosh Shobhan and Faria Abdulla of 'Jathi Ratnalu' fame have done a lot of promotion for "Love, Share & Subscribe," which has generated a lot of buzz.
Let us see how it has fared.
Story:
Viplav (Santosh Shobhan), who runs the YouTube channel "Guvva Vihari," is a fan of Vasudha (Faria Abdullah), who is more popular on YouTube and works out of New Delhi. They met in Araku while filming a video for their respective YouTube channels. Viplav attempts to impress her.
A Naxalite group led by Brahmanna (Bramaji) kidnaps Viplav, his cameraman, and Vasudha to demand restitution for the damage they caused in the forest. Brahmanna is unaware that Vasudha is DGP's daughter. How are Vasudha and Viplav going to save themselves?
Artistes' Performances:
Santosh Shobhan portrays a jovial vlogger. He demonstrates sincerity.
Faria Abdullah possesses the necessary innocence for the role. They do justice to the love scenes despite the lack of imaginative writing.
Sudarshan's performance as cameraman Daniels is adequate. Brahmaji provides some laughs as an innocent Naxalite leader.
Technical Excellence:
The camera work, particularly in the forest sequences, is superb. Music is merely functional. However, the film as a whole lacks exceptional technical strength.
Highlights:
One or two comedy scenes
Drawback:
Uneven mix of naxalism and fun elements
Screenplay
The final hour proceedings
Direction
Analysis
As the title suggests, we expect "Like, Share & Subscribe" to be all about social media and YouTube vlogging. However, the film begins with Naxalism and encounters in the 1990s. After fifteen minutes of serious narrative, the story shifts to 2022, where we meet the lead couple, who are both vloggers. How would the plots of Naxalism and Vlogging intersect? That initially piques our interest. But it doesn't take long to realise that Merlapaka Gandhi has attempted to combine two insoluble elements.
The film quickly falls into the mould of romantic dramas, with Santosh Shobhan trying everything to impress Faria Abdullah. Then there are the comedy scenes with Santosh Shobhan and Sudarshan. While some jokes are amusing, the majority of them fall flat. As a result, the aimless narrative exhausts us.
Comedy situations such as pre-visualization of a fight, filming of a bomb sequence, and a stage play in the forest provide some laughs. However, the rest of the film is a farce. The Naxals, led by Brahmaji, act like idiots. The entire stretch of kidnap drama leads us to believe that Merlapaka Gandhi must have written in his sleep.
As the film nears its conclusion, we begin to wonder, "What is this mess all about?" Is it satire or an inane attempt? The final hour will put your patience to the test.
Director Merlapaka Gandhi made good comedies at the start of his career. However, his directing and writing abilities have begun to wane.
Overall, "Like, Share, & Subscribe" does not include elements to press the like or share button. It's yet another farce attempt.
Bottom line: Do Not Share