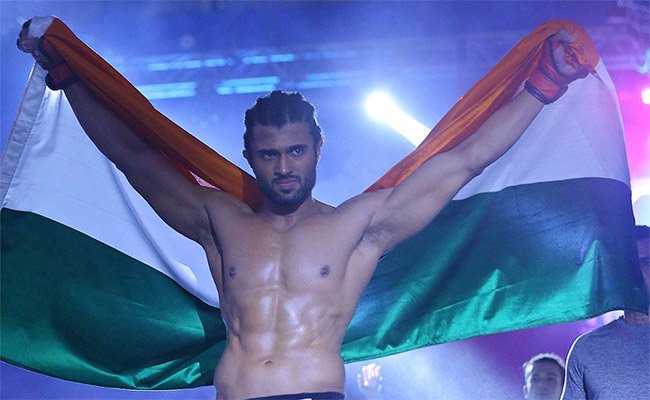 Movie: Liger
Rating: 2/5
Banner: Puri Connects & Dharma Productions
Cast: Vijay Deverakoda, Ananya Panday, Ramya Krishna, Mike Tyson, Ronit Roy, Vishu Reddy, Ali, Makarand Desh Pandey, Getup Sreenu, and others
Stunts: Kecha
DOP: Vishnu Sarma
Editor: Junaid Siddiqui
Art: Jonny Shaik Basha
Producers: Puri Jagannadh, Charmee, Karan Johar, Apoorva Mehta, and Hiroo Yash Johar
Story, Screenplay, Dialogues and Directed by: Puri Jagannadh
Release Date: Aug 25, 2022
"Liger" has created tremendous hype. The combination of director Puri Jagannadh and young sensation Vijay Deverakonda has occupied the media and social media space lately. Boxing legend Mike Tyson's presence is another reason.
Besides big-ticket movies like "RRR", "Radhe Shyam" and "KGF", this pan-Indian film has also created buzz nationwide. Let's find out whether the film lives up to the hype.
Story:
Liger (Vijay Deverakonda) and his mother Balamani (Ramya Krishna) move to Mumbai from Karimnagar.
Balamani aims to see his son become a champion in MMA (Mixed Martial Arts) as her husband died without realizing his dream of winning a title in a boxing championship.
The mother and son run a chai shop in Mumbai for a living and Liger gets trained under an MMA guru (Ronit Roy).
A rich girl Tanya (Ananya Panday) loves him and this romance changes his life altogether.
Will he become a champion or will he land in trouble due to his love story?
Artistes' Performances:
If you take away Vijay Deverakonda from the scene, nothing holds. Such a magnetic power he has in this film. He underwent a stunning makeover and developed a terrific body to play the role of 'Liger'. While the stuttering act is not always perfect, his sincerity and hard work are praiseworthy. However, the script doesn't give him anything to go beyond the surface.
Ramya Krishna's role as a spirited mother lacks enough material. Despite that, the senior actress gives what is required. Ananya Panday plays a typical heroine's role.
Boxing legend Mike Tyson makes an appearance in the climax part. But the role Puri has written for him is half-baked.
Getup Seenu, Ali, and Ronit Roy do an okay job. Vishu Reddy does justice to his role.
Technical Excellence:
The film is made on a lavish scale. The Las Vegas sequences and the production values have brought the film a rich look. Vishnu Sharma's cinematography is top-class.
"Coka 2.0" and "Aafat" are beautiful on screen but both come in the wrong places in the film. Puri's trademark dialogues are effective here and there.
Highlights:
Vijay Deverakonda's performance and presence
The beginning sequences with VD and Ronit Roy
Drawback:
Lack of story
No emotional high
No strong conflict or villain
Final moments
Mike Tyson's presence wasted
Analysis
The career of Puri Jagannadh, the director of many sensational blockbusters, lacks consistency. "Liger" seemed to be the opportunity to return to his glory days of "Pokiri". With the scale of the movie (a pan-Indian project with Karan Johar joining hands) and a rising star in the lead role, the hype it generated gave the perfect vehicle for him to show his stamp. But, it turns out to be a wasted effort as "Liger" looks like an exercise with no proper script.
The film has a Mumbai setting. Had Puri written a story as bulky as Vadapav, it would have been different. But the storyline is as thin as a paper dosa. More than the story, the film doesn't have a strong conflict or high emotional quotient, or a strong villain, the essential elements for mass movies. Puri Jagannadh's script writing is not at all good here.
The idea of a protagonist with a stammering problem is irritating. The USP of this actor is his dialogue delivery. Director made a colossal mistake by thwarting his strength with this disability to the character. Moreover, this deficiency in the hero hardly makes any difference to the main story.
Puri Jagannadh begins this film as an inspirational story of a rise of a champion from a humble background. But midway, he cuts to the routine love story. The main goal gets lost in the melee. At a point it appears as if written by an amateur writer but not Puri Jagannath. So shocking!
The so-called MMA (Mixed Martial Arts) fights and sequences, which come one after the other, make a tiresome watch. Despite naming it MMA, the fights are similar to many boxing dramas. No difference! The film and the fights don't provide a high.
The film further goes downhill when the story shifts to Las Vegas. Things turn awkward as poor scenes are written to introduce the character of boxing legend Mike Tyson. A lengthy fight scene with lady fighters is another misstep. Thus, the final act completely goes wrong and becomes pointless. A legend like Tyson should have given better scenes.
Despite Vijay Deverakonda's hard work, Puri wastes the golden opportunity to get pan-Indian fame.
Overall, "Liger" neither delivers a knockout punch nor does it offer thundering moments. It only proves that Puri Jagannadh is yet to come to his old form despite delivering 'iSmart Shakar' recently.
Bottom line: Bo..Bo..Bo..Boring