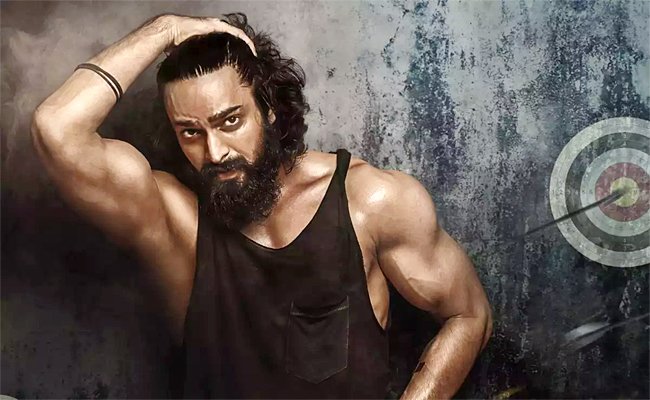 Movie: Lakshya
Rating: 2/5
Banner: Sree Venkateswara Cinemas LLP, Northstar Entertainment
Cast: Naga Shaurya, Ketika Sharma, Jagapathi Babu, Sachin Khedekar and others
Music: Kaala Bhairava
DOP: Rami Reddy
Editor: Junaid Siddiqui
Art: Sharmela Yalisetty
Producers: Narayan Das Narang, Puskur Ram Mohan Rao, and Sharrath Marar
Written and Directed by: Santhossh Jagarlapudi
Release Date: December 10, 2021
Known for his handsome looks, Naga Shaurya shed his chocolate boy looks to play the role of an archer in "Lakshya". He developed a six-pack body and underwent training in archery. Ever since the first look of his chiseled body came out, the film has created expectations.
Let's analyze the film, which is screening in theaters from today.
Story:
Parthu (Naga Shaurya) is good at archery. His father was also a champion in archery, but he got killed in a road accident just before the national games.
Parthu's support system and inspiration is his grandfather (Sachin Khedekar). Parthu joins a professional academy to become a national champion.
His grandfather and his girlfriend Rithika (Ketika Sharma) encourage him to excel, but Rahul Yadav, who is one of the top players at the academy, develops jealousy.
Rahul Yadav hatches a plan to thwart Parthu's chances and defame him. Rahul's plan clicks. Parthu loses his name, and his right hand loses the power to hold the bow.
Will Parthu strike back?
Artistes' Performances:
Shedding his romantic hero image, Naga Shaurya has transformed completely to play sportsman. He has developed an amazing physique as an archer. He shows off his eight-pack body much to the delight of his fans. He is sincere in his efforts, but the role lacks effectiveness for the audience to root for him.
Ketika Sharma who indulged in a lot of skin show in her debut film, Romantic, has played a girl-next-door in this film.
Sachin Khedekar as a grandfather and Jagapathi Babu as a father figure do justice to their roles.
Technical Excellence:
The film has decent cinematography and rich production values. But the music is weak. Dialogue writing is insipid. Editing is patchy.
Highlights:
Archery backdrop
Production values
Drawback:
Amateurish direction
Boring screenplay
Tacky romance
No high points
Analysis
Sports drama has now become a regular genre in Tollywood. We have seen many films on cricket, Kabaddi, Volleyball, boxing, hockey, etc. Now, first-time director Santhossh Jagarlapudi has presented a sports film on archery, which is not a mainstream sport.
One of the characters in the film says archery is the only sport that is called an 'education' (vilu vidya). The story swiftly comes to the core – the protagonist's aim to become a champion in his game. But the director exhibits his inability to narrate this paper-thin story.
He seems to have a grip on archery. But the screenplay writing and his directing capabilities are, to put it mildly, amateurish. First and foremost, the conflict point is archaic.
A fellow archer in the academy feeling jealous of the protagonist is the main conflict! When the villain knows that the drugs that he has planted are not traceable in a doping test, what is the point of giving?
So much fuss is made about the bonding between Naga Shaurya's and his grandfather's character, but there is no emotional depth in the sequences. The romance between the lead pair is bland.
When neither the lead pair track interests us nor the main conflict point, there is no way one can invest in the movie.
Midway into the story, Jagapathi Babu appears in the film. The backstory of Jagapathi Babu and his bonding with Naga Shaurya look forced addition.
In the entire second half, the last ten minutes are gripping. The unraveling of the secret that Jagapathi Babu keeps is another interesting element. But Naga Shaurya's eight-pack body is not used effectively in the film. He removes his shirt to exhibit his physique for a silly fight in a restaurant. It doesn't add any value to his sport, or the goal.
The production house has put in big money to get authentic sequences about archery games, and Naga Shaurya also has done his best.
On the whole, 'Lakshya' is too predictable. The narrative is bland and uninspiring.
Bottom-line: No Lakshyam