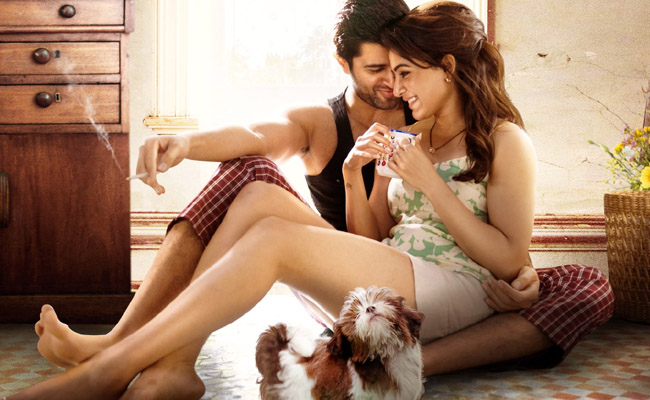 Movie: Kushi
Rating: 2.75/5
Banner: Mythri Movie Makers
Cast: Vijay Deverakonda, Samantha Ruth Prabhu, Jayaram, Sachin Khedakar, Murali Sharma, Lakshmi, Ali, Rohini, Vennela Kishore, Rahul Ramakrishna, Srikanth Iyengar and Saranya Pradeep and others
Music: Hesham Abdul Wahab
DOP: G.Murali
Editing: Prawin Pudi
Production Designer: Jayashree Lakshminarayanan
Producers: Naveen Yerneni and Ravi Shankar Y
Written and Directed by: Shiva Nirvana
Release Date: Sep 01, 2023
Following the disappointing outcome of "Liger," Vijay Deverakonda was in need of a film that could bring him joy and relief. He believed that "Kushi," a romantic drama, could be the one to achieve this. Has the film lived up to his expectations?
Let's find out.
Story:
New BSNL recruit Vilpav (Vijay Deverakonda) falls in love with Aradhya (Samantha), an IT engineer who came to Kashmir with her colleagues. They fall in love and quickly decide to tie the knot.
However, Viplav's (Sachin Khedekar) atheist father and Aradhya's (Murali Sharma) religious preacher father play spoilsport.
Aradhya's dad thinks Viplav and his dad need to do an homam to protect themselves from astrological doshas, but Viplav's dad is an atheist and doesn't buy it.
Viplav and Aradhya decide to run away and tie the knot. How peaceful or troubled will their married life be?
Artistes' Performances:
After the disappointment of "Liger," Vijay Deverakonda feels right at home in his role as the boy next door, Viplav. In this regard, he excels, being the film's primary strength. Vijay Deverakonda harks back to his "Geetha Govindam" days by avoiding the typical mass and action sequences, except for a small fight and a chase sequence.
Samantha appears decent in her "Begum" persona and her performance is poised and subtle. She looks at her best in this film when compared to her recent films. She also did a couple of lip locks.
The first half of the film features the comedy talents of Vennela Kishore, while the second half showcases those of Rahul Ramakrishna.
Murali Sharma fits well into his role as Pravachanakartha, and Sachin Khedekar is right on the mark as an atheist.
Lakshmi plays Samantha's grandmother, and Rohini and Jayaram contribute significantly to the film's emotional core.
Technical Excellence:
The musical score is the film's strongest aspect. Hesham Abdul Wahab in his Telugu debut brings out a slew of excellent tracks that have been topping the charts. Visually, the songs are just as enjoyable as it is audibly.
Murali's cinematography is a plus because he creates visually striking shots. The photography in Kashmir is very aesthetically pleasing.
The editing is a big problem. The film drags on for far too long, and there are numerous boring scenes in the second half that could be cut without affecting the story.
Highlights:
Vijay Deverakonda
Hesham's songs
Climax sequence
Drawback:
Inconsistent narrative
Editing
Lengthy runtime
Predictable sequences
Analysis
Apart from "Arjun Reddy," Vijay Deverakonda's likable portrayal as the boy next door in films like "Pelli Choopulu" and "Geetha Govandam" has endeared him to both youngsters and family audiences.
Following the disappointment of "Liger," he recognized his strengths and opted for "Kushi," a film that takes him back to his roots. Shiva Nirvana has crafted a story loosely inspired by Mani Rathnam's "Sakhi," but he introduces a new conflict: atheism versus religion.
Similar to "Sakhi," we witness an extensive depiction of the love between the hero and heroine. We also observe the challenges faced by this couple after marriage, mirroring elements of "Sakhi."
The first half of the film, set against the backdrop of Kashmir, is quite boring. In addition, the film loses its momentum after the hero and heroine tie the knot.
The director introduces a metropolitan fight sequence, a protracted exploration of infertility issues, a song about marital life ("pellam"), and more during this phase.
Unfortunately, this entire stretch consumes runtime without significantly contributing to the narrative. Just as the film begins to lose its grip, Shiva Nirvana revitalizes it with an episode set in Kerala.
From this point onward, "Kushi" manages to captivate the audience while evoking emotions. This final emotional episode rescues the movie, making it a decent watch.
The film's strengths lie in its vibrant settings, Vijay Deverakonda's charismatic presence, Samantha's portrayal as the wife and the songs. However, its drawbacks include predictability, uneven storytelling, and a lack of strong conflict points.
There is a scene in the film that discusses the protagonist's masturbation to collect his semen for testing at a hospital. Heroine asks the hero whom he imagined while collecting, to which he replies that he imagined Kate Winslet from 'Titanic.' Is this necessary in a film that targets a family audience? The only difference is that this particular scene is only included for the USA audience, as it was removed in the Indian version.
However, "Kushi" offers an engaging viewing experience, especially for its family-oriented sequences and entertainment value, despite some issues.
Bottom line: Engaging But Not Entertaining