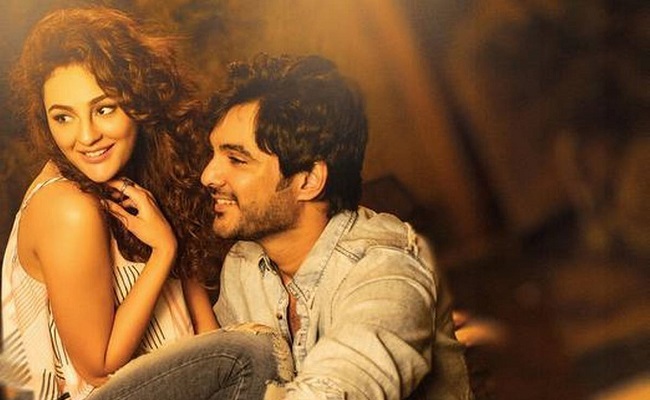 Movie: Krishna and His Leela
Rating: 2.75/5
Cast: Siddhu Jonnalagadda, Shraddha Srinath, Seerat Kapoor, Shalini Vadnikatti, Viva Varsha, Samyukta Harnad, Jhansi, and others
Cinematography: Shaneil Deo & Sai Prakash U
Music: Sricharan Pakala
Editor: Gary
Producers: Suresh Productions, Viacom 18 motion Pictures, Sanjay Reddy
Written and directed by: Ravikanth Perepu
Release Date: 24 June 2020
OTT Platform: Netflix
Siddhu Jonnalagadda starrer "Krishna and His Leela" has been in the making for a long time.
This is the second film of Ravikanth Perepu who won accolades for his debut, "Kshanam". Skipping the theatrical window, the romantic drama dropped on Netflix. Let's analyze.
Story:
Krishna (Siddhu Jonnalagadda)'s first love is Satya (Shraddha Srinath) in his Engineering college in Vizag. Satya breaks up with him as he keeps pestering her and moves to Bengaluru for an IT job.
Later, he falls for Radha (Shalini Vadnikatti), who also studies in the same college. Krishna also gets hired by an IT company and is sent to Bengaluru for the training. In Bengaluru, he meets Satya again and the romance is rekindled.
Krishna maintains relationships with the two girls at the same time.
Artistes' Performances:
Siddhu Jonnalagadda as a lover boy has done a fairly neat job. This is a routine role. More than the acting, his noticeable makeover that wins marks.
Shraddha Srinath ("Jersey" fame) fits in the role of an IT professional. The newcomer Shalini Vadnikatti makes her presence felt. Viva Harsha is okay.
Technical Excellence:
Sricharan Pakala's music is the main asset. His songs have gelled well into the modern theme. The cinematography is pleasant.
Highlights:
Contemporary romantic scenes
Witty dialogues
Drawback:
Predictable story
Cliched screenplay
Dragged on final portions
Analysis
"Krishna and His Leela" is a youthful story, a story of a young boy who is a confused soul. Soon after the break-up with his first girlfriend, he starts dating another girl.
In a couple of months, he rekindles the relationship with his first girlfriend but at the same time, he doesn't end the relationship with the current girlfriend. Both the girls know the presence of other girls in the boy's life.
Sounds complicated? Yes, the story is about a confused guy's complicated romance with two girls at the same time.
Krishna cheats on Radha and Sathya but proudly proclaims that if given a chance (that is the girls allow), he would settle with both of them because his heart beats for two of them in equal proportions.
Stories about a guy torn between two girls and breakups have become very common in today's movies.
"Krishna and His Leela" doesn't have the novelty factor but director Ravikanth Perepu manages to hold our interest with some contemporary language, situations. The coolness factor also scores in the beginning.
Till the middle-portion, the film runs smoothly with his two parallel stories but when the story gets complicated much like in 2017's 'Mental Madhilo', the film derails. After a while, it looks like the director is extending a 'short story' into a full-length feature film unnecessarily.
The openness about boozing, sex, and cheating reflects today's making style. The kisses and F words are also aplenty.
Some sequences are contemporary and relatable to the youth, but it becomes clichéd after a while, and also the ending spoils totally. Relationships are not stories to have closure, says the hero after having sex with two girls.
"Krishna and His Leela" has many issues but it makes an okay watch on the OTT platform. It is a wise decision to release it on a streaming app than in theaters.
Bottom-line: Triangle Tangle
Click Here for Latest Direct-to-OTT Releases (List Updates Daily)