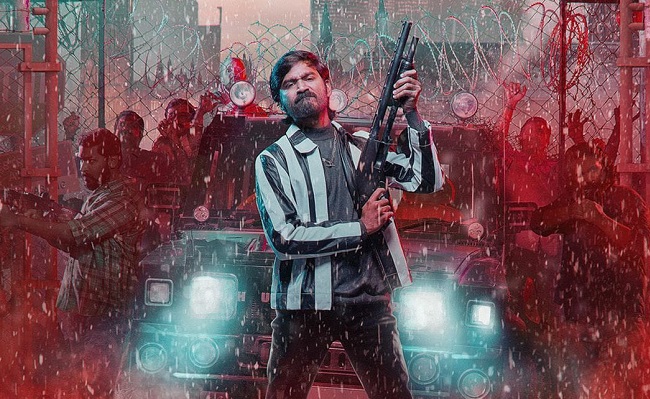 Movie: Jagame Thandhiram (Tamil/OTT)
Rating: 2/5
Cast: Dhanush, Aishwarya Lakshmi, James Cosmo, Joju George, Kalayirasan, and others
Music: Santhosh Narayanan
Cinematography: Shreyas Krishna
Editing: Vivek Harsan
Produced by: S Sashikanth
Written and directed by: Karthik Subbaraj
Streaming on: Netflix
Release Date: June 18, 2021
The names of Dhanush and Karthik Subbaraj are enough to get excited about for film lovers. No wonder that "Jagame Thandhiram" has generated a lot of buzz.
The Tamil-language film is now streaming on Netflix, which is one of the biggest releases on the OTT platform this year.
Let's find out its merits and demerits.
Story:
Suruli (Dhanush), a local rowdy in Madurai, is asked to leave the city for a month as he landed in a trouble after killing a businessman.
Around the same time, an NRI comes with an offer that if he works for Peter Sprott (James Cosmo), a politically affluent honcho in London, for a month, he would get plenty of money.
Suruli agrees and starts working for Peter, whose nemesis is a Tamilian gangster Sivadoss (Joju George).
Suruli quickly rises as a gangster, and also falls in love with a Tamilian singer Attila (Aishwarya Lekshmi).
Peter also wants the bill BICORE, meant against the immigrants, to be passed in the parliament, and trying to eliminate Sivadoss.
Due to certain incidents, Suruli is forced fit against Peter, his boss. What happens next?
Artistes' Performances:
As a boisterous gangster, Dhanush is in his element. He has shown a lot of swag enacting a Madhurai gangster in London, also paid tribute to his father-in-law superstar Rajinikanth by following certain expressions.
James Cosmo, who appeared in "Game of Thrones", is suited to the role of a racist mob boss but his character ends up as a caricature in the second half.
Aishwarya Lekshmi is okay, but the romantic thread on Dhanush and her is not explored much.
Joju George, who was terrific in the recent Malayalam movie 'Nayatttu', once again shines in a brief but important role.
Technical Excellence:
Director Karthik Subbaraj's strong point has always been extracting the best from his technical crew. He stylishly shoots the regular scenes. Shreyas Krishna is perfectly tuned to his vision and has given terrific visuals.
The fight scenes set in London are truly international. Santhosh Narayanan's background score is another attraction. Editing should have been crispier.
Highlights:
Dhanush's style
Cinematography and music
Drawback:
Predictable narration
Lengthy runtime
Indulgent scenes
Boring first half
Analysis
Gangster dramas have stopped throwing surprises for audiences because many filmmakers have explored this genre from all possible angles.
The story of Suruli, and his journey from being a local thug in Madurai to a hired gangster in London and redemption thereafter, is no different.
"Jagame Thandiram", directed by Karthik Subbraj of "Pizza" and "Petta", is essentially a gangster drama but the director has cleverly blended the struggle of Srilankan Tamils and immigrant issue to his regular gangster story.
However, despite having a strong idea, Karthik Subbaraj beats around the bush for a long time and the actual point comes much later in the film. Before exploring the main point of 'home' and immigrant issues, "Jagame Thandiram" depends on usual gangster action sequences.
We are made to believe that the film is about Suruli's rise as a gangster in London and his face-off with Peter.
It also gives an impression that Suruli may turn double rat for both Peter and his rival and the story might explore that front. But that is not what the film about.
After going all over the place, Karthik Subbaraj comes to the main point in the last act. The proceedings struggle to keep us invested.
Although Dhanush tries to save the film, the slow-paced drama doesn't engage us. Two action episodes are stylishly shot.
One comes before the interval, involving Dhanush, Joju, and Cosmo. The other is the pre-climax fight. These stunts and the terrific cinematography are the best in this predictable gangster drama.
The villain's characterization is not strong enough. After all the hype, the villain turns into a caricature, and the abrupt ending with the dialogue – "you can only start the war, but can't finish it", leaves unsatisfied.
All in all, "Jagame Thandhiram" doesn't live up to expectations. Despite having a stylish presentation, it is a big disappointment. It is a weak effort from Karthik Subbaraj.
Bottom-line: Lacks Appeal
Click Here for Latest Direct-to-OTT Releases (List Updates Daily)