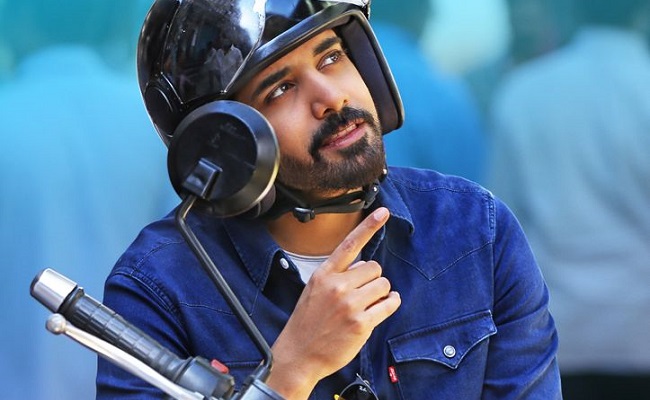 Movie: Ichata Vahanamlu Niluparadu
Rating: 1.5/5
Banner: AI Studios & Shaastra Movies
Cast: Sushanth, Meenakshi Chaudhary, Vennela Kishore, Abhinav, and others
Cinematography: M Sukumar
Music: Praveen Lakkaraju
Editor: Garry BH
Producers: Ravi Shankar Shastri, Ekta Shastri & Harish Koyalagundla
Written and direction: S Darshan
Release Date: August 27, 2021
After 'Chi La Sow' and 'Ala Vaikunthapurramloo', Sushanth gained confidence. It was evident in the promos of "Ichata Vahanamulu Niluparadu" that hit the theaters today.
Let's find out its merits and demerits.
Story:
Arun (Sushanth) likes Meenakshi (Meenakshi Chaudhary), who is an intern at his architectural firm. Her brother is corporate (Venkat) in Hyderabad city and controls the Snehapuri colony.
One day, Meenakshi invites him to their home to pick her up and he wrongly steps into another flat for a moment before stepping into Meenakshi's house. The fleeting moment of error of judgment lands him in a murder case.
Artistes' Performances:
Sushanth has done a neat job. He leaves his mark in the post-interval episodes. Meenakshi looks pretty but her character is poorly written.
Aishwarya as Sushanth's mother, Vennela Kishore as a showroom manager, Priyadarshi as hero's friend, and Abhinav Gomatam as heroine's baava are impressive. Venkat is okay.
Technical Excellence:
M Sukumar's camera work is commendable, while Praveen Lakkaraju's music leaves much to be desired. Production values are pretty good.
Highlights:
Interval bang
Suspense elements
Drawback:
Romantic thread
Inconsistency
Weak direction
Lengthy narration
Analysis
The story of "Ichata Vahanamulu Niluparadu" is straightforward. Such wafer-thin stories need gripping narration consistently.
New director Darshan begins the movie with a jerk. As the story moves on slowly, we see too many speed-breakers in the narration that further make the journey unbearable.
While many films falter in the second half, "Ichata Vahanamulu Niluparadu" has a starting trouble.
Close to one hour, it meanders the wrong track. A lot happens in the first hour, but the proceedings don't involve us. In one scene, the hero's friend quips that he stretches a matter that can be told in a minute into an hour. It applies to the film as well.
It begins with Sushanth narrating his love story to the manager of a bike showroom. Their love track in their office is silly and bland. Only at the interval period, the film comes back into track. But the basic plot itself has many holes.
Where in Hyderabad, would you find a locality that doesn't allow people to enter without the permission of the locals? Even in the second half, the unfolding of the mystery reeks of convenient scenes.
On the whole, "Ichata Vahanamulu Niluparadu" has some bearable moments in the second hour, but it tests patience in many stretches. The story idea has some potential, but the story elaboration to fit into a commercial entertainer is the main issue. The weakness in the part of story development became the main culprit.
Bottom-line: Exhausting