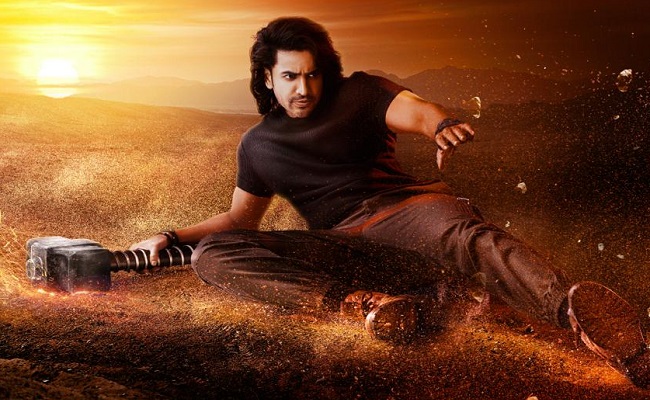 Movie: Hero
Rating: 2.25/5
Banner: Amar Raja Media
Cast: Ashok Galla, Nidhhi Agerwal, Jagapathi Babu, Naresh, Vennela Kishore, Brahmaji, Satya, and others
Dialogue: A R Tagore & Kalyan Shankar
Music: Ghibran
Director of Photography: Sameer Reddy, Richard Prasad
Editor: PrawinPudi
Art: A Ramanjaneyulu
Producer: Padmavathi Galla
Written and Directed by: Sriram Adittya
Release Date: Jan 15, 2022
Mahesh Babu's nephew Ashok Galla debuted with "Hero", which hit the theaters today.
Let's find out whether this new star has any promise.
Story:
Arjun (Ashok Galla) aspires to become a movie hero, but he fails to go beyond auditions. One day, his girlfriend Subbu (Nidhhi Agerwal) tells him that his hair has begun to recede and he needs to become a movie star as early as possible.
He books hair oil products online, but receives a gun instead, due to a mix-up of addresses. He also receives a photo asking him to kill that person. On the other hand, Subbu's father (Jagapathi Babu) is dead against her relationship with Arjun. All these mix up and turn Arjun's life upside down.
Artistes' Performances:
Ashok Galla makes his debut with a role, which is similar to his real-life – an aspiring actor. It is designed specifically for him as it provides an opportunity to showcase himself as the actor from the family of maternal grandfather Superstar Krishna and Mahesh Babu.
Nidhhi Agerwal gets a raw deal. Neither does her role have a substance, nor does she get much screen time or songs.
Satya, Vennela Kishore, and Brahmaji provide some cliched laughs.
Jagapathi Babu gets a lengthy role, which is completely different from what he has done so far. Ravi Kishan makes no impact.
Technical Excellence:
One thing that is noticeable throughout the film is lavish production values. For a flimsy story, the producer has spent a lot of money.
Cinematography by Richard Prasad and Sameer Reddy is a valuable addition to the making of the movie. But no care has been taken to music.
The film doesn't have songs (except remix number) in the second half at all. Ghibran has given forgettable tunes, but his background score is decent enough.
Highlights:
Rich production values
Twists and turns
Drawback:
Non-serious approach
Uninteresting romantic thread
Drags on with a flimsy story
Over the top scenes
Analysis
"Hero", as the title suggests, revolves around a wannabe actor. The film begins as a comedy, with some interesting sequences.
Ashok Galla is introduced in a cowboy getup, a tribute to Mahesh Babu's 'Takkari Donga'. Then we get to see romantic scenes on Nidhhi and Ashok Galla, along with the sequences of the hero going to various auditions. They provide time-pass moments. Then comes the big turn when the hero receives a gun through a parcel, switching the film into a thriller genre.
The first half of the film holds the interest as it effortlessly switches from comedy to romantic movie to a thriller.
But director Sriram Adittya, whose previous films also went in a similar fashion mixing thriller elements with comedy, loses his grip on the narrative once the mystery about the gun is unfolded. From here, the film turns into more of a spoof than a thriller or comedy. The spoofs may provide a chuckle but are lengthy and repetitive.
Many scenes in the film border on silliness. When the twist in the story of Jagapathi Babu is revealed, Naresh says, "inta ghoramaina flashback naa jeevithamlo vinaledu choodaledu". That sums up how bad the twist is.
Director Sriram Adittya should have given coherence to his wacky ideas. That is a major drawback.
The film has some engaging moments in the first half and hilarious situations. Also, a twist to Ajay's role, Brahmaji's comedy (a spoof on 'senior hero' and Boyapati), and a couple of twists show Sriram Aditya's style of clever writing. But his penchant to trivialize everything for the sake of entertainment has worked against the soul of the story.
When the film is all about launching a star kid, more sequences should have been written to showcase his talent, and better romantic sequences between the lead pair should have been added to get connected to the current generation of audiences. Ashok Galla is the son of famous businessman Jay Galla and nephew of Mahesh Babu. For him, it may be a safe launch, but the film doesn't highlight his strengths.
All in all, "Hero" is a mix of comedy, parody, and action thriller. While some comedy portions have worked out, the film goes on with a non-serious approach throughout.
Bottom line: Mix-up