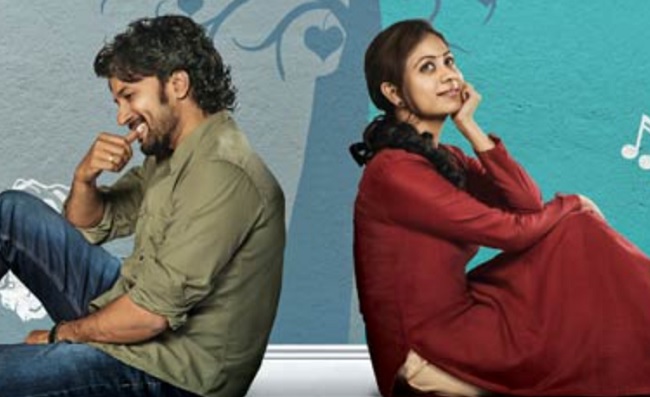 Movie: Guvva Gorinka
Rating: 2/5
Banner: Akar Movies
Cast: Satya Dev, Priya Lal, Rahul Ramakrishna, Priyadarshi, and others
Music: Suresh Bobbili
Cinematography: M Rangaswamy
Editor: Pranav Mistry
Producers: Damu Reddy Kosanam, Jeevan Reddy.
Direction: Mohan Bammidi
Release Date: December 17, 2020
Streaming on: Amazon Prime
Sireesha (Priya Lal) comes to Hyderabad from Annavaram to do a master's in music. She joins her friend's flat as a guest.
A mechanical engineer Sadhanand (Satya Dev), who is pursuing his Ph.D. lives in the adjoining flat. Sadhanand has allergic to sounds.
Sireesha first gets scared with the strange sounds coming from Sadhanand room, only realizing that he is making all the noise to scare her.
A bond develops between them, without seeing each other, as they talk to each other through a closed wall.
How will they fall in love?
Artistes' Performances:
Satya Dev has nothing much to do except sitting in one place and do the talking. Still, he is the only saving grace in this film. Newcomer Priya Lal neither has acting skills nor good looks. The comedy portions involving Priyadarshi, Rahul Ramakrishna, and others are a bore.
Technical Excellence:
The film mostly takes place in two locations – in an apartment and Rahul Ramakrishna's garage. There is nothing much to talk about the technical aspects of this film.
Highlights:
Few Comedy Scenes
Drawback:
Outdated storyline
Heroine
Narration and direction
Analysis
In the 1990s when a film showed two persons getting close to each other by writing letters without even seen each other made sense. Because in those days mobile phones didn't exist in India. The film was "Prema Lekha", and it turned out to be a roaring success.
When director Vamshi directed "Avunu Valliddhar Ishta Paddaru" in the 2000s with the concept of two persons sharing the same room, one during the night time, the other in the daytime, it seemed novel to some extent. But in today's age, such concepts not only sound silly and but also feel dated.
A girl and boy talking to each other through a wall doesn't make any sense in this day and age. This silly concept is the basis for Satya Dev starrer "Guvva Gorinka", which was in production for nearly three years. It finally is streaming on Amazon.
What made this streaming company to buy a movie that has a silly script and amateurish narration.
The director must have realized that a paper-thin plot cannot serve it to be a proper feature film. So, they have added an unrelated comedy portion called garage scenes, which are utterly boring. A couple of other subplots have also been added, that have accentuated boredom further.
All in all, "Guvva Gorika" is a boring romantic drama with no redeeming points.
Bottom-line: Outdated and amateurish
Click Here for Latest Direct-to-OTT Releases (List Updates Daily)