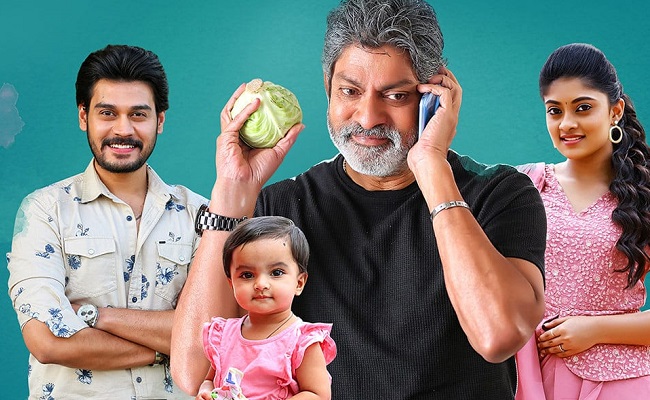 Movie: FCUK
Rating: 1/5
Banner: Sri Ranjith Movies
Cast: Jagapathi Babu, Raam Kaarthik, Ammu Abhirami, Ali, Daggubati Raja, and others
Music: Bheems Ceciroleo
Cinematography: Shiva G
Editor: Kishore Maddali
Art: JK Murthy
Producers: KL Damodar Prasad
Written and Direction: Vidayasagar Raj
Release Date: Feb 12, 2021
The title of "FCUK" raised curiosity. Because of such a title we don't associate either with Jagapathi Babu or with the production house that produced clean family entertainers like "Ala Modalaindi".
The contemporary title and the different style of promotions have made a good buzz around this small-budgeted movie.
Has the film worked out? Let's find out.
Story:
Kaarthik (Raam Karthik) is the son of a businessman Fhani Bhupal (Jagapathi Babu). The 60-year-old Fhani's wife passed away many years ago, and he turns Casanova. He owns a marketing company for condoms.
Kaarthik likes a house surgeon named Umaa (Ammu Abhirami), who is already got engaged. Still, Umaa agrees to go on a date with Kaarthik for three days, as she lost a challenge.
This leads to some long and silly romantic episodes. While he has problems with Umaa, his life takes another turn when his father brings Chitti, a toddler. Fhani Bhupal says Chitti is his daughter with one of his lovers.
What happens next?
Artistes' Performances:
Why on earth did 50-plus Jagapathi Babu who has successfully managed to establish his career as a villain and character artiste agree to this silly character? It is awkward to see him boasting his 'Casanova' image at this age. With visible neck wrinkles and aging skin, he does all sorts of ungentlemanly acts.
Raam Kaarthik has good looks but subpar acting skills. Ammu Abhirami's character is idiotic. Ali's comedy sequences are a clear example of how dated the scenes are.
Technical Excellence:
The film doesn't even boast decent output from any technician. Mediocre work from all the technicians.
Highlights:
None
Drawback:
Ridiculous story
Ludicrous narration
Outrageously bad direction
Silly double meaning dialogues
No rhyme and reason
Analysis
A film can be good or bad or average. "FCUK", which stands for "Father Chitti Umaa Kaarthik", is beyond all that. It is outrageously silly, an example of stupidity. There are scores of scenes in the film that exhibit the foolishness of the director and writers. The film reeks of low-level thinking and idiocy.
Wonder how did Damodara Prasad, who produced such new-age movies like "Ala Modalaindi", green light this brainless work?
Where to begin and where to end? Such a clueless movie is this.
Umaa, played by Ammu Abhirami, is a doctor by profession. But she does all kinds of things but treating the patients. She and her colleague worry about men not looking at them. Umaa also talks about her first date going wrong because she farted in the car.
In one of Allari Ravi Babu's silliest movies, there was a scene about a baby's diaper landing on a hero's face. Here, the same scene is repeated.
The romantic track between Karthik and Umaa tests your patience. Testing our patience further, the director comes up with outdated comedy tracks with Ali, and Master Bharath.
We can go on narrating the galore of stupidest scenes this film has, but let's stop the ranting here. In a nutshell, 'FCUK", without any shred of doubt, is one of the worst films we've seen in recent times. By the interval, you cannot sit in the seats and try to escape the theatre.
Bottom-line: What The FCUK!
Click Here for Latest Direct-to-OTT Releases (List Updates Daily)