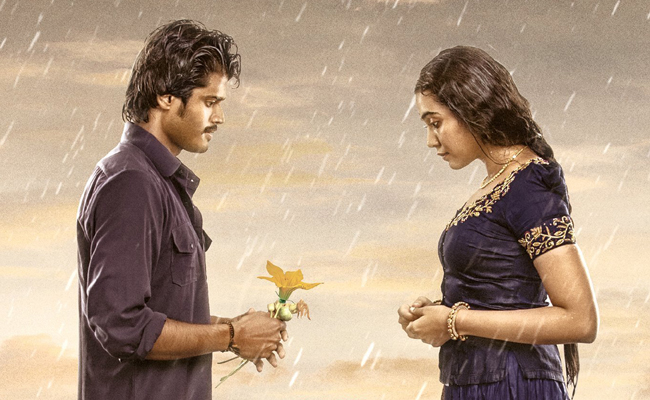 Movie: Dorasaani
Rating: 2.5/5
Banner: BigBen and Madhura
Cast: Anand Deverakonda, Shivathmika Rajashekar, Kannada Kishore, Vinay Varma, Sharanya, Byreddy Vamsi Krishna Reddy
Music: Prasanth Vihari
Cinematography: Sunny Kurapati
Editor: Navin Nooli
Art: JK Murthy
Producers: Madhura Sreedhar Reddy, Yash Rangineni
Written and Directed by: K V R Mahendra
Release Date: July 12, 2019
Ever since the film was launched, "Dorasaani" has been creating buzz as it is launching Shivathmika, Rajasekhar's younger daughter and Anand Deverakonda, Vijay Deverakonda's brother as actors. The film has created right hype.
Let's find out if all the pre-release hype is any worth.
Story:
The story is set 30 years ago in a village in interior Telangana.
Devika (Shivathmika) is daughter of a landlord of the village and she lives in her Gadi, never steps out of it. Raju (Anand Deverakonda) is son of poor parents whose livelihood is painting the houses.
He is smitten by her beauty and she too is impressed with him as she likes the poems he writes for her.
For the first time, she comes out of her Gadi for him and her father, who is feudal landlord, watches their romance and all hell loose break.
Artistes' Performances:
As a Dorasaani, debutante Shivathmika is good. She has very expressive eyes and her performance is appreciable. She has also got right diction mostly.
Anand Deverakonda in his debut film is not that convincing, he lacks appealing face. He has also acted in nude in a scene which is a daring act.
Sharanya Pradeep as domestic maid is good. All other actors have given natural performances.
Technical Excellence:
The film has excellent songs. Prasanth Vihari has not only composed melodious songs but also has recreated the mood. "Ningilona Palapunta" and "Kalavaramye" are pick of the lot.
Cinematography and artwork is excellent. Despite limited budget, both of them have brought in authentic feel thanks to real locations.
Highlights:
Shivathmika
Music
Drawback:
Oft-repeated story
Slow pace
Limited appeal
Analysis
"Dorasaani" that marks the debut of Vijay Deverakonda's brother Anand Deverakonda and Rajasekhar's daughter Shivathmika tells the love story of a rich girl who lives in a fortress and a poor youngster and her faucal father who opposes their love for honour. This is a familiar storyline that have been explored in in numerous Telugu films.
Shades of Venkatesh's "Chanti", "Seethakoka Chiluka", "Premisthe" and recent "Sairat" come to our mind. What sets "Dorasaani" apart from them is the setting.
The film spoke about 'Gadi' culture in Telangana. 'Gadi' is a place where Doras (rich feudal lords) lived back then, that is completely secluded from the rest of the village.
She has been living with her father alone and never has chance to see the world. And she writes poems.
When she comes across, an educated youngster who writes poetry, naturally she gets attracted. He comes to her Gadi daily just to have her glimpse and she sees him from her window.
The daily ritual slowly leads into mutual attraction and love. From here what happens? That can be guessed easily. Her father opposes, he puts him in jail, she yearns for him. This is a template that we have seen on many occasions.
However, the new director has added some good drama to hold these familiar situations with sincere narration. He has built up the drama slowly. The added angle of Naxalites has given good context. Prasanth Vihari's music has made the film engaging further.
The film's climax is also not something that we regularly see in Telugu films.
But the film is quite predictable on many fronts and it is damn slow. The romantic part also should have been told in better way. Since the romantic thread is not great, we don't feel for them.
These kind of movies require great lead pair, especially beautiful actors. Anand Deverakonda lacks that charm.
On the whole, "Dorasaani" can be termed an honest attempt of telling the love story of a rich girl and poor boy in period Telangana cultural and political setup. This has limited appeal but is pretty ordinary film on the whole.
Bottom-line: Forbidden Love!
Click Here for Latest Direct-to-OTT Releases (List Updates Daily)