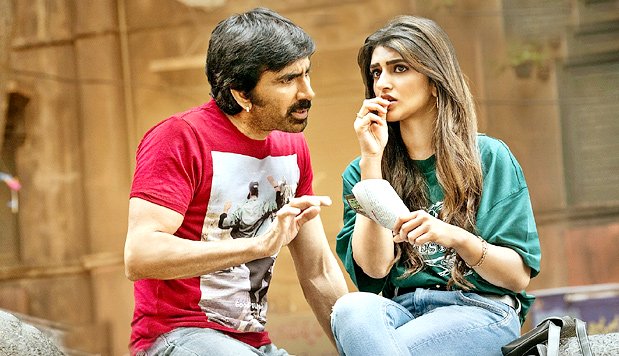 Movie: Dhamaka
Rating: 2.5/5
Banner: People Media Factory
Cast: Ravi Teja, Sreeleela, Jayaram, Sachin Khedekar, Tanikella Bharani, Rao Ramesh, Chirag Jani, Ali, Praveen, Hyper Aadi, PavithraLokesh, Tulasi, Rajshree Nair and Others.
Story, Screenplay, Dialogues: Prasanna Kumar Bezawada
Music: BheemsCeciroleo
Director of Photography: KarthikGattamneni
Editor: PrawinPudi
Art: Sri Nagendra Tangala
Fights: Ram Laxman, Venkat
Co-Producer: VivekKuchibhotla
Producer: T G Vishwa Prasad
Directed by: Trinadha Rao Nakkina
Release Date: Dec 23, 2022
Ravi Teja's specialty is comedy. With "Dhamaka," he made a long-awaited return to the genre. Trinadha Rao has a track record of delivering hit comedy entertainers. As a result, their combination attracted a lot of attention. The film was released in theatres today.
Let us look at its high points and low points.
Story:
Chakravarthy (Sachin Khedekar) runs a business empire and is told by doctors that he has a terminal illness and has only two months to live. Therefore, he decides to name a new chief executive officer and distribute some stock to his staff. Eventually, his son Anand (played by Ravi Teja) is expected to take over as CEO.
In contrast, Swamy (Ravi Teja), a lookalike of Anand, lives with his middle-class parents in the same city and has trouble finding work.
Swamy develops romantic feelings for Pranavi (Sreeleela). As Pranavi mulls over his proposal, her father (Rao Ramesh) arrives with a potential suitor. He is none other than Anand. She is perplexed. At about the same time, a ruthless businessman named JP (Jayaram) is on a spree of forcible acquisitions and has his sights set on Chakravarthy's company.
Will Anand, Chakravarthy's son, rescue the family business from JP on his own or turn to Swamy, his double?
Artistes' Performances:
Ravi Teja, known for his energetic performances, is once again in his element. If you're looking for some light fun, Ravi Teja's Swamy delivers. He is very dapper in his CEO persona. However, he fares better in the humorous bits.
There's no denying Sreeleela's glitzy vibe. Her part is, predictably, rather empty. In terms of dance moves, she matches to Ravi Teja's energy.
Jayaram as a villain and Sachin Khedekar as business magnet are perfect. Even though he plays a stock character, Rao Ramesh manages to elicit a smile or two. Hyper Aadhi routinely pulls the same Jabardasth punches.
Technical Excellence:
The film is shot lavishly in a vibrant setting, but Bheems stands out among the technicians for providing upbeat mass numbers. Prasanna Kumar's dialogues are good, but his story and screenplay are overly formulaic. The cinematography, production values, and art work are all fine.
Highlights:
Ravi Teja's entertaining show
Comedy portions
Sreeleela's glamour
Two songs
Drawback:
Story and screenplay
Formulaic packaging
The routine final episode
Analysis
We get a sense of "Ala Vaikunthapurramloo" after a few minutes. The story and screenplay by Prasanna Kumar Bezawada are predictable, and it takes a long time for us to shake the feeling of "Ala Vaikunthapurramloo" (AVPL). Fortunately, the film has a twist that takes it out of the AVPL zone.
Director Trinadha Rao Nakkina understands Ravi Teja's strengths and has played the same game in the first half of the film, focusing on Ravi Teja's star power and comic timing. And Ravi Teja seizes the opportunity to provide entertainment by putting on an extravagant show.
Ravi Teja and Sreeleela's romantic track contains vintage fun elements. There is also a conversation in which Sreeleela says he looks muduru (old), implying the off-screen age difference between them. Scenes like these are entertaining.
These scenes aside, the story as a whole is a problem. The plot is clichéd. Despite an attempt to give a contemporary look, the screenplay retains a formulaic feel to the end. Songs, Sreeleela's glitz, and Ravi Teja's initial portions make the film watchable but the second half becomes a total routine act, and the climax is utterly boring. The fight sequences are another irritating factor.
The corporate games in the second half are tedious and ridiculous. Even if we keep our expectations low and prepare for the routine narrative, "Dhamaka" falls short. Dhamaka means a blast, but where is the implosion?
Overall, "Dhamaka" suffers from formulaic treatment as well as a weak story and screenplay. Only to a certain extent do the early comedy segments and the presence of the lovely Sreeleela work.
Bottom line: Mild Blast