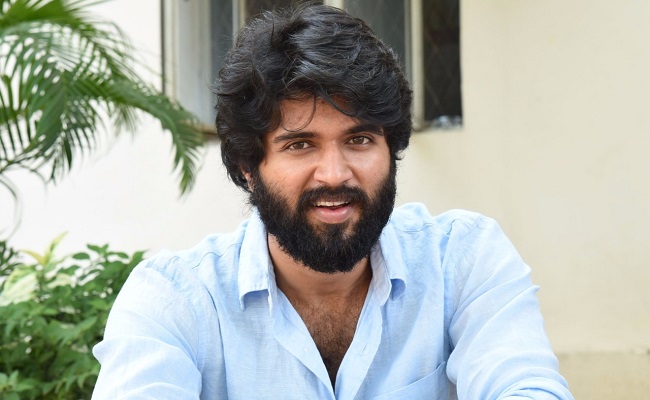 Movie: Dear Comrade
Rating: 2.5/5
Banner: Mythri Movie Makers, Big Ben Cinemas
Cast: Vijay Deverakonda, Rashmika Mandanna, Charu Haasan, and others
Dialogues: Jay Krishna
Music: Justin Prabhakaran
Cinematography: Sujith Sarang
Editor: Sreejith Sarang
Art: Ramanajaneyulu
Action: G Murali
Producers: Naveen Yerneni, Ravi Shankar Yalamanchili, Mohan Cherukuri (CVM), Yash Rangineni
Story, Screenplay and Direction: Bharat Kamma
Release date: July 26, 2019
"Dear Comrade" has been making buzz for a long time. The film's songs have become quite popular and all the promotional activity done by Vijay Deverakonda has paid up well in creating hype around it. The hit pair Vijay Deverakonda and Rashmika are back together.
Let's find out whether they have able to create the same magic they did in "Geetha Govindam".
Story:
Chaitanya aka Bobby (Vijay Deverakonda) is a student leader in a university in Kakinada. He is a reckless and impulsive guy. He likes Lilly (Rashmika) who comes to Kakinada from Hyderabad and she is student cricketer.
Although she rejects his initial proposal, she falls for him. A misunderstanding and an incident make them drift apart. Three years pass. He becomes a sound therapist and is well-settled in life.
After seeing Lilly going through depression and taking treatment for that changes his life and they begin their journey.
What has happened to her?
Artistes' Performances:
Vijay Deverakonda shows his intense acting one more time. Temperament, anger, ideological bent… all are distinctly suited to Deverakonda's image and he is in his elements. His performance is major drive. Vijay has shown the graph of the transformation of this character superbly.
The role that Rashmika played is a role with substance. In this author-backed role, Rashmika is superb. In the role of the cricketer, she has got the antics right. She steals the show in the end. Other actors are good.
Technical Excellence:
The film has a different and youthful soundtrack. Justin Prabhakaran's songs have already become popular on Youtube and they are equally placed well in the movie.
Songs are not like universally-catchy ones that we found in 'Geetha Govindam' but they are good in their own right.
Editing is neat but the runtime is long. Cinematography is terrific. The locations, the frames are beautiful. Dialogues are apt.
Highlights:
Vijay Deverakonda's performance
Music
Drawback:
Slow pace
Long runtime
Climax
Analysis
"Dear Comrade" narrates the relationship of Bobby and Lilly over a period of three years. This is not the usual love story or break-up story, it has more to it.
The film begins like a usual love story a guy recalling why his lover left him or broke up with him and goes on narrating their love story, how they met in Kakinada, how fell in love, his ideologies, her dreams and what caused the break-up.
This seems like a regular story but it is narrated with a lot of warmth and in poetic touch, but the film is not about this, the main plot comes in the second half – it is about Lilly and her problem.
This is where the film has gone wrong. Both the first half and the second half are totally different from each other and have two different points to talk about.
The film addresses the current burning point - sexual harassment at workplaces in the second half. So, two halves are two different.
The first half is like a love and break-up story; the second half is fighting for another important issue. The synergy between these two halves is not at all good.
The director has played along with Vijay Deverakonda's image and has tried to satisfy the audience's expectations with Vijay Deverakonda and Rashmika's stardom. Thus, he has presented a beautiful love story on them in the first half that has good songs, some hot smooches, some wedding moments.
By reserving the main point until the climax and focusing on the issue of hero and heroine trying to reconcile, the movie has suffered massively. This has consumed a lot of unnecessary runtime making it boring at most places and has also slowed down the pace drastically.
Each sequence in the second half has dragged on. For example, we get to see Vijay Deverakonda as a sound therapist post-interval. He has travelled to the Himalayas and other places and has recorded the sounds in nature and is working on a project about curing humans with nature's sounds. He resurfaces after three years and meets Rashmika again. This portion seems to be made only to showcase Vijay Deverakonda in a calm avatar.
Even after becoming such a subdued guy, he again acts on impulsive nature. These scenes go on and on.
Rashmika's cricketing dreams crashed due to an incident. She refuses to fight owing to the stigma and societal issues.
The final portion is about her getting the courage to take the issue head-on. However, this portion has not been handled well. From the interval bang to the climax sequence, a lot of unnecessary sequences happen.
To be fair to the movie, the film has a relevant topic, has good music, and best performances. What it has missed is seamlessness, and lack of tighter narration. Had the film been told in a crisp manner, the final feel of watching it would have been different.
All in all, "Dear Comrade" has few positive points but it gets boring after a point. A serious love story that appeals to limited audiences.
Bottom-line: #MeToo
(Venkat Arikatla can be reached at [email protected])