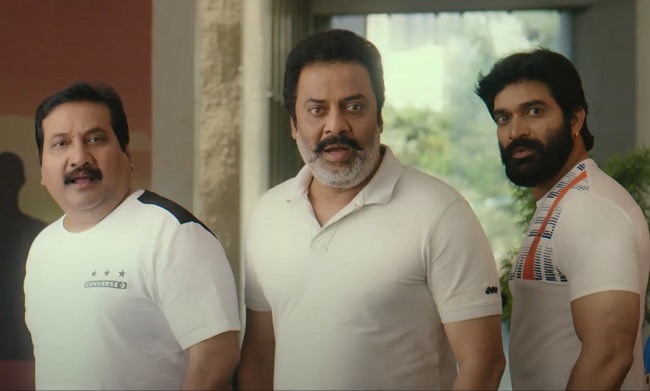 Movie: Crazy Uncles
Rating: 1/5
Banner: Good Cinema Group
Cast: Sreemukhi, Raja Ravindra, Mano, Bharani, Posani Krishna Murali, Bandla Ganesh, Gayatri Bharghavi, and others
Story, dialogues: Darling Swamy
Music: Raghu Kunche, Bhole
Cinematography: Balreddy
Editing: B Nageshwara Reddy
Producer: Good Friends and Ashok
Direction: E Sattibabu
Release Date: August 19, 2021
Popular TV anchor and actress Sreemukhi playing a lead role in a film is enough to attract the audience. No wonder "Crazy Uncles" has made enough noise before the release.
Read to know the film's merits and demerits.
Story:
A gang of friends called 'RRR' live in the same apartment complex. Raja (Raja Ravindra), Reddy (Mano), and Rao (Bharani Shankar), the middle-aged uncles desire singer Sweety (Sreemukhi), who moves into their gated community.
To get close to her, they even bribe her assistant. In the hope of having an affair with her, they do all things crazy.
Artistes' Performances:
The film revolves around Sreemukhi, but she gets hardly any scope to perform. Other than appearing as a glam babe, Sreemukhi does nothing.
Raja Ravindra, Mano, and Bharani Shankar as the 'crazy uncles' get more prominence, but their exaggerated acts and dialogue are in poor taste and don't provide entertainment.
Posani as Yoga Guru, Bandla Ganesh as a film producer, and Praveen as a director are okay.
Technical Excellence:
The film has decent technical values with Raghu Kunche providing adequate songs. The cinematography is neat, but the editing is choppy.
Highlights:
Nothing
Drawback:
Clichéd Plot
Outdated situations
Formulaic narration
Regressive sequences
Analysis
The concept of three middle-aged uncles attempting to do some 'action' they missed out on in their twenties is nothing new.
The story written by Darling Swamy is as old as Hussian Sagar. The only difference is that the film drives a message.
The message is: 'uncles' will not look at other girls if things are cool on their home (rather bedroom) front. It also tries to burst some misconceptions people have about celebrities.
But looking for the message in this farcical comedy is like reading a disclaimer in the advertorial.
Directed by E Sathi Babu, who is known for comedies like "O Chinadana" and "Betting Bangarraju", the film has relied on an outdated story idea.
It suffers from an incoherent screenplay. The comedy generated out of these 'crazy' uncles lusting Sreemukhi is mediocre.
Of course, a joke here and there has generated a few laughs but after a point, they turn repetitive and irritating. The hotel sequence of bribing the PA of Sreemuki to 'set' her up is awkwardly bad.
The so-called twists in the film don't hold interest either. Sreemukhi's attempt to teach a lesson to these uncles is unconvincing.
All said, "Crazy Uncles" is a farce in the name of comedy. The incoherent script and outdated jokes are the main problems.
Bottom-line: Lusty Uncles
Click Here for Latest Direct-to-OTT Releases (List Updates Daily)