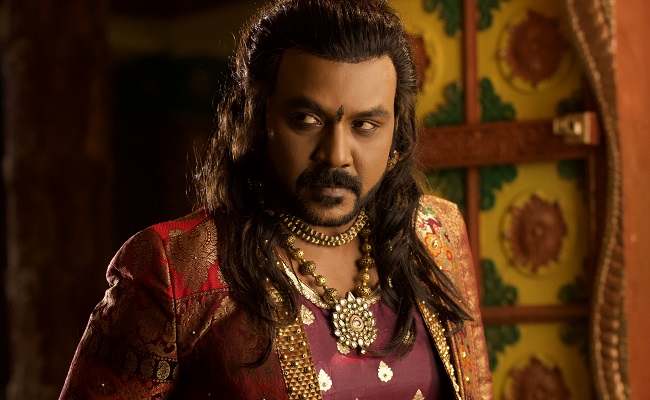 Movie: Chandramukhi 2
Rating: 1.5/5
Banner: Lyca Productions
Cast: Raghava Lawrence, Kangana Ranaut, Vadivelu, Radhika Sarathkumar, Lakshmi Menon, Mahima Nambiar, Rao Ramesh, and others
Music: M M Keeravaani
DOP: R D Rajasekar
Editor: Anthony
Action: Ravi Varma, Kanal Kannan, Stunt Siva, Om Prakash
Production Designer: Thota Tharani
Producer: Subaskaran
Written and Directed by: P Vasu
Release Date: Sep 28, 2023
"Chandramukhi" starring Rajinikanth and Jyothika was a cult blockbuster. The film was remade in Bollywood as well. 17 years later, a sequel with Raghava Lawrence and Kangana Ranaut happened.
Let us find out its merits and demerits
Story:
A wealthy family (Radhika, Lawrence, and others) is having issues at home. They decide, on the suggestion of their spiritual guru, to repair their ancestral temple and do a puja in their village. So, they stay in a nearby palace.
They had no idea that the palace had seen Chandramukhi's ghost live there. Now, Chandramukhi (Kangana Ranaut) appears and takes possession of Divya (Lakshmi Menon) in order to exact vengeance on Vetayya, who resembles Madan (Raghava Lawrence).
How is Madan going to preserve himself and his family?
Artistes' Performances:
Raghava Lawrence, who plays Madan, not only appears pale but also performs horribly. He does okay in the role of Singotayya/Vetayya. However, his terrible performance and lack of screen presence have ruined the mood.
Unfortunately, the national-award winning actress Kangana Ranaut is a total misfit for the role of Chandramukhi.
Vadivelu's comedy is embarrassingly awful. Lakshmi Menon is yet another poor pick for the role. Radhika Sarathkumar even appears dressed in an ironed Silk Saree and heavy jewelry at midnight. She performs and appears in TV serials.
Technical Excellence:
Technically, the film is also lacking. The music of MM Keeravani makes you look for the exit door. While Vidyasagar's music in the first installment was a tremendous asset to the film, Keeravani's music is completely unsuitable.
Highlights:
Nothing
Drawback:
Outdated direction and narration
Poor performances of Lawrence and Kangana
Awful comedy track
Not a single highlight
Analysis
"Chandramukhi," the original film released in 2005, starring Rajinikanth and Jyothika, was a hit primarily due to their performances. Rajinikanth's portrayal as a King, along with his iconic line "Laka Laka Laka," sent shivers down the audience's spine. His commanding screen presence added to the film's success. Jyothika delivered a captivating performance as "Chandramukhi," and the songs, especially "Ra Raa," remain popular even today.
In the sequel, Raghava Lawrence steps into Rajinikanth's shoes, and Kangana Ranaut replaces Jyothika. Unfortunately, both choices turned out to be disastrous. Both actors failed to match the acting skills and screen presence of Rajinikanth and Jyothika.
As for the story, there isn't much of one. Director P Vasu essentially copied the original plot and inserted a flashback involving Kangana Ranaut's character and Raghava Lawrence. The first half is dominated by outdated comedy between Lawrence and Vadivelu, while the drama unfolds after the intermission with Kangana Ranaut's character.
This sequel lacks the scare factor and fails to provide any thrills. It also demonstrates that P Vasu couldn't recreate the magic of his own film.
The casting, direction, music, comedy, and performances all fall flat.
In conclusion, "Chandramukhi 2" tests the audience's patience and proves to be a dull and boring experience.
Bottomline: No Fears-No Shivers