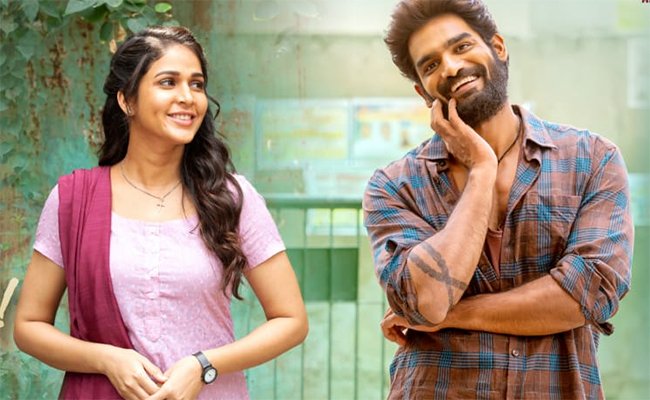 Movie: Chaavu Kaburu Challaga
Rating: 2.5/5
Banner: GA2 Pictures
Cast: Kartikeya, Lavanya Tripathi, Aamani, Murali Sharma, Srikanth Aiyangar, Bhadram, Mahesh and others
Music: Jakes Bejoy
Cinematography: Karm Chawla
Editor: Junaid Siddique
Action: Peter Hein
Art: GM Sekhar
Producers: Bunny Vaas
Written and Direction: Koushik Pegallapati
Release Date: March 19, 2021
Barring "RX100", Kartikeya has not scored a big hit. But he has successfully managed to get a name for himself in a short span and grabbed an offer from the successful production house GA2 Pictures.
The production house's track record and the interesting trailer have generated curiosity about the "Chaavu Kaburu Challenge", which hit the screens today. Let's analyze.
Story:
In Vizag, Basti Balaraju (Kartikeya) runs a funeral service. He gets a call to take a dead person's body to the burial ground in his vehicle.
He falls in love with Mallika (Lavanya Tripathi), who is crying in front of her husband Peter's dead body.
Not only does he fall for her, he even proposes to her at the funeral, much to embarrassment and shock to all those who present there.
Despite, Mallika scolding him and her father-in-law begging him to leave them alone, he continues loving her and following her.
One day, Balaraju also spots his mother with another guy talking and laughing intimately. He develops an aversion to his mother.
Will Mallika ever fall for him and what is his mother's story?
Artistes' Performances:
After a couple of flops, Kartikeya is back in a different role. There is a marked difference in his acting abilities, which is a good sign. His body language and his dialogue delivery have changed for good. He has fitted in the role of Basti Balaraju aptly and he has also shined in emotional scenes.
Aamani as the mother gets a meaty role and the senior actor leaves a huge impression with her nuanced performance. Murali Sharma as Lavanya's father-in-law does a neat job.
For Lavanya Tripathi, this film gives her a chance to showcase her acting talent and she does an okay job.
Technical Excellence:
Jakes Bejoy's songs are not of foot-tapping variety. Lyrics are impresive. "Kadhile Kaalannadiga" is well shot. The cinematography is adequate. The production values and technical output is sufficient enough.
Highlights:
Kartikeya's performance
Emotional scenes
Final moments
Drawback:
Slow pace
Kartikeya-Lavanya scenes in the first half
The flat narration at many places
Analysis
"Chaavu Kaburu Challaga" begins on a different note. We have not seen such a beginning in any of the Telugu movies until now - A hero proposes a heroine at the funeral!
Whether you consider it as a weird or ridiculous idea, it definitely is not the usual hook-line we get to see in movies. This 'strange' setup raises our curiosity.
Probably, the producers must have greenlighted this story solely on this unusual setup. But any 'off-the-track idea should have solid reasoning and convincing narration. That is where "Chaavu Kaburu Challaga" falters.
After generating curiosity, the film runs on a formulaic note. Kartikeya continues stalking Lavanya to say yes to his proposal, sings a song, dances on the roads - a typical idea of romance for our filmmakers.
The first half of the movie runs on predictable romantic sequences, occasionally evoking some laughs.
The new director Kaushi tries to give an 'emotional' angle to the whole story in the second half. Kartikeya agreeing to marry off his mother to another person has a strong emotional appeal. The film works in these portions despite the weird setup. These portions are better than the preceding sequences. The final sequences have saved the movie.
The new director has written good dialogues. But dialogues alone don't carry the emotional mood. He should have worked more on the sequences.
To sum up, "Chaavu Kaburu Challaga" doesn't work entirely, though certain sequences in the second half are appealing and Kartikeya's performance stands out.
Bottom-line: Cold Narration
Click Here for Latest Direct-to-OTT Releases (List Updates Daily)